With no wide roads nor bright streetlights, the paths on Cu Lao Cau Island are interspersed with rocks and wild plants.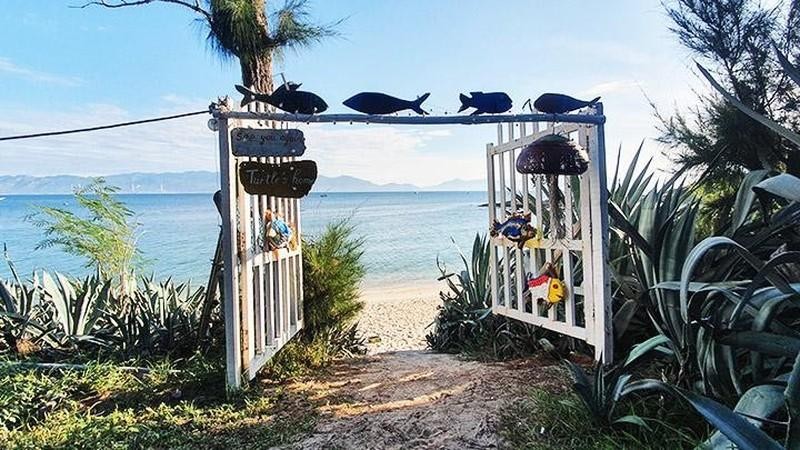 Cu Lao Cau is also known as the Hon Cau Marine Protected Area. (Photo: NDO)
The island is also known as the Hon Cau Marine Protected Area, which is a common home for many creatures. In particular, it has a unique "midwifery house" dedicated to turtles.
On days with calm waters and cool wind, the 10km journey on the sea from Lien Huong Port (in Tuy Phong District, in the South Central province of Binh Thuan) to Cu Lao Cau feels shorter. Amidst the ocean, life on the island with its undulating rocky slopes and white sand beach is not monotonous even though there are only a few people.
The most special thing in Cu Lao Cau is that the space is filled with rocks in different shapes that can open a mysterious entrance to a cave, a stop to watch the sunrise, a rock park by the sea or mossy rock beaches. A close-knit rocky ridge can also mark the end of small beaches such as Tien, San Ho (Coral) and Ca Suot, where the waves hit the shore.
The island is full of brilliant sunshine in all four seasons. With colourful coral reefs under the sea and immense grassy slopes with wildflowers and fragrant fruits, its pristine beauty is like a "sweet nectar" attracting visitors to the island. Planned to become a protected marine area, this place has a unique "midwifery house" that gives special care to turtle families during their breeding season.
With the gate opening to the sea, the mother turtle usually returns to the sea before dawn or dusk after completing her mission of clearing the nest and laying eggs. At that time, staff and volunteers at this "midwifery house" are responsible for taking care of turtle egg nests, assisting in the hatching and bringing the baby turtles into the ocean. Many volunteers have participated to support and witness the beautiful moments of welcoming the beautiful baby turtles.
On Cu Lao Cau Island, the space is always full of intense vitality. After those happy moments, people enjoy the fresh air together and admire the sparkling starry sky and the endless night at sea. The island is so beautiful that people do not want to edit the photos they capture on the island because they are afraid of spoiling the original colours of the local life.
Source: NDO – en.nhandan.vn – September 24, 2022