The Hai Phong City Tourism Department has released a food map, suggesting an interesting way for food and travel lovers to explore the northern port city.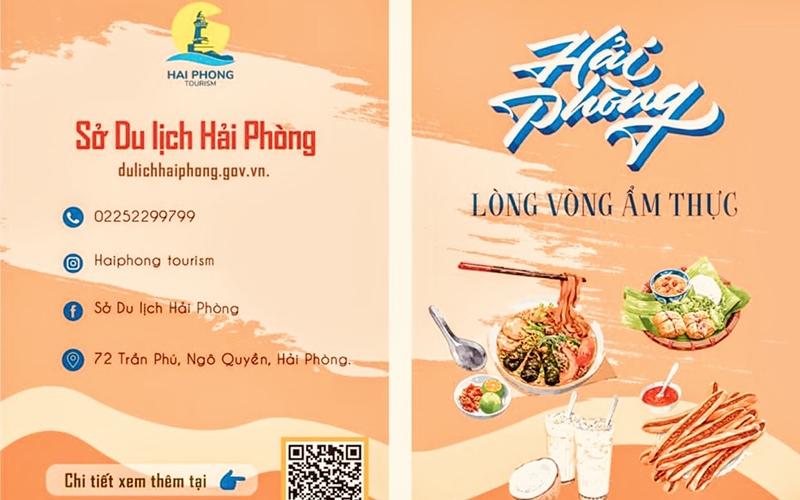 Nearly 10,000 copies of a Hai Phong food map are delivered for free to tourists at train and bus stations and public spaces areas in the city.
Food tourism is a popular option for travellers to Hai Phong, and this travel trend has been on the rise since the recent holidays to commemorate the Hung King's death anniversary and celebrate National Reunification Day (April 30) and May Day (May 1).
During the holidays, thousands of people from Hanoi, mostly youngsters and students, flocked to Hai Phong using various modes of transports, such as motorbike, bus, and train. They often travelled in groups with four to ten members.
Departing from Hanoi by train in the morning, visitors can arrive at Hai Phong after just over 2 hours to start their tours to sample delicious dishes in the northern port city, such as crab noodles, spicy fish noodles, spring rolls, shrimp pancakes, bread sticks, and snails, at affordable prices.
Foodies can rent motorbikes or take a taxi to the centres of street food such as Tran Nhat Duat Street and the Cat Bi, Luong Van Can, and Cot Den markets.
Deputy Director of Hai Phong City Department of Tourism Vu Huy Thuong reported that around 30,000 visitors from Hanoi came to Hai Phong for food tours during the holiday from April 9 to 11 for the commemoration of the Hung Kings.
Many groups have been launched on Facebook to share experiences of food, vehicle rental, and hotels in Hai Phong City.
The city Tourism Department promptly released a food map and delivered nearly 10,000 copies of the map for free to tourists at train and bus stations, public spaces areas in the city. The map is also posted on the department's official Facebook fanpage.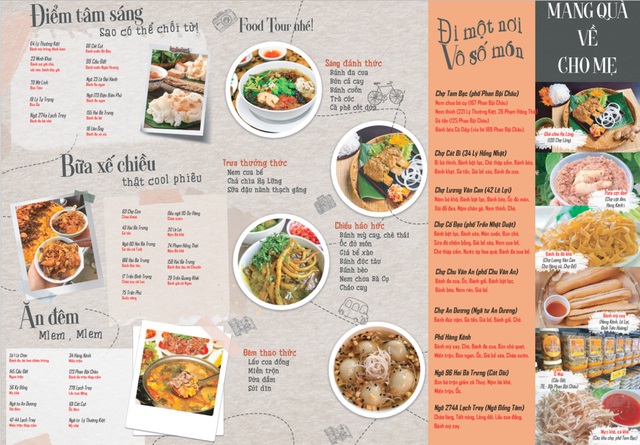 Popular delicacies of Hai Phong.
Thanh Quynh, a youngster from Tay Ho District in Hanoi said that the map helped Quynh and her friends to fully experience the city's cuisine with detailed introduction of popular street dishes of Hai Phong and where to eat them.
Deputy Director Vu Huy Thuong said that the map introduces food lovers to street foods and eateries that have been garnering great appreciation from locals and visitors for many years.
The department will work to update more delicacies and places to the map in order to help foodies enjoy the cuisine of Hai Phong to the fullest, he revealed.
In the coming time, Hai Phong Department of Tourism will also produce short clips introducing food experience as well as historical, architectural, and tourist sites in city.
There are a lot of things to do to make food tourism become an attractive tourism tourist in Hai Phong. It needs not only greater effort from the city's hospitality sector but also the involvement of other sectors in ensuring food hygiene, traffic safety and social security.
It is also necessary to draw further participation from the owners of restaurants, eateries and hotels, as well as taxi drivers, in order to promote Hai Phong as a friendly and attractive destination to visitors from both at home and abroad.
NDO – en.nhandan.vn