The imperial city of Hue has long been famous for its many cultural and historical heritages as well as unique craft villages, including the Thuy Xuan incense making village (Hue City, Thua Thien Hue Province).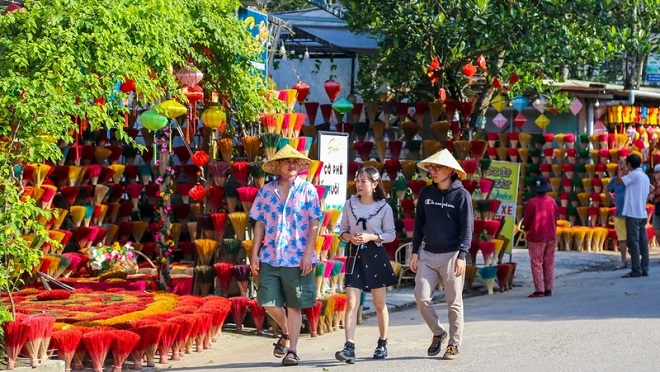 Thuy Xuan incense-making village: An interesting place to visit in Hue City (Photo: toquoc.vn)
Thanks to brilliant scenery created by multi-coloured bouquets of incense sticks in green, red, purple, and yellow, and its time-honoured tradition, Thuy Xuan Village always attracts much interest from tourists, especially young people.
Only about 7km from Hue city centre, the Thuy Xuan incense village is located on Huyen Tran Cong Chua Street, Thuy Xuan Ward, Hue City. Together with Vong Canh Hill and the Tu Duc and Dong Khanh tombs, this centuries-old incense village has created a tourist route to help visitors experience Hue's traditional culture and heritage.
The craft of making incense in Thuy Xuan dates back to 700 years ago during the Nguyen Dynasty. In the past, the village supplied incense to the royal court and locals in the Thuan Hoa – Phu Xuan area. At this time, the incense sticks were produced in only two basic colours, brown and red.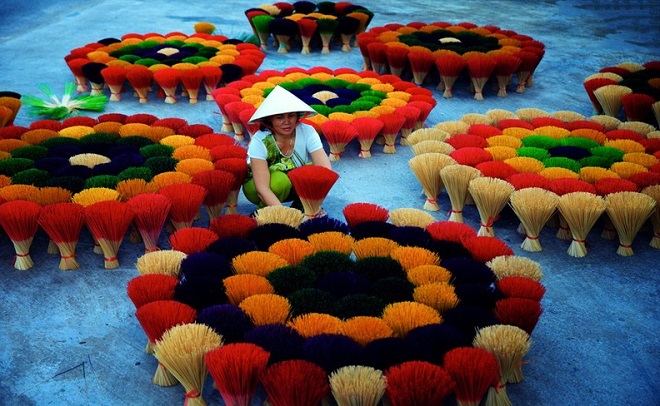 When they are placed together, clusters of incenses look like colourful flowers in full bloom. (Photo: hanoimoi.com.vn)
Now, thanks to their creativity, Thuy Xuan villagers have incense sticks in a rainbow of colours. When they are placed together, clusters of incenses look like colourful flowers in full bloom.
Incense sticks in Thuy Xuan Village are produced in various aromas, such as cinnamon, citronella, jasmine, but it is agarwood that makes the name for the village.
Currently, more than 100 households in Thuy Xuan Village practice the craft of making incense, which generates an average income from 5 million to 7 million VND/person/month. In the past, incense was sold to agents in the centre of Hue City and surrounding areas.
Over the past 10 years, the villagers have received orders in large quantities from traders from both inside and outside Thua Thien Hue Province, especially on special occasions such as traditional celebrations, Lunar New Year, and Hue Festival.
Thuy Xuan villagers also exports their products to foreign markets.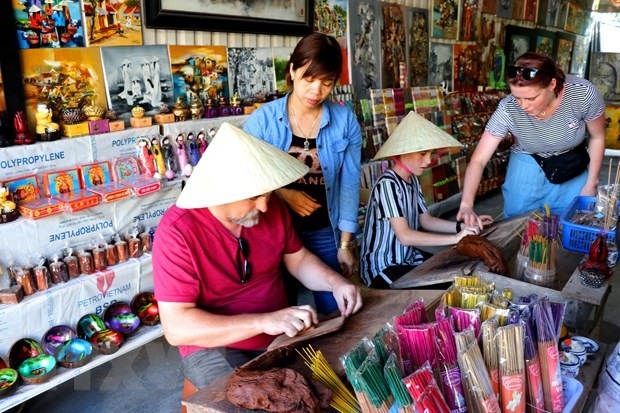 Foreign visitors try their hands at making incense sticks (Photo: VNA)
In recent years, the craft of incense making in Thuy Xuan Village has been introduced during tours in Hue City, turning the village into a must-see check-in destination for tourists.
Fascinated by the beauty of colourful incense sticks, Le Thi My Anh said that she took her favourite set of photos in Thuy Xuan Village. She hailed that the arrangement of bouquets of incense sticks create a poetic, brilliant and romantic scene for the village.
Visitors to Thuy Xuan Village can explore every step of the incense making process, from selecting materials for incense powder and bamboo sticks, to processing the materials and rolling the incense paste around sticks. They can try making an incense stick by themselves.
A tour to Thuy Xuan Village also provides an opportunity for tourists to explore the beauty of landscape, culture, people and daily in Hue.
Every day, the village welcomes about 20-25 groups of visitors on tours.
Nguyen Cong Hau – Translated by NDO
NDO – en.nhandan.vn – April 7, 2023