Thanh Ha, a 500-year-old traditional pottery craft village in Hoi An city, Quang Nam province in central Vietnam, was named a national treasure by the Geographical and Historical Record of Great Viet compiled in the 19th century under the Nguyen dynasty. Today the village continues to preserve and promote the craft and is a favorite destination of tourists who visit the UNESCO-recognized ancient city of Hoi An.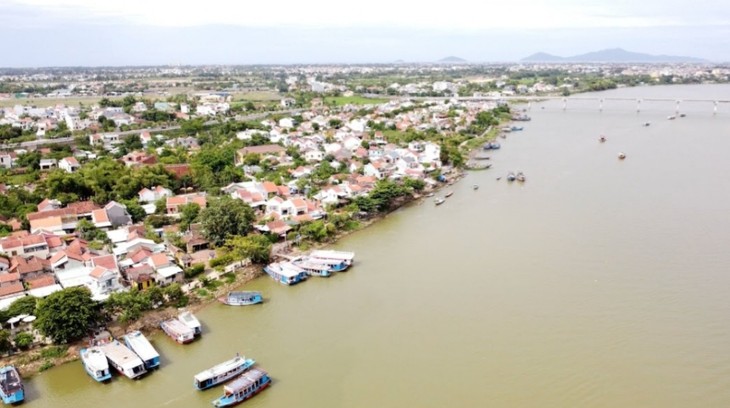 A bird's-eye view of Thanh Ha pottery village in Hoi An city. (Photo: Ngoc Anh)
Thanh Ha pottery village was established in the 16th century and celebrates its anniversary on the 10th day of the seventh lunar month.
The villlage enjoyed its heyday during the 16th and 17th centuries, when its products were made for the King.
92-year-old artisan Nguyen Lanh told VOV that he is the 7th generation of the family to make pottery.
"Unlike other types of pottery, Thanh Ha products use no glaze or dyes. It is the color of terracotta or deep red. That is the main characteristic of Thanh Ha pottery," Lanh said.
Pottery products from Tho Ha village in the Bac Giang province are made of green clay. Those from Bat Trang village in Hanoi are made of white clay, and from Phu Lang village in Bac Ninh province of yellow-brown clay. Thanh Ha pottery is made of brown clay taken from the Thu Bon River.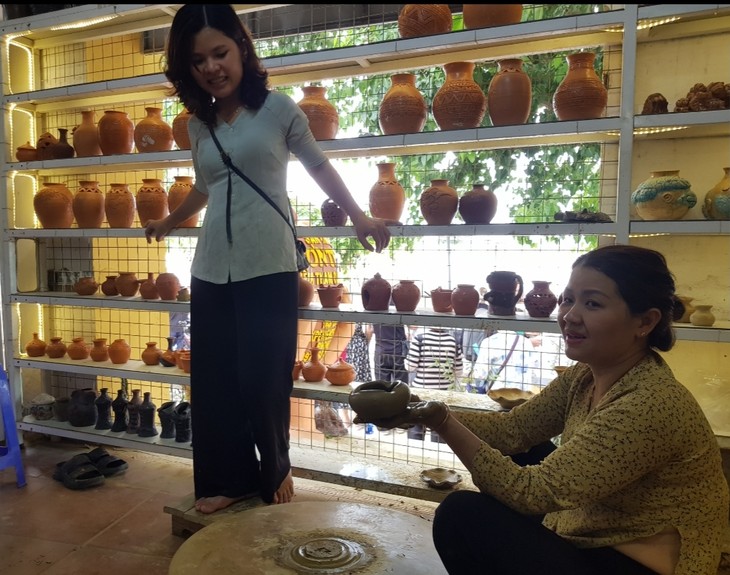 A Thanh Ha artisan demonstrates pottery making. (Photo: Ngoc Anh)
Villager Nguyen Thi Thuy said the clay must be mixed, mashed, and composted until it is as smooth as cake dough, adding that the process is elaborate because the pottery is completely handmade.
"First the clay is chopped into small pieces, then mixed with water and mashed until it's smooth. Potters continue kneading it under foot for several minutes before molding it. The raw products must dry before they are fired, otherwise the clay will explode. It takes 24 hours to fire pottery products at a temperature of about 1,000 degrees Celsius. The raw products are white but the finished items turn red," Thuy explained.
If you use your hand to tap on the finished product, it will make a very loud sound. That is a unique feature of Thanh Ha pottery, said Thuy.
Thanh Ha potters mainly make daily-use products like cups, bowls, jars, vases, ornamental pots, and animal shapes of various designs and colors. Thanh Ha products are lighter than products from other localities.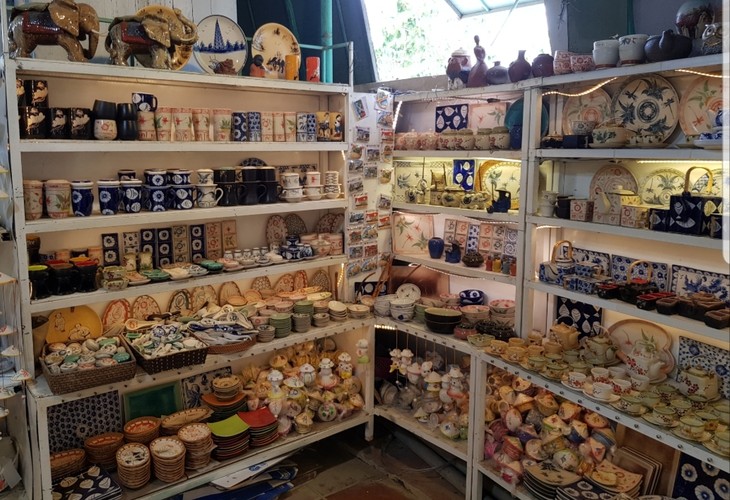 Thanh Ha pottery products. (Photo: Ngoc Anh)
Today most pottery villages use machines, but Thanh Ha villagers still make their items completely manually.
Pham Thi My Dung who owns the Son Thuy pottery facility noted since Thanh Ha pottery is handmade, the output is not high.
"But our products are unique. No two are alike. My family has been engaged in the craft for 6 generations. We now make more products using enamel," said Dung.
Since Hoi An was recognized by UNESCO as a World Cultural Heritage in 1999, Thanh Ha's pottery making has rebounded strongly. Local potters have expanded their products to include souvenirs for tourists.
Tran Thi Tuyet Nhung, a Thanh Ha native, said that Thanh Ha village has diversified the products to meet customer demand.
"Foreign customers prefer small glazed pottery items. The best-selling products are small tabletop flower vases which can be placed on a desk or used for decoration. They're also easy to carry around. Tea cups are also much sought after. Our products are handmade and unique," said Nhung.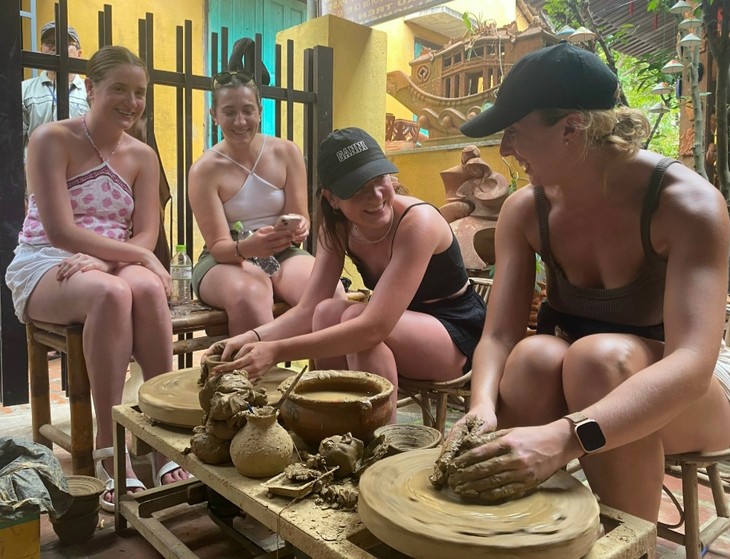 Foreign tourist try making pottery products while visiting Thanh Ha pottery village. (Photo: Ngoc Anh)
Many families in Thanh Ha have been doing tourism by opening their doors to visitors and telling them stories about pottery making and the village's history.
Visitors can also try making pottery themselves. Swiss tourist named Rhea Müller said, "I prefer seeing old cultures because that's what I came to see anyway. All the Western stuffs I can see at my own country. I think it's important if the culture is preserved. If you can help improve people to do tourism, they can get much from tourism. It is then win-win situation."
Thanh Ha pottery making was recognized as a National Intangible Cultural Heritage by the Ministry of Culture, Sports and Tourism in 2019.
Ngoc Anh
VOVWORLD – vovworld.vn – October 9, 2023