Terraced fields and terraced-field-farming culture are considered "specialties" of the Northwest region. Not only do terraced fields bring economic value from agricultural products, they are also a unique resource that attract tourists to the region.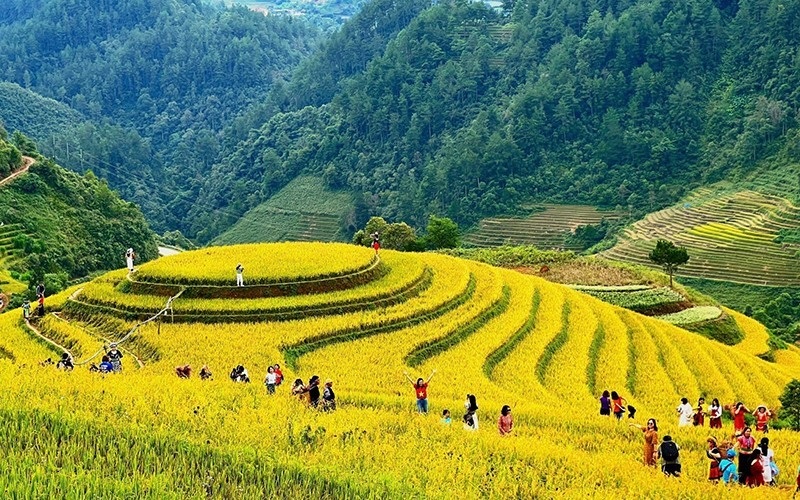 Tourists explore the beauty of terraced fields in La Pan Tan Commune, Mu Cang Chai District, Yen Bai Province. (Photo by Hanh Hoang)
Perhaps Northwest region is the home to the largest number and most beautiful terraced fields in Vietnam. Most of the fields are located in the provinces of Yen Bai, Ha Giang, and Lao Cai.
Of which, the terraced fields in Mu Cang Chai District (Yen Bai Province), Hoang Su Phi District (Ha Giang Province), and Sa Pa District (Lao Cai Province) — which cover nearly 2,200 hectares, 765 hectares, and 1,000 hectares, respectively — have been recognised as national landscapes.
This is a rich potential to turn the scenic terraced fields into a typical tourism product of ethnic minorities and mountainous regions of the Northwest.
In recent years, many localities in the region have developed tours and festivals to explore the charm of terraced fields. Of which, the paragliding festival in Mu Cang Chai District has drawn much excitement and interest from visitors as it allows them to fly over the local rice paddies in the golden season.
Community-based tourism has also developed robustly in localities having terraced rice fields, such as the La Pan Tan, Nam Khat, and Cao Pha communes in Mu Cang Chai District; Nam Hong Commune in Hoang Su Phi District; and the Lao Chai, Ta Van, and Ta Phin communes in Sa Pa District.
However, according to many experts, there is still a lack of strong connection and cooperation between these localities to develop inter-provincial products, which are developed based on terraced fields. Therefore, it is necessary to make proper investment strategy and comprehensive development solutions promote the value of terraced-field-tourism resources in the Northwest region.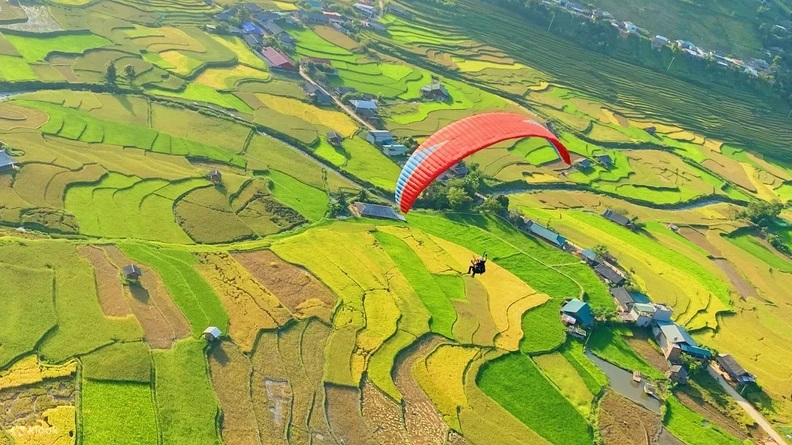 The paragliding festival in Mu Cang Chai District has drawn much excitement and interest from visitors.
Speaking at the workshop on promoting the cultural heritage and scenic value of terraced fields in the Northwest provinces to facilitate tourism development, which was recently held in Ha Giang Province, Associate Professor, Dr. Duong Van Sau from the Faculty of Tourism under Hanoi University of Culture, said that currently, localities are only offering tourist experiences in two main seasons of the year, including the white season – water pouring season, which falls in April – May, and yellow season – ripening rice season, which often takes place in September – October.
He suggested that localities work with travel agencies and tourism businesses to design new tourist products in the green season from July to August, when rice enters the grain filling stage, and the flower season from December to March, when farmers grow mustard flowers and buckwheat flowers in the rice fields.
He also stressed the need to further diversify the experiences for tourists coming to terraced fields, such as cultivating sticky rice, and raising fish around the fields, and setting up check-in points and shopping venues for tourists to explore the charm of the local landscape and shop local specialties.
From a business perspective, a representative of a tourism company hailed that terraced fields in the northwest region have many potentials and advantages for the development of adventure tourism products, such as paragliding, hot air balloon, helicopter, trekking, marathons, off-roading, and mountain biking along winding roads around terraced fields.
From is experience in supporting community-based tourism development in ethnic minority areas, Chief coordinator of the Swiss Tourism for Sustainable Development Project (ST4SD) Kenneth Wood emphasised that the development of terraced field-based tourism requires a comprehensive approach from planning to management at the provincial level.
He called on provinces to review their master plan for tourism development and closely cooperate with state management agencies, tourism businesses, and local communities.
He added that the cooperation should cover the management of all destinations management activities, the building of tourist products, branding and marketing.
It is necessary to appreciate and support community capacity in tourism management and development, consider people the as the creators, guardians, developers and beneficiaries of terraced fields, to ensure the sustainable tourism development, he said.
Sharing the same view, Chairman of Ha Giang Provincial Tourism Association Lai Quoc Tinh said it is crucial to strengthen connectivity between localities in the region in developing tours and routes as it can help to improve tourists' experiences while contributing to increasing the quality of their products and services.
NDO – en.nhandan.vn – October 12, 2023