(TITC) – On 19th October, at Samarkand (Uzbekistan), Tan Hoa Village (Quang Binh Province, Vietnam) is honored as UNWTO Best Tourism Villages 2023.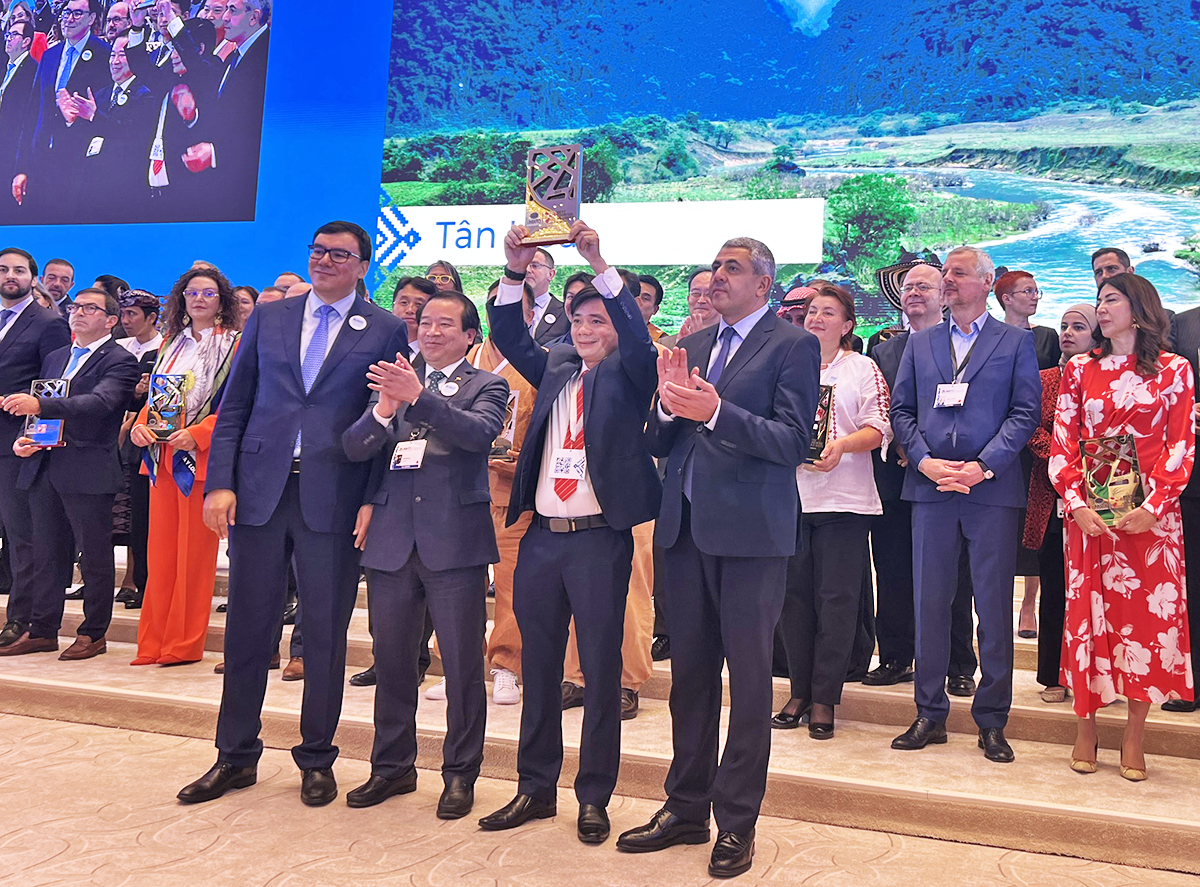 Chairman of Tan Hoa Commune People's Committee received the UNWTO "Best Tourism Village" Award with congratulations from Vice Chairman Ha Van Sieu and UNWTO Secretary General Zurab Pololikashvili (Photo: VNAT)
The award ceremony has the presences of the Secretary General of UNWTO, Ministers/Heads of Tourism Delegations of 135 UNWTO member countries, local authorities, along with representatives of tourist villages recognized by UNWTO.
Launched in 2021, the Best Tourism Villages by UNWTO initiative is part of the UNWTO Tourism for Rural Development Programme. The Programme works to foster development and inclusion in rural areas, combat depopulation, advance innovation and value chain integration through tourism and encourage sustainable practices.
The award is organized to honor exemplary cases of rural tourism destinations possessing cultural and natural resources, preserving and promoting values, building products and community-based lifestyles and rural areas. At the same time, these tourist villages have a clear commitment to innovation and sustainability in all aspects. The selection of the Best Tourism Village is based on the assessment of resources and initiatives in 09 areas within the 3 main pillars of sustainable development, socio-economic and environmental.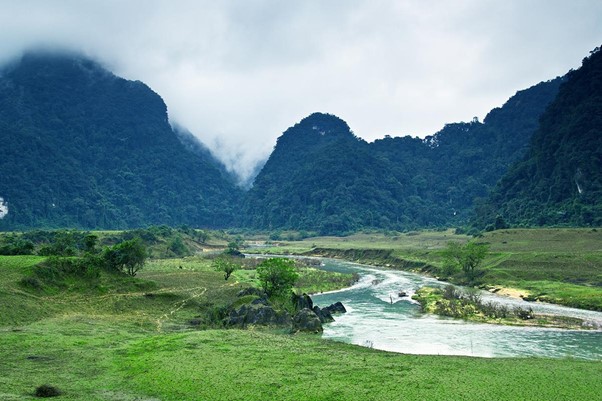 Tan Hoa Village
As of 2023, a total of 129 tourist villages from 55 countries around the world have been recognized and awarded. The tourism villages are evaluated by an independent International Advisory Panel composed of experts in different fields (natural and cultural resource conservation, sustainability, tourism product development, marketing, value chain…). This year, there were 54 villages recognized by UNWTO as the Best Tourism Villages.
"Tourism can be a powerful force for inclusivity, empowering local communities and distributing benefits across regions," emphasizes UNWTO Secretary-General Zurab Pololikashvili. "This initiative acknowledges villages that have harnessed tourism as a catalyst for their development and well-being."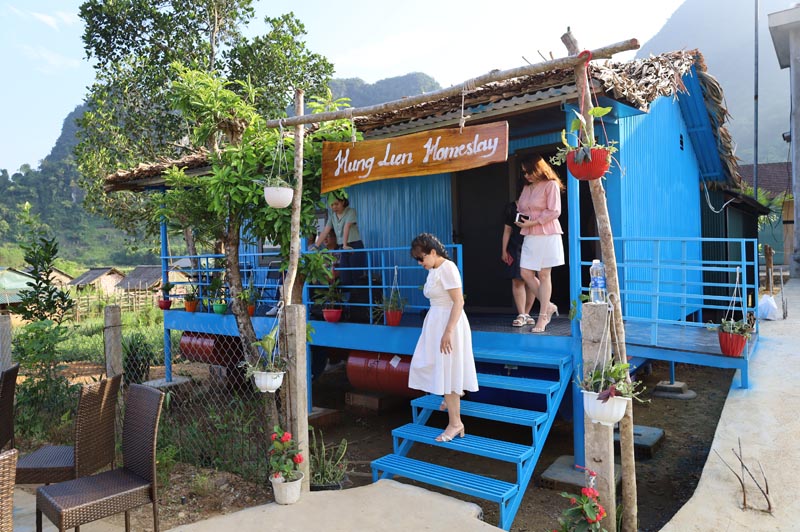 Weather-adapted homestay
"Tan Hoa Village, a weather-adaptive tourism model" in Tan Hoa commune, Minh Hoa district, Quang Binh province (in the North-Central of Vietnam), with unique natural and cultural conditions has fully met the requirements and factors to honor received the "Best Tourism Village" Award from UNWTO.
Tan Hoa village exhibits simple and enduring beauty
Tan Hoa Village is located in a remote location, 130km from Dong Hoi city, the capital of Quang Binh province, and 70km from Phong Nha tourist center. The village is located in the vicinity of Phong Nha – Ke Bang National Park, inheriting unique natural conditions and preserving the rustic simplicity of Vietnamese village. Surrounded by primary forests, limestone mountains, and the tranquil Rao Nan river, Tan Hoa village exhibits a simple and enduring beauty that leaves a lasting impression on visitors.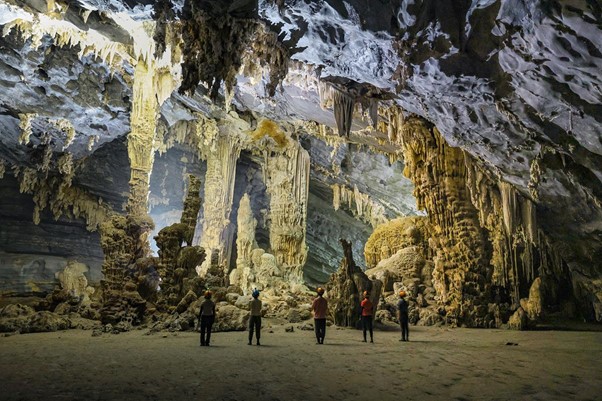 Tu Lan cave system
With the strengths of the famous Tu Lan cave system, along with Oxalis Adventure's investment in effective exploitation, Tan Hoa is positioned to become an attractive tourism center of the Northwest region of Quang Binh, and Tan Hoa will spread neighboring areas to develop together.
Preserving local culture is one of the top priorities in Tan Hoa Village. Alongside teaching Vietnamese language in the education system, the Nguon minority people still maintain their spoken Nguon language for daily use in the community.
Cultural customs such as the Ho Thuoc Ca (folk singing), March Full Moon festival, and the Living Ancestor Worship tradition is preserved by the local people across generations. Additionally, the Ho Thuoc Ca has been recognized as a National Intangible Cultural Heritage.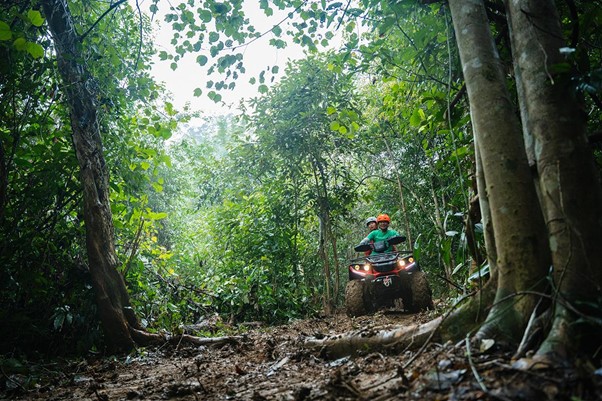 ATV off-road tour
In addition to experiencing living with local people, tourists can have unique accommodation options on floating houses to experience weather-adapted tourism. Guests at the homestay are provided with breakfast and free services at Tu Lan Lodge, which Tu Lan Lodge directly manages. Also, guests have many activities to participate in such as exploring the Tu Lan cave, taking an ATV off-road tour to discover the Tan Hoa ironwood forest, cycling to explore corn fields, visiting villages, and experiencing local dinner services to understand better the culture and life of the people in the region known as the "seasonal flooded zone".
In 2022, Thai Hai Ecological Ethnic Stilt House Village Conservation Area (Thinh Duc commune, Thai Nguyen city, Thai Nguyen province, in the Northern of Vietnam) received this prestigious award.
Tourism Information Technology Center