Ethnic communities have taken up community tourism to earn stable incomes, escape poverty, and preserve their cultural identity. Today Discovery Vietnam introduces community tourism in Binh Lieu district, Quang Ninh province.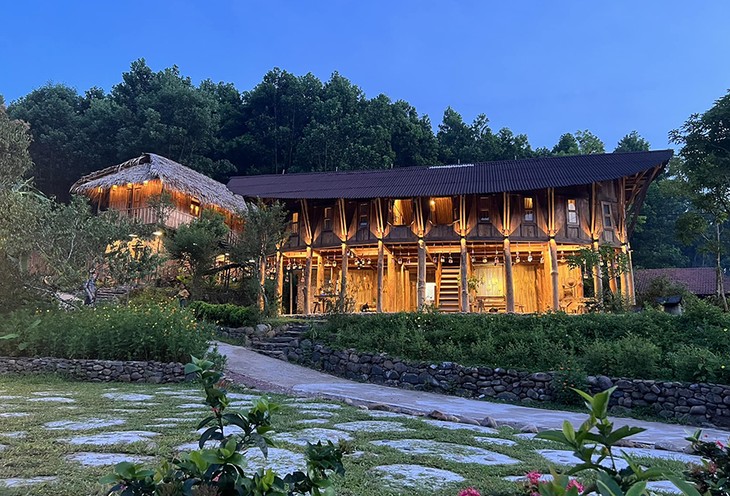 Ky Thuong – Am Vap Farm in Quang Ninh province (Photo: Am Vap Farm)
Villagers in Ky Thuong commune, are busy at the weekend taking care of overnight guests. At the end of 60 km of winding, fog-covered forest roads, visitors arrive in Thuong hamlet, where they enjoy the fresh atmosphere of a majestic bamboo and Magnolia champaca forest, row a boat on a pond, sample the local Dao dishes, and relax in a herbal bath.
Ly Tai Ngan and his friends opened Am Vap Farm, with stilt houses made of aromatic sa mộc wood, as a tourist attraction. Ly Tai Ngan, Director of the Am Vap Farm Company, said: "At first the villagers were skeptical. When tourists starting coming here and buying taro, vegetables, honey, and other things, the villagers decided to support our farm. Now they pick medicinal herbs in the forest and sell them to us to earn extra income."
Do Duc Uyen, a Tay man, opened the Tue Lam Herbs Cooperative in Vo Ngai commune. His products, essential oils of lemongrass, anise, cinnamon, and grapefruit, are listed in Quang Ninh's One Commune, One Product Program (OCOP). He has marketed his products at fairs, guest houses, and festivals such as the Golden Rice Season Festival and the Camellia Oleifera Flower Festival.
"At the Golden Season Festival, we earned about 130 USD per day selling essential oils. We earned big revenue during the festival. We sold a lot, and we encouraged local people to collect more materials to sell to us. We need to hire more workers," said Mr. Uyen.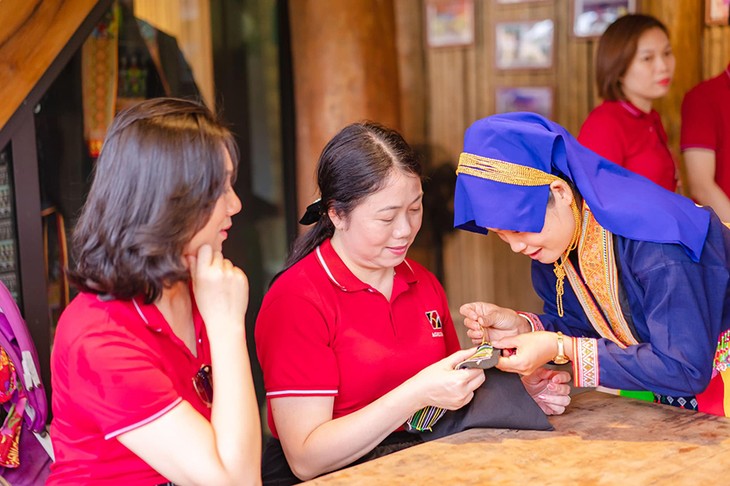 A local introduces traditional weaving and embroidery craft to visitors. (Photo: Am Vap Farm)
In the past, because of the difficult road, people who visited Ky Thuong didn't want to return. Now there's a good road connecting Ha Long city and Ky Thuong. The thick forests and unique ethnic cultures are magnets for tourists. Following a community tourism model, people now work to keep the environment clean, ensure food hygiene and safety, and promote the local culture to visitors.
Binh Lieu district has worked with a tourism company to design tours and train the local Tay, Dao, and San Chi people to serve tourists and preserve their culture.
Phung Huu Ngoc Anh, General Director of the Hanoi Tourism Company, said: "We organize on-the-job training and work for people. And we're working to protect the houses of the Dao Thanh Phan, Tay, and San Chi people as cultural artifacts. The local people have grown up in these houses, and meeting them will help visitors better understand the local culture."
Vu Mien
Source: VOV5 – vovworld.vn