Since the national government's policy of fully opening up domestic and international tourism activities from mid-March 2022, Da Nang has quickly implemented plans for beefing up market promotion and flight resumption. Thanks to those timely efforts, Da Nang is considered as one of the Vietnamese localities with a rapid breakthrough in tourism recovery.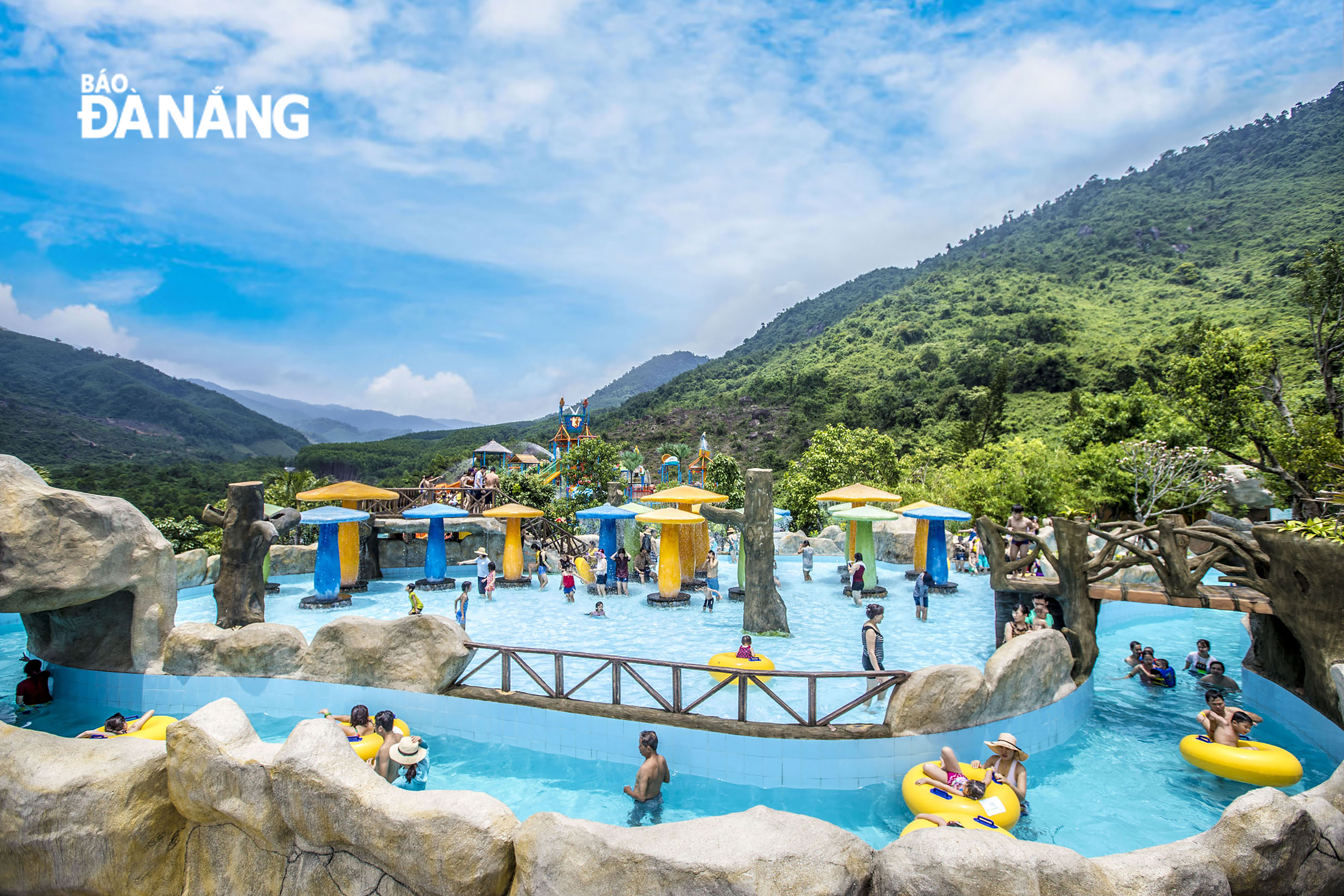 Local tourist attractions have upgraded and added new products to serve tourists. Visitors have fun at the Nui Than Tai Hot Springs Park. Photo: THU HA
Many big events woo travellers
As revealed by Director of the Department of Tourism Truong Thi Hong Hanh, with the close and drastic direction adopted by the city's leaders, the efforts by municipal agencies and the companion by the business community, the city has successfully mobilised as many resources as possible to restore tourism such as the attraction of MICE visitors, free admission to tourist attractions, supporting enterprises in professional training and digital transformation, and assisting in the rehabilitation of human resources.
The tourism industry has deployed a communication strategy with the message 'Enjoy Da Nang' in a variety of forms and content, updating the trends of visitors' tastes and promoting directly to each customer source market.
Da Nang has retained its vibrant and fresh look with a series of stimulus programmes and special national and international events, cultural, sports and tourism festivals a hot air balloon festival, Routes Asia 2022, Da Nang Summer Festival, Da Nang Golf Tourism Festival 2022 with the highlight of Asia Development Golf Tournament and Viet Nam International Travel Mart (VITM) 2022.
Many products, services, tourism have been upgraded, newly invested, put into service at Sun World Ba Na Hills, Nui Than Tai Hot Spring Park, My An night beach, An Thuong tourist area, expanded APEC Statue Garden Park, Da Nang Mikazuki Japanese Resorts & Spa.
Thanks to that, the tourism sector has recovered strongly and grew positively with 80% of businesses and establishments back in operation. The city has restored a total of 21 domestic and international routes to Da Nang on which a total of nearly 25,000 flights, an average of 69 flights per day, were operated.
In addition, Da Nang was ranked highest according to the Viet Nam Provincial Tourism Destination Competitiveness Index (VTCI), ranked third in the top 10 leading tourist cities in Southeast Asia according to Asia Travel Awards 2022 and was honored as 'Asia's Leading Festival and Event Destination' in 2022.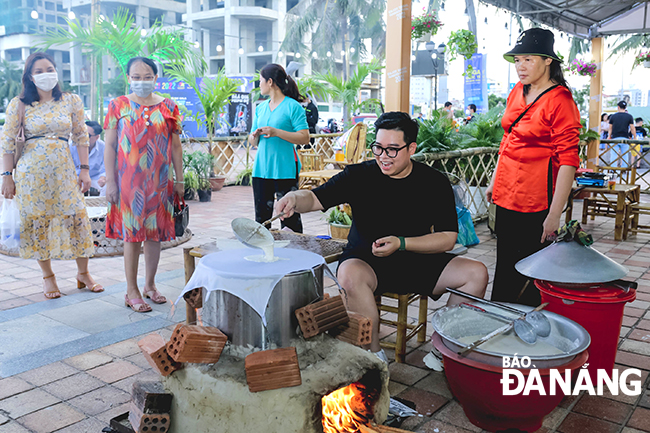 Many activities and events have been organised to attract more travellers. Visitors experience making rice paper at the Food and Beer Festival at the East Sea Park in August 2022. Photo: NHAT HA
Giving a facelift to tourism promotion activities
Despite facing many challenges and difficulties, over the past year, tourism businesses have joined great forces with the city to implement tourism recovery plans to attract tourists. As acknowledged by Chairman of the Da Nang Tourism Association Cao Tri Dung, in 2022, Da Nang saw a strong recovery from tourist sources, especially domestic tourists, which showed its attractiveness and capacity to serve large numbers of tourists.
In addition, a number of new international routes, mainly from Indian cities were also connected to make up for the lack of traditional passenger markets in the past. This positive result was mainly attributed to the direction of the city's leaders, the cooperation of the business community in making preparation for attracting tourists in a thoughtful and methodical manner.
Mr. Le Thien Tu, Director of V.E.I Tourism Co., Ltd. said that, in 2022, Da Nang tourism recorded a significant growth in visitors after the COVID-19 outbreak, laying a good foundation for the recovery of tourism to attract tourists, especially foreigners. It is necessary to understand clearly what this customer market wants in order to build suitable products, in accordance with the tastes of travellers.
It can be the development of green, responsible and community tourism because many international markets often prefer the type of tourism to experience, explore the countryside, learn about local culture and craft villages.
At the same time, it is necessary to strengthen promotional activities and promote the destination more to attract visitors. According to Director of Da Nang Tourism Promotion Center Nguyen Thi Hoai An, promotion and advertising were very focused. As soon as key markets opened, Da Nang's tourism industry has connected with international partners to promote its image.
With efforts to refresh products, constantly improve, improve service quality and innovate in promotion, advertising and market exploitation, Da Nang tourism is expected to continue to restore the international visitor source markets next year.
Tourists stay in accommodation establishments up 3.1 timesIn 2022, the total number of guests staying in accommodation facilities reached 3.69 million visitors, an increase of 3.1 times compared to 2021, recovering 50% compared to 2019. Of this, there were 483,000 international visitors, an increase of 4.6 times compared to 2021 and 3.2 million domestic ones, 3 times higher than that in 2021.Notably, the revenue of accommodation, dinning and travel reached VND 21,300 billion, accounting for 17% of the city's economic structure, nearly doubling in 2021 and recovering equivalent to 2019, making up for 17% of the city's economic structure.
Reporting by THU HA – Translating by A.THU
Source: Danang Today – baodanang.vn/english