Phuoc Tich village (also called Ke Dooc village) is a small pottery village by the O Lau river, which is about 40 km to the north of Hue city. More than 500 years ago, it was a famous pottery production and trade hub supplying products to all central provinces. The Huong River Museum of Ancient Pottery displays 5,000 Phuoc Tich ceramic artifacts, dated from the 17th to 18th century.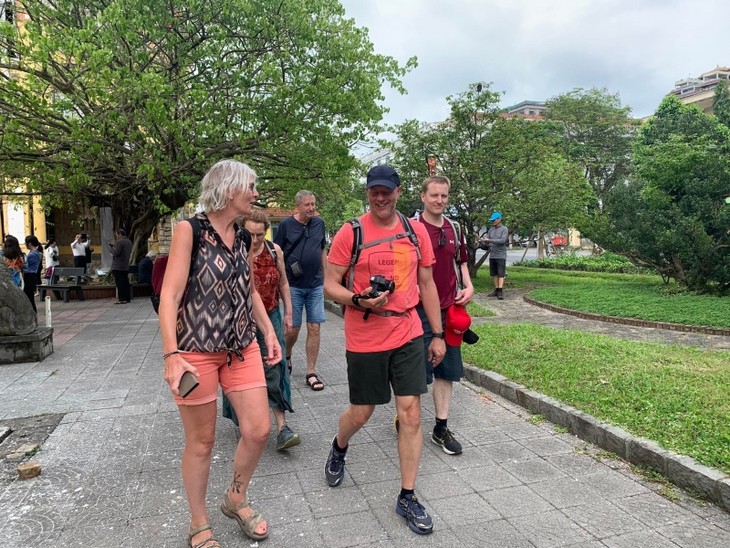 Tourists visit Phuoc Tich village. (Photo: VOV)
Phuoc Tich, like many other pottery villages in the north and central region, had a favorable trading position near the river, and abundant sources of clay and firewood. It soon became a famous pottery hub in Thua Thien Hue and neighboring provinces.
Historical documents say that in the 15th century, migrants from the central province of Nghe An established a pottery village to Thua Thien Hue. Since then, the craft flourished and their hand-made products were appreciated for their durability and shine.
Phuoc Tich products range from jars of different shapes and sizes, water jugs, lime pots, kettles, savings pots, mortars, and flower pots. Traders transported by waterways these products to other parts of the country.
Nguyen Ba Trung, a local pottery artisan, said during the Nguyen dynasty in the 19th century, Phuoc Tich village supplied to the Hue Royal Court 30 earthen pots to cook rice for the King every month. In its hay-day, Phuoc Tich had scores of kilns for mass production.
"Restoring the pottery craft of our ancestors is the wish of villagers. Young people have other jobs while old people can't work but we can give advice to the young generation. If you want to revive the craft, you must have people to work and learn how to sell products in the market to earn a living," Trung said.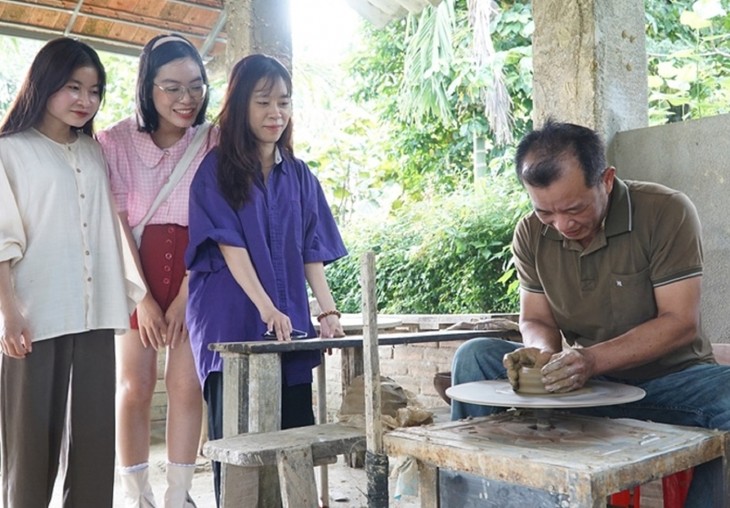 Artisan Luong Thanh Hien demonstrates making pottery. (Photo: VOV)
Luong Thanh Hien, owner of the only remaining pottery kiln in Phuoc Tich, said that locals have learned new techniques to make fine ceramics, shape products by mold, and fire products in gas furnaces. Phuoc Tich also plans to open classes for tourists to study and have hands-on experience to make a completed product.
Mr. Hien said, "We are producing both traditional and modern products to meet diverse demand. A lot of people are fond of Phuoc Tich pottery products."
Nguyen Van Phuc, Director of the Department of Tourism of Thua Thien Hue province, said that the provincial People's Committee has approved the planning for conservation, restoration, and promotion of architectural and artistic values of Phuoc Tich ancient village. The heritage preservation will be combined with sustainable tourism and economic and cultural development. Villagers have invested in expanding tourism services, engaged in community tourism, and connected Phuoc Tich and other craft villages.
Mr. Phuc said, "Phuoc Tich pottery village has unique cultural heritage which requires sustainable preservation while generating livelihood for the villagers. The authority, businesses, and villagers have collaborated to revive the pottery craft and develop tourism."
Along with the traditional pottery craft, Phuoc Tich is one of four ancient villages in Vietnam recognized as a national relic site for its ancient houses, temples, pagodas, shrines, and Cham culture.
Le Hieu
VOVWORLD – vovworld.vn – April 6, 2023