10 years ago, the Department of Culture, Sports and Tourism built the program "Xoan singing in ancient villages" in association with tours – tourist routes serving delegations to attend the Hung Kings "Death Anniversary – Hung Kings" Temple Festival every year.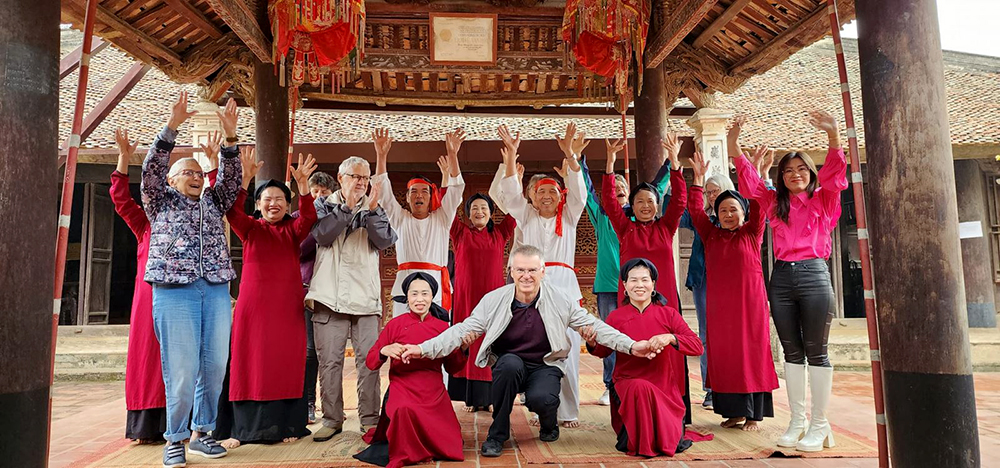 In April 2018, the Department of Culture, Sports and Tourism in collaboration with the People"s Committee of Viet Tri City officially launched the product "Xoan singing in ancient villages" associated with the Hanoi – Phu Tho daily tour. Since its introduction, the original Xoan villages have welcomed and served tens of thousands of visitors each year.
Nowadays, every month, Phu Tho province receives 2-3 groups of foreign tourists on river tours to visit and explore the unique traditional cultural heritages of Phu Tho. Since its operation, the "Xoan singing in ancient villages" spots have welcomed over 13,000 tourists, most of which are international tourist groups from the UK, France, the Netherlands, and the US, etc.
When participating in tours to the land of the ancestors, visitors will be able to participate in many activities such as enjoying ancient Xoan singing tunes at relics such as Lai Len temple, Hung Lo ancient communal house, An Thai communal house, and Kim Dai communal house (Viet Tri city) performed by artisans and members of the original four Xoan wards. In addition, visitors can also admire ancient spaces such as Hung Lo communal house, Lai Len temple and more than 200 ancient houses in Hung Lo commune, with many architectural values back to the Hau Le period still preserved to the present. Visitors can also visit traditional craft villages and experience the stages of making traditional banh chung – banh day.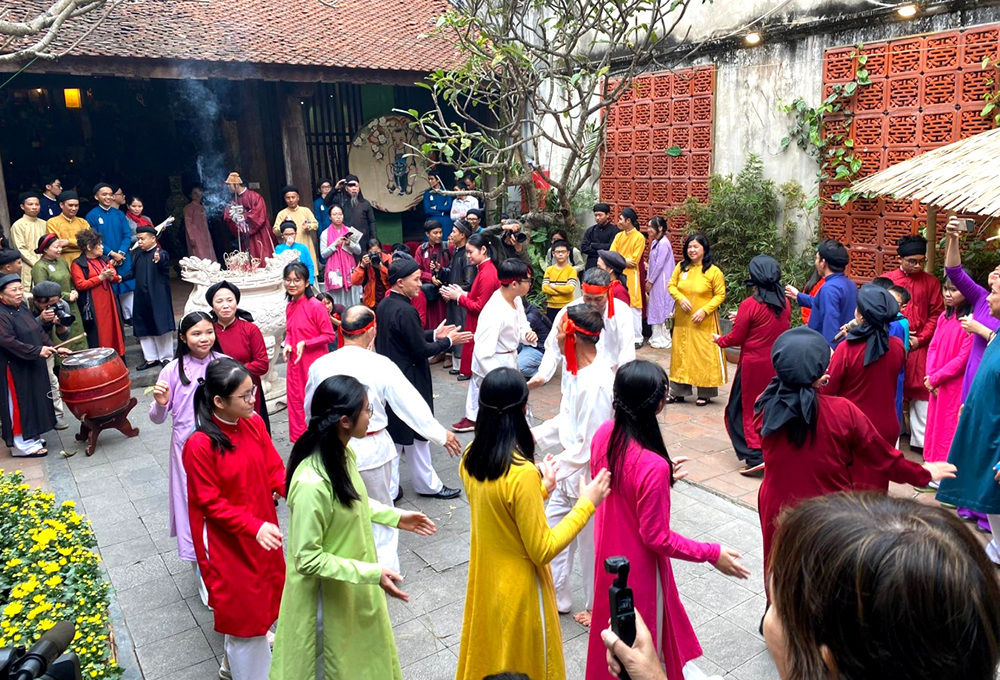 Phu Tho tourism associated with enjoying Xoan singing has become an indispensable schedule of every tourist group when coming to the Fatherland. Because of that, the Xoan performance space is gradually being expanded throughout the province. Xoan singing performance for tourists not only takes place in the area where Xoan singing originated around Hung Kings' Temple such as Hung Lo Temple or Lai Len Temple, but also held in the communal house of Dao Xa village (Thanh Thuy) and some ancient temples and communal houses in other localities in the province. Xoan singing is also a special performance at many important cultural and political events in the province as well as in the country such as: Vietnamese Tet; International Tourism Fair; ASEAN – Vietnam Festival Week, Vietnamese country and people…
Ha An
Phu Tho Newspaper – en.baophutho.vn – April 15, 2023