Sport tourism is a new development trend of the tourism sector that brings great benefits to localities. With diverse terrain, magnificent landscape, unique historical and cultural values, Ninh Binh province has great potential and advantages to develop sport tourism.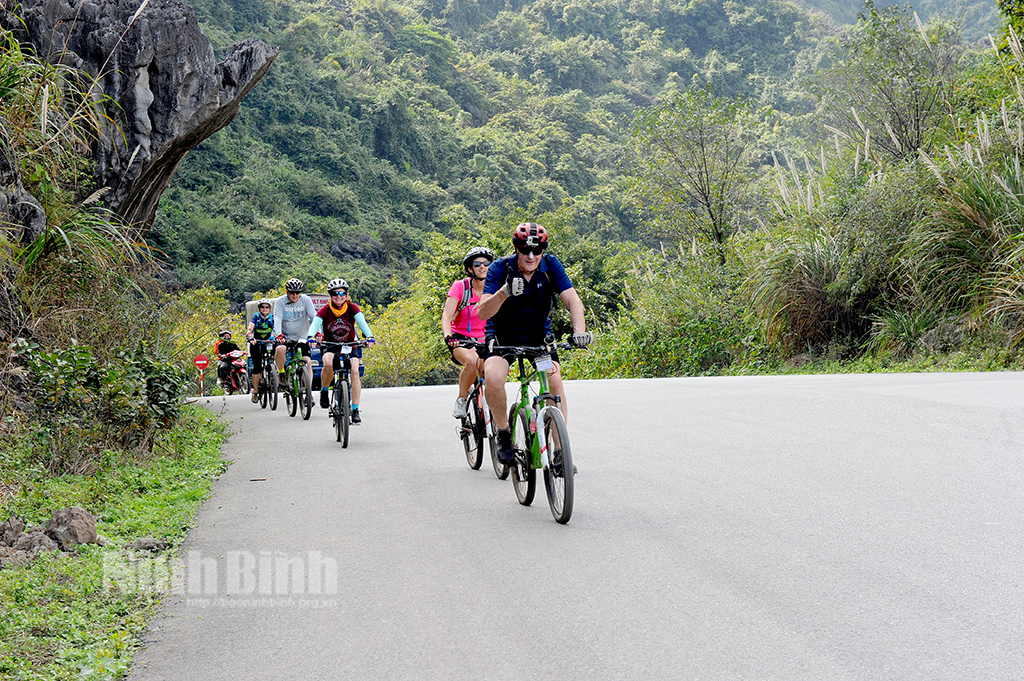 Foreign visitors are fascinated by cycling tour to discover Trang An.
In the past years, Ninh Binh hosted numerous sport events at the regional and national scales such as SEA Games 22, International Women Volleyball Championship, National Marathon, Tien Phong Newspaper Cup Marathon, and Asian Men's Club Volleyball Championship.
The success of these events created a joyful and enthusiastic atmosphere among local people and athletes and promotes the beauty of the province's destinations and traditional culture to domestic and international guests.
Pham Duy Phong, Vice Director of the Department of Tourism, said in the past years, sport events have contributed to promoting and developing tourism activities in the province. Running tournaments such as the heritage marathon through fields and Cuc Phuong Jungle Paths 2022 which attracted 2,500 runners have helped spread the attractiveness of Ninh Binh's landscapes to domestic and foreign athletes.
Besides, other types of sport activities such as kayak rowing, golf, cycling, and mountain climbing have also developed in the province.
Breathtaking landscapes, hospitality of local people and unique cultural values in Ninh Binh are favourable conditions for units and organisations to choose it as an ideal destination to organise sport events.
A part from joining in sport events, athletes and their relatives also spend time staying or taking sightseeing tours in Ninh Binh. This is a golden chance for Ninh Binh's tourism sector to stimulate demand and promote the province's image.
To fully exploit potential of sport tourism, the sector has steered the Ninh Binh Tourism Association, hotels and destinations to prepare all conditions related to social security, environment, health care, infrastructure, accommodation and services.
In addition, athletes are offered a discount of 5-20% of entrance tickets at local destinations and sport events are advertised free of charge on the tourism sector's website, Phong added.
The emerging trend of tourism in combination with sport activities has received much attention from the sector as sport activities are becoming popular among people, thereby the potential for developing sport tourism remains huge.
Nguyen Khac Quyet, Director of Au Lac Viet Travel Company, said trekking and mountain climbing are a emerging development trend in tourism activities in recent years. Travel agencies have sought and joined hands with partners to exploit and develop these types of sport tourism.
In the time to come, Au Lac Viet will step up the 17km trekking tour that runs through Cuc Phuong National Park to Khanh village in Hoa Binh province and the mountain climbing tour to Mua Cave with 500 cliff steps.
Tourism in combination with sport is a new trend that helps boost the non-smoke industry's growth. Since being a safe and ideal destination after the COVID-19 pandemic has been controlled, Ninh Binh needs to survey and zone off suitable areas for sport tourism activities, pay more attention to promoting the image and foster the growth of the local tourism sector, Phong said.
In the coming time, the tourism sector will study, assess and exploit this new kind of tourism, especially adventurous sport tourism like mountain climbing and terrain bicycle race, the official added.
Translated by Nguyen Thuy
Source: Ninh Binh Newspaper – en.baoninhbinh.org.vn