Located about 15km southeast from the centre of Lai Chau City, the Ban Tham tourist area in Ban Hon Commune, Tam Duong District, Lai Chau Province, has risen into an interesting destination. In addition to the beauty of the dense forest, flower valleys, tea fields, and magnificent caves, the area is also attractive to tourists thanks to the unique culture of the local Lu ethnic group.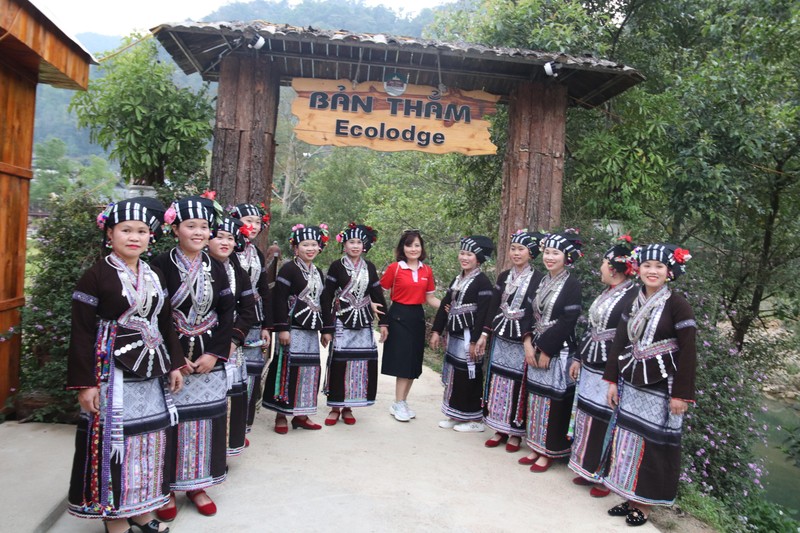 Lu ethnic women dressed in traditional costumes pose for a photo with a tourist at the entrance of Ban Tham Ecolodge Homestay (Photo: dulich.laichau.gov.vn)
According to survey data, the Lu are a very small ethnic group in our country with a total population of less than 6,000 people, mainly living in Lai Chau Province.
Preserving traditional weaving craft
Lu ethnic community in the village of Tham earn their living by growing rice, corn, potatoes, fruit trees, and medicinal herbs. Notably, in every house in the village, visitors can see a loom and the image of Lu ethnic women weaving their outfits.
According to Vang Thi Tang, a local villager, every girl in the village is taught weaving and embroidering skills by their mothers and grandmothers from when she is young.
She stressed that the Lu people attach great importance to women's weaving skills and consider it as a measurement of women's ingenuity and patience.
The villagers start planting cotton in the spring, and harvest it in autumn. The making of the traditional scarf or dress of the Lu people requires many meticulous stages, including planting and processing cotton, spinning, weaving, dyeing, and embroidering patterns.
A Lu woman's outfit requires about three or four months to complete, while those with sophisticated patterns may take up to half a year.
The craft of weaving also helps to create jobs and increase incomes for local women. A completed traditional outfit is sold for about 5-6 million VND.
In order to encourage people to preserve and develop traditional brocade weaving, local authorities have called on Lu ethnic women and mothers to teach their children about the craft, suggesting that each student have at least one ethnic costume to wear for holidays, festivals and extra-curricular activities at school.
Authorities of Ban Hon Commune have also coordinated with functional agencies and sector to organise training classes on brocade weaving for local women. Around 30 women have completed these classes and are now qualified enough to make products, which can earn them an average income of 4 million VND per month.
Efforts to boost tourism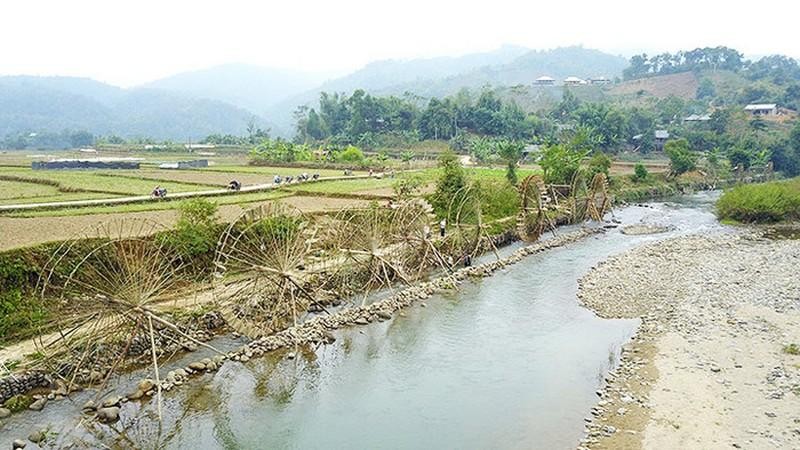 Giant waterwheels running in Na Khuong Village, Ban Bo commune, Tam Duong district, Lai Chau province
In recent years, many homestays have opened in the Ban Tham tourist area and in Ban Hon Commune in general, offering comfortable accommodation as well as culinary services and interesting experiences for tourists. Visitors to the area can discover the mysterious beauty of the local forest, row a boat on Nam Hon Stream, explore Dong Pao Cave, and try their hand at cooking indigenous dishes of the Lu people in the midst of beautiful nature.
The peaceful and poetic Nam Hon Stream not only provides the villagers with water for daily use, it is also an abundant source of fish, snails and shrimp, which are used to cook traditional dishes with outstanding flavours for tourists.
Dong Pao Cave is located inside limestone mountains. At the entrance of the cave, a vegetation of many different families coexists, from vines, shrubs to grass, all of them creating a giant green curtain. Deep inside the cave houses many layers of stalactites and an underground stream.
According to Chairman of Tam Duong District People's Committee Sung Lu Pao, community-based tourism has gradually formed and thrived over the past six years in the locality thanks to tourism development investment policies.
Since the beginning of the year, Tam Duong District has received more than 60,000 visitors with a total tourism revenue of more than VND 25 billion.
In addition to the Ban Tham tourist area, visitors to Tam Duong District can stay at homestays in the villages of Na Luong, Na Khuong, Lao Chai, and Si Thau Chai. Of which, Na Khuong Village is famous for its beautiful water fountains and giant waterwheels while Si Thau Chai is praised by young people as the most attractive check-in destination in Tam Duong District.
A culture and tourism week 2022 took place in Tam Duong District in April, featuring a series of activities, including a famtrip programme, a seminar to promote links in tourism development, a photo exhibition, and folk games.
Visitors to the event were introduced to the traditional weaving craft of the Lu ethnic people and witnessed the fire dance festival of the Dao ethnic people as well as a 'banh day' (round glutinous rice cake) making contest of the H'Mong people.
The highlight of the event was the third Putaleng international paragliding tournament with the participation of 100 domestic and foreign pilots.
Source: NDO – en.nhandan.vn