Starting from the idea of helping people travel to new a land in a convenient, safe and unique way, a group of young Vietnamese and UK people gathered together to create Tubudd – a digital platform that connects international tourists with locals who can work as tour guides.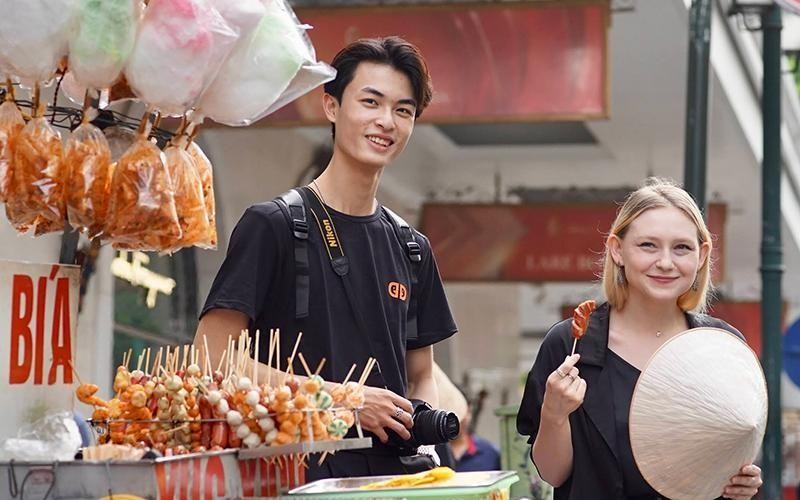 "Buddy" Pham Hoang Vu accompanies an Australian tourist to explore Hanoi. (Photo: Thao Phuong)
After four years of operation, including two years of enduring the COVID-19 pandemic, Tubudd has established a dynamic and enthusiastic tour guide community that shares a love for Vietnam and a passion to contribute to boosting Vietnamese tourism.
In fact, there are a number of travel models providing service of connecting international tourists with locals in Vietnam's big cities such as Hanoi, Da Nang, and Ho Chi Minh City. Many volunteer clubs have been established with university students as members who are willing to accompany tourists on short trips. However, Tubudd is the first digital platform in Vietnam that connects tourists with local guides.
Far more than a trip
On a summer day at the end of July, Jeff Vogstad, a Canadian man, visited Hanoi for the first time with his Singaporean wife Glady Vogstad and their two children. Their one-day sightseeing tour was accompanied by Nguyen Hong Minh, a 30-year-old female freelance photographer, who the foreign tourists found on Tubudd.
Hong Minh brought the family to explore Hanoi's Old Quarter, walking through small alleys to admire ancient buildings and enjoy street food in Hanoi, where she was born and raised. Minh also provided the guests with information about architecture, history and culture in a close, attractive way, from her own perspective and memories.
On their way walking from Thang Long Imperial Citadel to Ho Chi Minh Mausoleum, the group caught a sudden thunderstorm. Hong Minh quickly took guests to shelter from the rain at a cafeteria on Dien Bien Phu Street and took the opportunity to introduce the Hanoi Flag Tower and the Vietnam Military History Museum which are located next door, two places that were not included in their list of destinations.
After the eight-hour tour, Minh received a commensurate salary and a thank-you note from the Vogstad family for making their day in Hanoi so special and memorable. She was also complimented on her amazing knowledge of history and culture and how she "handled" the rain.
Minh has been a part of Tubudd for 4 years, Minh affirmed that the trips not only help visitors explore more about the country and people of Vietnam, but they also help local tour guides themselves learn more about the land they are living.
For example, once Minh suggested that a Brazilian female tourist bought bamboo dragonflies as a souvenir, they went to the Thach Xa bamboo dragonfly-making village in Hanoi's Thach That District, where they could witness the how bamboo stalks are transformed into vivid and colourful dragonflies with the skilful hands of local artisans.
Since its official operation in 2018, Tubudd – a variant of "tour buddy", has served thousands of tourists from many countries around the world to Vietnam while providing extra income for hundreds of young Vietnamese people.
With the average price for a tour guide ranging from 5 to 20 USD per hour (about 115,000 – 465,000 VND), depending on foreign language proficiency and other capabilities, Tubudd attracts both professional and freelance "buddies".
Notably, not only foreign tourists but also Vietnamese can use Tubudd's services to find companions for their adventures. Soon after tourism reopened after COVID-19, Nguyen Thi Anh Van, 43, from Hanoi made a three-month trip travelling from Mong Cai City in northern Quang Ninh Province to the south-most province of Ca Mau, during which she was accompanied by a total of 15 Tubudd "buddies" and gained unforgettable experiences, such as camping overnight on the beach and tasting indigenous specialties.
By visiting the Tubudd website or downloading the Tubudd app on smartphone and selecting your desired destination, date and time, and language, users will be provided with a suggestion list of travel companions with their personal information and their customers' ratings and comments.
Another advantage of trips provided by Tubudd is "personalisation" as customers do not go on a fixed tour in groups. Instead, the "buddy" will schedule the plan and adjust it depending on guest's requests or the weather situation.
In addition, Tubudd also provides guides for "workcation", a travel trend mixing work and play. Since the COVID-19 pandemic was placed under control, many foreigners come to Vietnam for business trips and they took their families with them and stayed for many weeks. During the stay, they can book "travel buddies" as an assistant to schedule meetings, travel, or take the whole family out.
Utilising technology to optimise ideas
"Diversity, transparency and localisation" are the three keywords that founder and CEO Vu Thi Thai An used to describe Tubudd. Born in 1991, the graduate from the Academy of Journalism and Communication, Thai An is a travel enthusiast. While studying abroad in Manchester (England), Thai An met Anthony Cruickshank, an Englishman who is also passionate about tourism and has experience working in this field.
The duo recognised the difficulties and disadvantages facing foreigners when self-traveling in Vietnam. Later, An was introduced to her fellow countryman Dang Tien Cuong, an information technology engineer who has worked at many large corporations in the Republic of and Singapore.
Cuong supported Thai An's idea of creating a travel online platform. The Tubudd team was established after numerous overnight, cross-border calls. The trio decided to set up Tubudd headquarters in Vietnam because of their belief in the tourism potential development of Vietnam.
During the periods of time when cross-border travel activities were halted due to COVID-19, Tubudd focused on technology development and the domestic market by supporting foreigners who were stuck in Vietnam due to the pandemic.
Tubudd has won many domestic and foreign innovative start-up awards, including awards from the Ministry of Science and Technology, Ho Chi Minh City Centre for Supporting Youth in Entrepreneurship, and the Vietnam National Administration of Tourism. In July this year, Tubudd received investment from TheVentures fund – an investment fund from the Republic of Korea.
Currently, Tubudd is cooperating with foreign language clubs in universities in Hanoi and Ho Chi Minh City, with the goal of providing access to 1,000 qualified "buddies" in 2022. Tubudd also organises training for "buddies" on communication skills, customer service, as well as necessary knowledge about first aid.
Tubudd plans to categorise and standardise its services into 6 groups: The Adventure Buddy, The Lifestyle Buddy, The Art Buddy, The History & Culture Buddy, The Business Buddy, and The Medical & Beauty Buddy.
Source: NDO – en.nhandan.vn