(TITC) – From 8-11th November2023, Tourism Information Technology Center (TITC) and Hospitality Industry Management Division (under Vietnam National Authority of Tourism – VNAT) coordinated with the Da Nang's Department of Tourism to organize the training program and guidance on implementing ASEAN Tourism Standards in 2023.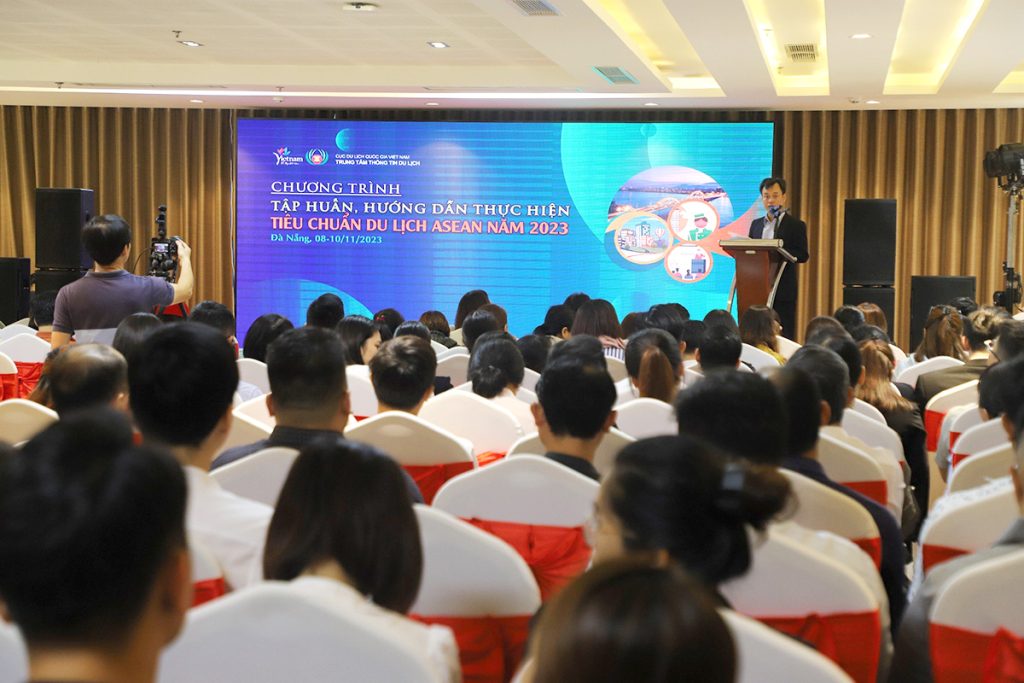 Officials of the Culture and Information Divisions of districts, and cities; tourism officials; accommodation establishments, tourist areas and sites in Da Nang City attended the training class.
"We hope that through this class, participants will have a systematic approach, full awareness and determination to implement ASEAN tourism standards, contributing to improving quality and competition capacity of Da Nang in particular and Vietnamese tourism in general", TITC's Director Mr. Hoang Quoc Hoa emphasized.
Ms. Pham Thi Song Anh, Deputy Head of Accommodation Management Division (Da Nang) informed that in addition to develop key tourism products, restore human resources, and improve the quality of tourism services, Da Nang is focusing on implementing many measures to ensure environmental and landscape hygiene.
In particular, the city is implementing the "Project to build Da Nang, an environmental city". The city mobilizes tourism businesses to reduce the use of single-use plastic products, maintain environmental hygiene, and classify household solid waste at source. Ensuring environmental hygiene of beaches and Son Tra peninsula area; implementing a civilized urban cultural lifestyle, behavioral culture, business culture, implementing the Code of Conduct in tourism activities. Thereby contributing to building the image of Da Nang: green, clear, beautiful destination.
Ms. Anh said that the training program is so important in order to raise awareness of management staff, destinations, and businesses on standardizing service quality – an important goal of Da Nang tourism industry.
At the same time, this is also an opportunity to review, evaluate and prepare the necessary conditions to register to participate in the ASEAN Tourism Awards, creating opportunities for parties involved in sustainable tourism development.
Within the framework of the ATF 2023 held in Indonesia last January, Cham Spa & Massage (Da Nang City) received ASEAN Spa Service Award.
ASEAN awards have contributed to honoring and developing the brands of businesses, high-quality tourism products and services in the region. This is also an opportunity for units to propagate, promote and improve the effectiveness of Vietnam tourism promotion and national destination branding.
The ASEAN Tourism Standards are published by the ASEAN Secretariat on the basis of consensus among member countries, in order to standardize and contribute to improving the quality of tourism products and services, as well as strengthening the responsibility of stakeholders in regional tourism development.
To date, there are 08 ASEAN Tourism Standards on: (1) Sustainable tourism, (2) Clean tourist city, (3) Community-based tourism, (4) Homestay, (5) Green hotel, (6) MICE venue, (7) Spa services, (8) Public toilet. These documents provide specific instructions on criteria, methods, and assessment processes and certification organizations to apply and implement.
Implementing and expanding ASEAN tourism standards is one of seven action programs to implement the strategic direction "Strengthening ASEAN's competitiveness as a single tourism destination" identified in the ASEAN Tourism Strategy 2016 – 2025.
In particular, establishments that meet the conditions and standards will have the opportunity to register to participate in the ASEAN Tourism Awards – the leading prestigious award in the region to honor excellent units in the tourism industry, awarded at the annual ASEAN Tourism Forum.
Tourism Information Technology Center