(TITC) – On 24th December 2022, for the first time, Vietnamese and international visitors experienced the Vietnam Cultural Art Show at Da Nang International Airport. Da Nang International Airport has become a pioneer in diversifying airport experiences, officially bringing traditional art into the airport experience system to serve residents and visitors at both arrival and departure terminals called "The Heritage Road".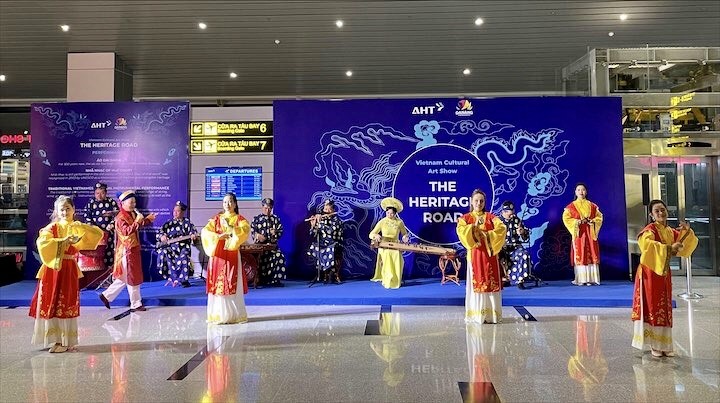 Da Nang International Airport bringing Vietnam Cultural Art Show The Heritage Road to service from 24th December 2022 (Photo: Danang Portal)
The Vietnam Cultural Art Show "The Heritage Road" is hosted by Da Nang International Terminal Investment and Operation Joint Stock Company (AHT) at the international departure terminal area, Da Nang International Airport from 24th December 2022, with the coordination and support of the Da Nang Department of Culture, Sports and Department of Tourism and other management agencies.
"The Heritage Road" is a traditional cultural art performance bringing new and emotional moments to travellers with pre-flight experience. Each performance lasts 30 minutes in the time frame from 23:00 to 23:30, taking place twice a week on Thursday and Saturday every week, with the purpose of promoting typical traditional cultural values of Vietnam's regions and increasing the flying experience for passengers.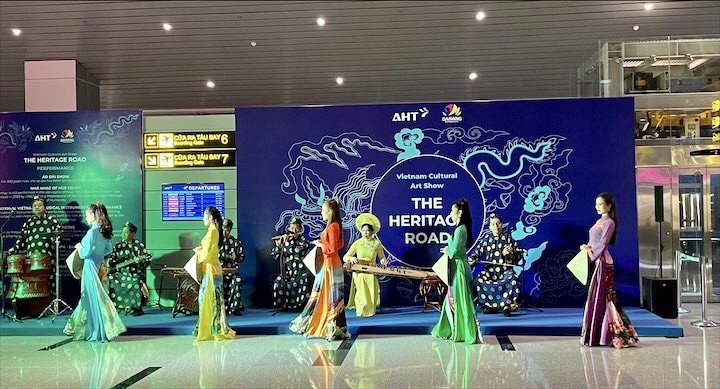 The Art Show introducing Vietnam's unique cultural heritage (Photo: Danang Portal)
While waiting for the flight departure time, passengers will enjoy special performances recounting historical, cultural and traditional stories under the language of costumes, concerts and dances rich in identity. Artists and actors of the Nguyen Hien Dinh Tuong Theater perform such as performing traditional costumes to introduce Vietnamese ao dai, Royal Palace costumes, solo – ensemble with ethnic musical instruments; Traditional dance and singing…
Mr. Nguyen Xuan Kieu, Assistant to the Executive Board of Da Nang International Airport, said this is the activity that has been nurtured for a long time. For visitors, the airport is not only the starting point of their journey of discovery, but also the final destination before leaving Vietnam. If they visit Da Nang with excitement and anticipation, Mr. Nguyen Xuan Kieu hopes they will have more experiences and good impressions on the people and culture of Vietnam and still keep those feelings until the last before the flight.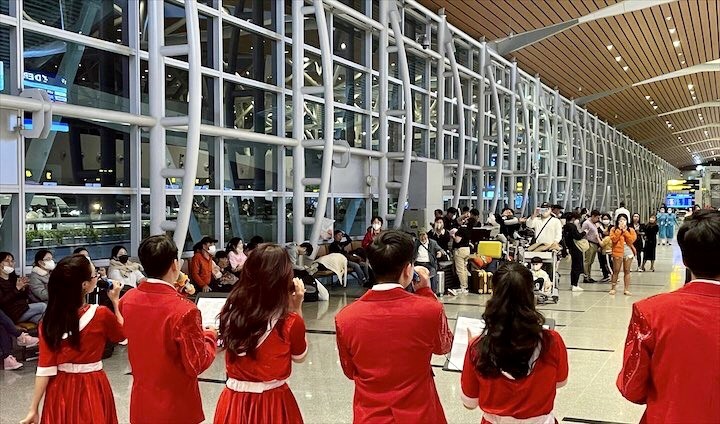 Da Nang leaves its own mark in people and visitors' hearts by experiencing cultural heritage (Photo: Danang Portal)
Towards the goal of becoming the first 4-star private international terminal in Vietnam according to Skytrax standards, AHT continuously enhances cultural, culinary and utility services combined with a core foundation of hospitality, quality and service spirit.
Tourism Information Technology Center