General Director of the United Nations Educational, Scientific and Cultural Organization (UNESCO) Audrey Azoulay confirmed this after visiting a number of architectural works in the Complex of Hue Monuments on September 7.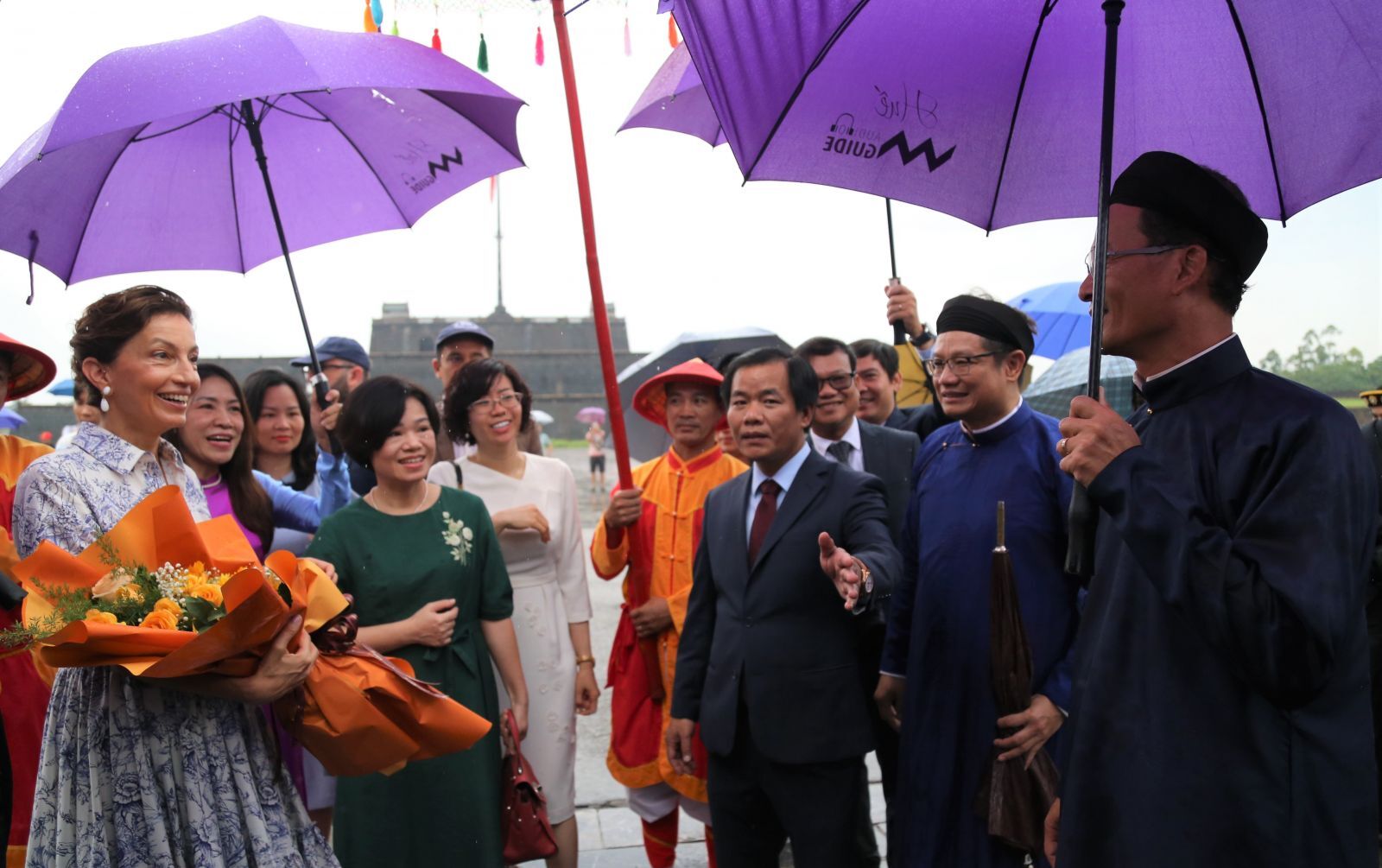 Chairman of the Provincial People's Committee Nguyen Van Phuong welcoming and presenting flowers to UNESCO General Director Audrey Azoulay
Joining the delegation was Ambassador Le Thi Hong Van, Permanent Representative of Vietnam to UNESCO. Chairman of the Provincial People's Committee Nguyen Van Phuong and leaders of departments, agencies, and branches welcomed the delegation right at Ngo Mon – Imperial Citadel.
"Feeling great to stay in Hue Imperial Citadel space"
The delegation enjoyed a drum performance and the re-enactment of changing of the guard ceremony of the old Nguyen Dynasty from the Ngu Phung Pavilion before visiting some places in Hue Imperial Palace. After that, the delegation continued to visit An Dinh Palace before enjoying an art show at Duyet Thi Duong Theater.
"It is wonderful to be in the space of Hue Imperial Citadel, which has crystallized so many cultural values, knowledge, and skills of many generations of Vietnamese people. And in music, Nha Nhac Hue – Hue royal refined music, is the first property of Vietnam to be recognized in the international area and listed in the list of intangible heritages," said Ms. Audrey Azoulay.
Over the past time, with active and effective technical and financial support as well as international advocacy for funding for Hue relics from UNESCO in the field of preserving and promoting the value of Hue cultural heritage, the conservation of Hue Monuments has been implemented and achieved great results. Hue's cultural heritage has passed the stage of emergency rescue and the original appearance of a historic ancient Capital is gradually being revived.
According to UNESCO, the conservation of Hue monuments is now transitioning to a stage of stability and sustainable development. The restoration work of the monument is carried out professionally, in strict compliance with the International Convention on the Preservation of Monuments, the Law on Cultural Heritage, and the Regulations on the preservation and restoration of historical and cultural relics – cultural heritage sites, regulations in basic construction, ensuring standards of conservation and authenticity of works.
In particular, the preservation of cultural heritage values in Hue ancient capital has always been closely linked with the process of exploiting and promoting heritage values and creating conditions for the socio-economic development of the province and of the Central region; in which the focus is on economic tourism and service.
UNESCO head Audrey Azoulay reiterated that the Complex of Hue Monuments is the first heritage of Vietnam recognized by UNESCO. And choosing to stop in Hue during her first visit to Vietnam shows her interest in this place as well as affirms that UNESCO has always been with Hue in preserving and promoting Hue's values.
It should be preserved and passed on
Ms. Audrey Azoulay also reminded that Hue's heritage is extremely precious and needs to be preserved and passed on to future generations. Therefore, the restoration, promotion, and preservation of Hue's heritage is everyone's responsibility. On its side, UNESCO affirmed that they will accompany and develop Hue.
Talking at the reception, Chairman Nguyen Van Phuong said that the province is honored to welcome the head of UNESCO and the visiting delegation.
Chairman Nguyen Van Phuong said that Thua Thien Hue is the only province in Vietnam that has 7 heritages that have been honored by UNESCO, of which the Complex of Hue Monuments is the first UNESCO World Heritage Site of Vietnam (1993 – tangible heritage), Nha Nhac – Vietnamese court music (2003 – intangible heritage), Moc Ban of Nguyen Dynasty (2009 – documentary heritage), Chau Ban of Nguyen Dynasty (2014 – Documentary heritage), Poetry on Hue royal architecture (2016 – documentary heritage) and 2 common heritages with other localities which are the Art of Bai Choi in the Central region and the practice of worshiping the Mother Goddesses of the Three Palaces (Intangible Cultural Heritage of Humanity).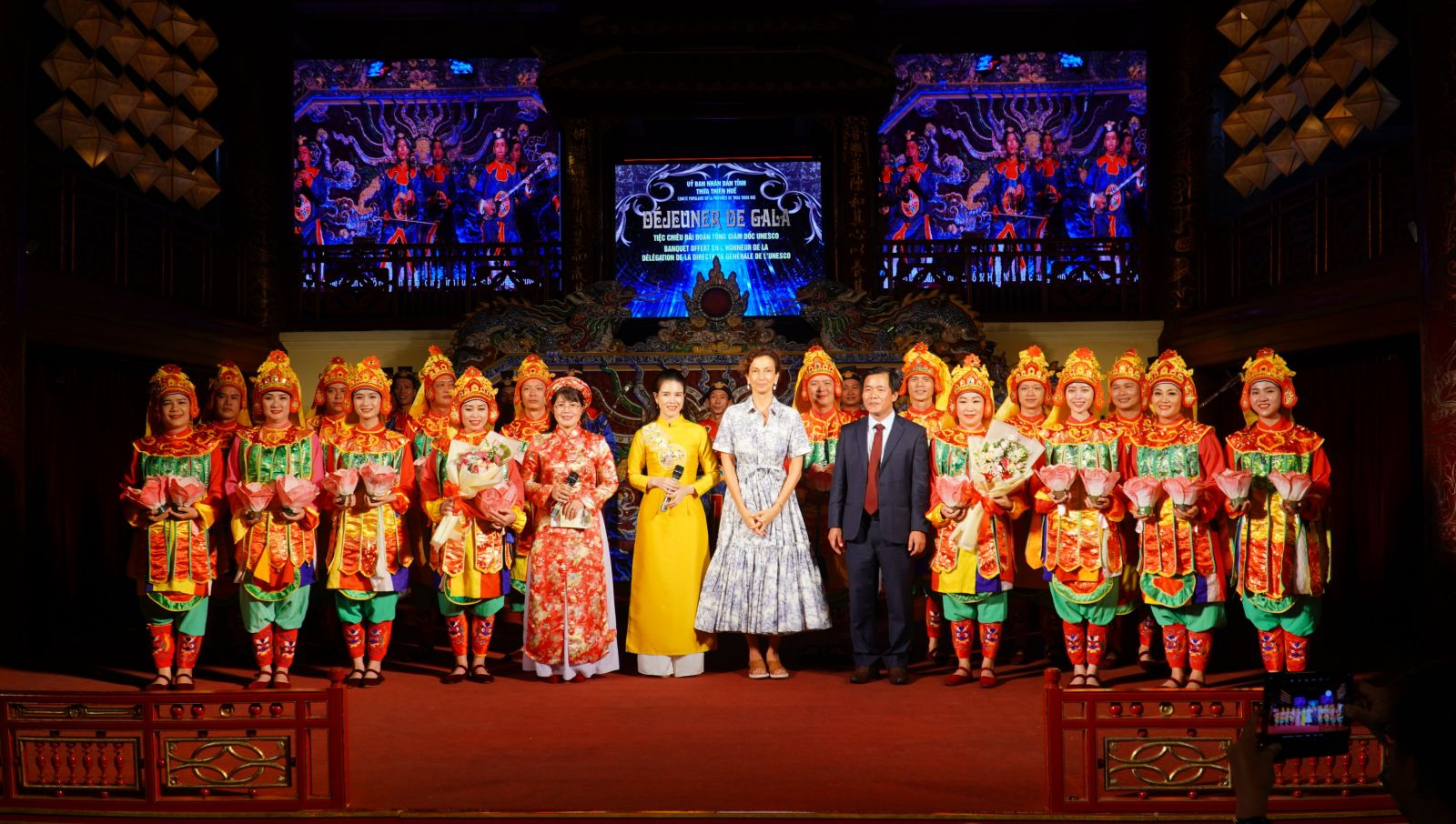 Chairman Nguyen Van Phuong and UNESCO General Director Audrey Azoulay posing for photos with artists at Duyet Thi Duong Theater. Photo: N.H
In order to preserve Hue's heritage quite intact as it is today, Chairman Nguyen Van Phuong thanked UNESCO for their support and companionship. In the coming time, Hue hopes to receive cooperation from UNESCO in preserving the cultural and heritage values of the ancient capital.
The visit to Hue by the head of UNESCO is part of her working schedule in Vietnam from September 5-7 with a number of important activities such as meeting with Prime Minister Pham Minh Chinh and attending the 50th anniversary of the Convention on the Protection of Cultural and Natural Heritage in Ninh Binh, and the 35th anniversary of UNESCO's resolution 24 C/18.65 honoring President Ho Chi Minh.
Story and photos: Nhat Minh
Source: Hue News – baothuathienhue.vn