Hanoi plans to execute three major activities until 2025 to enhance the preservation of the Imperial Citadel of Thang Long, Chairman of the city People's Committee Tran Sy Thanh said at a meeting with Marie-Laure Lavenir, Director General of the International Council for the Preservation of Monuments and Sites (ICOMOS), in Hanoi on September 7.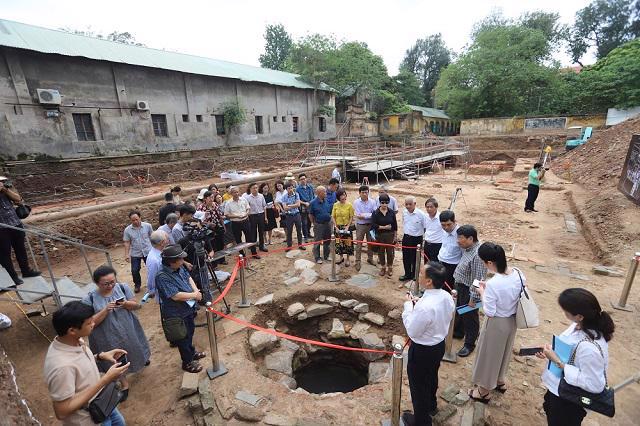 Archaeology discoveries are displayed and presented inside the Imperial Citadel of Thang Long. Photo: Lai Tan
Thanh said the three activities are the protection of the archaeology site on Hoang Dieu Street, the exhibition of information and artifacts related to the citadel, and the rebuilding of the Kinh Thien Palace.
On the will of the people and strong commitments of Vietnam to the United Nations Educational, Scientific and Cultural Organization (UNESCO), the city authorities are highly aware of preserving local heritages to promote its precious historical and cultural values, the chairman said.
"The preservation of the Imperial Citadel and other historical and cultural heritage sites is indispensable to the development of Hanoi as the history and the efforts of forefathers to defend and develop the country are forever in the memory of the people, motivating them to keep striving for the future," Thanh said.
He also expressed his gratitude for the concern of UNESCO specialists on Hanoi's preservation of historical and cultural heritage sites, which include the Imperial Citadel.
In return, Marie-Laure Lavenir said that Hanoi's authorities have succeeded in conserving local natural and historical sites.
The protection of the heritage sites requires the participation of all people and government officials, she said, adding that ICOMOS is willing to side with the city on the way as the independent consultant to UNESCO.
ICOMOS hopes to set up close relationships with local experts and may soon open an office in Vietnam to promote the linkage between the country and UNESCO, she said.
The meeting was a part of the two-day workshop held on September 8-9 to discuss the 20-year experiences in the preservation of the Imperial Citadel of Thang Long.
The workshop is co-organized by the Hanoi People's Committee, UNESCO Office in Hanoi, and the Vietnam Association of Historical Sciences. The event also celebrates the 50th anniversary of the Convention Concerning the Protection of the World Cultural and Natural Heritage – the 1972 UNESCO Convention.
At the workshop, participants will share remarkable achievements and experiences since the first discoveries of the citadel were revealed and announced in 2002 while gathering professional opinions for future activities.
The event is also expected to promote the images and values of the citadel in particular and Hanoi in general and make the citadel a must-visit place for both domestic and international visitors.
Along with professional sessions of the workshop, participants will also enjoy other cultural activities held at the citadel such as the Mid-Autumn Festival, the exhibition of artifacts, and displays of the palaces.
Son Nguyen
Source: HanoiTimes – hanoitimes.vn