In Mo Ga hamlet, Phu Thuong commune (Vo Nhai district, Thai Nguyen province), ethnic minority women not only know how to produce agriculture, take care of children, and do housework, but also know how to develop community tourism, thus creating the economy and preserving our nation's unique culture…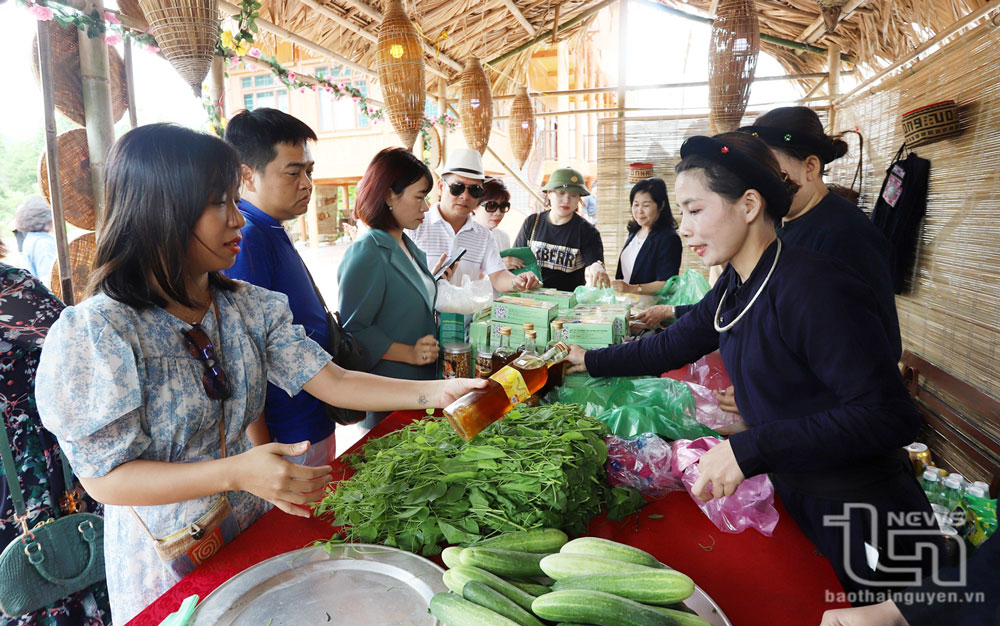 Women in Mo Ga hamlet sell agricultural products to tourists at the community tourism site.
Mo Ga hamlet is located in the east of Phu Thuong commune, with a total area of over 350 hectares, a population of 755 people, with 173 households. The hamlet has many favorable conditions for developing community tourism due to beautiful landscapes, fresh climate, and the people, mainly the Tay ethnic group, still retain their traditional cultural identity.
In particular, Mo Ga is also famous for its guava and longan gardens, making day cake and khau sli as well as traditional weaving. In addition, near the hamlet is historical relics and national scenic spots of Phuong Hoang Cave – Mo Ga Stream, which attracts many tourists.
Taking advantage of the potential for community tourism development, the Women's Union of Phu Thuong commune has organized many propaganda, advocacy, and inspiration events for members to develop community tourism associated with experiencing and preserving the local traditional cultural identity and culinary culture.
The attention and promotion of the Association have aroused the spirit and desire to rise in many women. To date, the hamlet has four families of women members who boldly switched from animal husbandry and farming to the community motel model. Some other members trade agricultural products and participate in performing arts teams to serve tourists.
Women members in the neighborhood regularly share their experiences in attracting tourists, cooking, organizing, and guiding folk games. Households known to many customers during peak times will introduce and share customers with other households to develop together.
For example, Ms. Dang Thi Tam, owner of Phuong Dong Homestay, is very bold in investing in community tourism. Ms. Tam said her family supported hundreds of millions of dong to upgrade a traditional stilt house with a capacity of over 30 guests to use as an accommodation facility and community tourism business. After more than one year of running this accommodation service business, despite many difficulties, her family initially had income from tourists, confirming the right direction.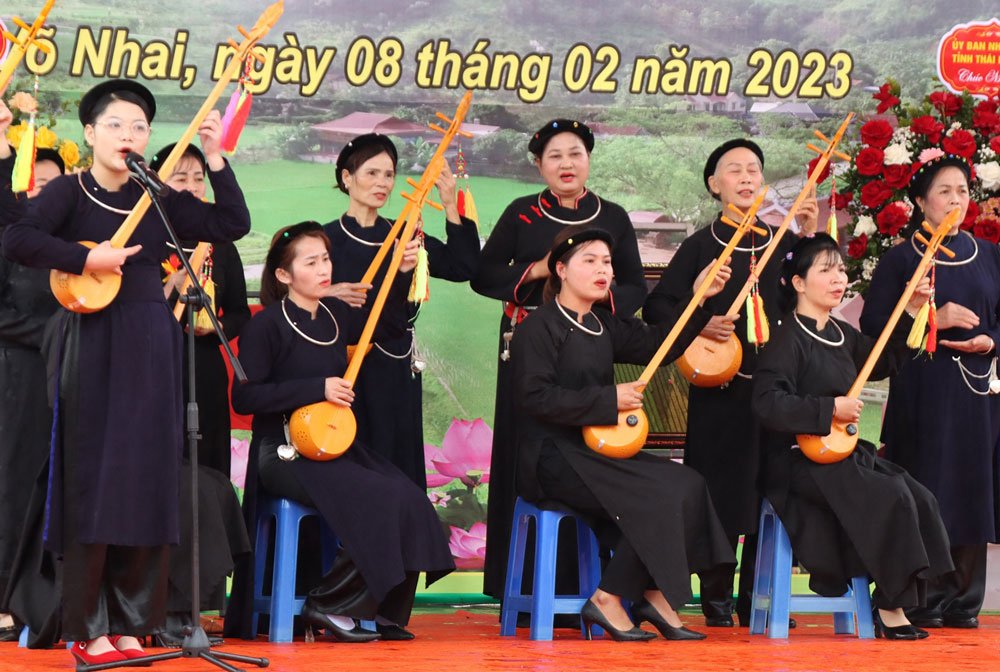 The Then singing – Tinh instrument club show performances.
The Then singing – Tinh musical instrument club show bilingual performances, singing half the songs in Tay and half in Vietnamese.
Along with the women-owned homestay models, many other women in Mo Ga hamlet are active members of the Mo Ga Then Singing – Tinh musical instrument club. The club was founded by women in 2021 and currently has 20 female members of the Tay ethnic group. The members are enthusiastic about preserving and developing the Then melody – Tinh performance. The club has now deployed bilingual performances, singing half the songs in Tay and half in Vietnamese to preserve and promote the Tay language in the community and bring new experiences to visitors.
Ms. Pham Thi Hom, Head of the Women's Union of Mo Ga Hamlet, shared: With the movement of the Association, in addition to the homestay business members linking together, women members also regularly contact and support each other to provide tourism services.
With the participation of women members, community tourism in Mo Ga hamlet has developed strongly in recent times, becoming a famous address for many tourists, and the number of tourists coming to the hamlet is increasing. Although it has only officially been in operation for nearly a year, the Mo Ga hamlet community tourist site has attracted over 4,000 visitors to experience it, with a revenue of over 600 million VND.
Ms. Lang Thi Danh, Chairwoman of the Women's Union of Phu Thuong commune, shared: Encouraging women to participate in community tourism has aroused the spirit and desire to rise of many women in the area. Initial results create a premise to contribute to improving efficiency and replicating the community tourism development model. In the coming time, the Association will continue to mobilize women members to exploit the local potential and strengths to develop tourism effectively and organize short-term training classes for members to have more communication skills and welcome tourists.
Thu Hà
Thai Nguyen News – en.baothainguyen.vn – October 31, 2023