Determining the importance of tourism – the key local economic sector, the Quang Nam provincial Party Committee has issued a Resolution on building and developing Hoi An City according to the orientation of an ecological – cultural – tourism city until 2030, contributing to creating favorable conditions to exploit sustainable tourism development.
In addition, UNESCO's Creative Cities Network participation will also open up many new prospects and opportunities, contributing to strengthening regional and international cooperation, building Hoi An into a typical example as a global city in preserving and promoting heritage.
Political and legal basis for Hoi An's development
According to the resolution, by 2030, Hoi An will be built and developed to meet the basic criteria of a type II urban area and a national tourist city, with specific ecological and cultural heritage characteristics, landscape, environment, and identity with Hoi An Ancient Town and Cu Lao Cham – Hoi An World Biosphere Reserve as the core. This is an extremely important political and legal basis.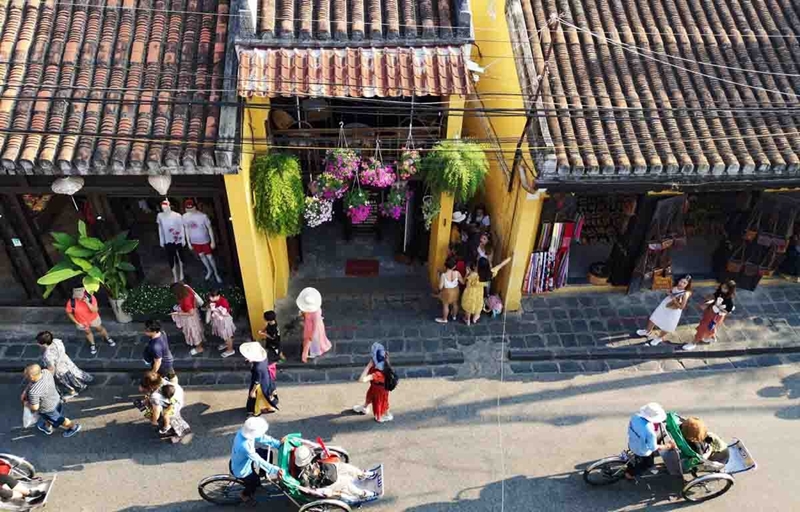 Tourists visititng the Hoi An ancient town. (Photo: VNA)
Because after the resolution is issued, the competent authorities of the province will also issue mechanisms, policies and projects to support Hoi An to concretize and better implement the resolution's contents.
On October 31, 2023, Hoi An city in Quang Nam officially joined UNESCO's Global Creative Cities Network in the field of traditional crafts and folk arts. At the same time, Da Lat City also joined the network as a UNESCO Creative City of Music. Previously, Hanoi also joined this 350-member network in the field of design.
In Hoi An, traditional crafts and folk arts are outstanding strengths and areas that Hoi An has preserved and promoted effectively in recent times. The city currently has 5 traditional craft villages with nearly 50 active handicrafts such as: carpentry, pottery, lantern making, bamboo and coconut craft making, garments and leatherwork. Of which, 3 craft villages and 1 traditional craft have been recognized as National Intangible Heritage and 2 other craft villages are filing applications for recognition. Bai Choi art was also recognized as an intangible cultural heritage of humanity in 2017.
Orientation for sustainable development
Hoi An's intrinsic attractions include many houses in the ancient town with architecture of the 17th – 19th centuries, while the people are living in the 21st century. The city is not large in scale but has always been international in the past and present.
Hoi An cultural heritage has overcome harsh impacts of the natural and social environment, and is still respectfully preserved and promoted by generations of Hoi An people. The city is rich in history and identity and has multi-layered cultural traditions. Folk art forms and traditional craft villages are preserved and continuously developed.
Besides, the government continues promoting its constructive role to encourage entities to create more attractions for Hoi An. In the process of development, generations of residents of Hoi An continuously innovate to create new values. From trading as the foundation, forming foreign economic and trade activities, and bird's nest exploitation to express tailoring and lantern making in the present show persistent creativity, contributing to cultivating the attractive appeal of this urban area.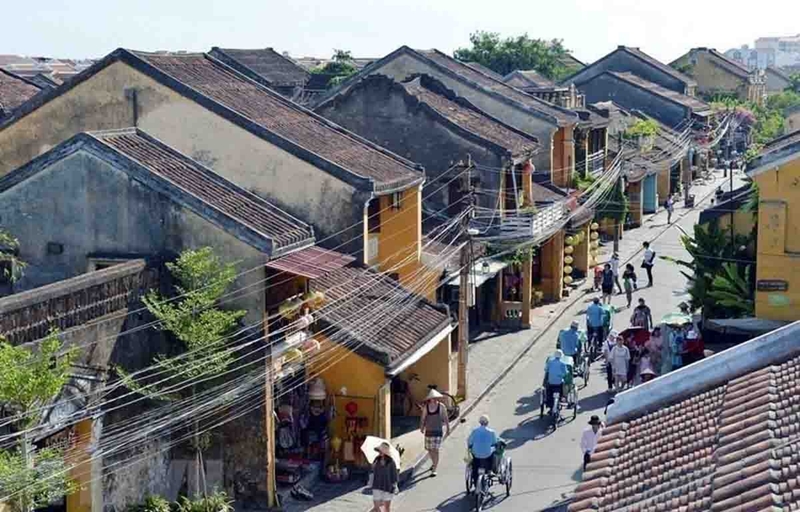 Hoi An's space and time are all deposited in the ancient wooden houses. (Photo: VNA)
The city determines that Hoi An is the common heritage of local people who have the right to enjoy and share that value for their own economic development. The goal is to develop a heritage economy that brings stable income to all classes of people so that all residents of Hoi An can enjoy a safe life without having to go far to find work. In addition, the government also creates maximum conditions for local people to be creative and interact with the world's cultural and civilized elements right in this city.
Mr. Tran Anh, Secretary of the Hoi An City Party Committee, said that since being affected by the COVID-19 epidemic, Hoi An has been forced to change its appeal. In 2019, the tourism – trade – service industry accounted for 72% of the economic structure and more than 90% of Hoi An residents depended on tourism.
So far, Hoi An has identified tourism – trade – services as a key economic sector towards increasing quality. It will diversify types of tourism, promote community tourism, and gradually professionalize tourism activities. In addition, due attention will be paid to industry, handicrafts and high-quality agriculture to adapt and be more balanced when facing possible risks./.
BTA
CPV – en.dangcongsan.vn – November 12, 2023