Talking about  Phu Yen, tourists never fail to mention the keyword "land of yellow flowers and green grass" and always want to once check-in at this beautiful natural film studio,which is the effect that cinema brings to tourism, making an important contribution to promoting and attracting domestic and international tourists.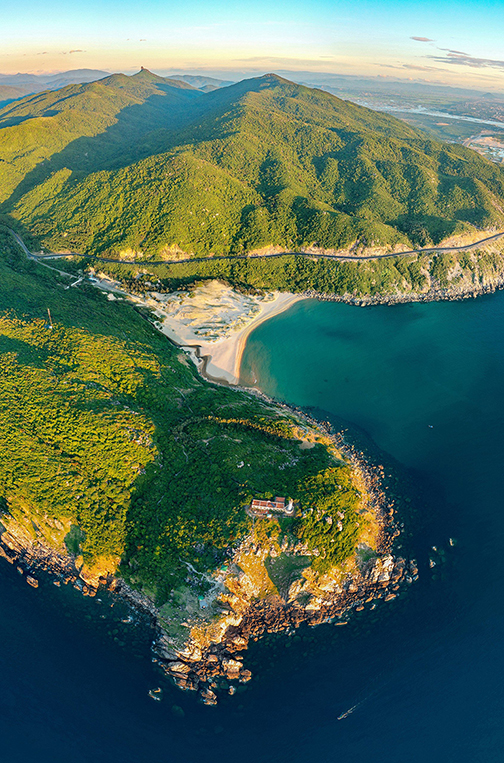 The beautiful nature of Phu Yen not only attracts tourists but is also chosen by many film crews as the backdrop for their projects. In the photo: Dien cape (Dong Hoa town) seen from above
In 2015, the film "I saw yellow flowers on green grass" by director Victor Vu, adapted from the short story of the same name by writer Nguyen Nhat Anh, helped Phu Yen tourism develop strongly. The characters' childhood emotions and the image of beautiful nature here touched the hearts of the audience. Immediately after the film's release, audiences across the country made plans to visit the land of yellow flowers and green grass.
Most recently, the movie project "Once upon a time there was a love story", adapted from the long story of the same name by writer Nguyen Nhat Anh, produced by Trinh Dinh Le Minh and Hoan Khue film studio (HK Film), will have a main filming location in Phu Yen province.
Ms Nguyen Thi Hong Thai, Director of the Department of Culture, Sports and Tourism, said that after receiving the official dispatch from the Provincial People's Committee, the department made a meeting and assigned specific tasks to the Tourism Information and Promotion Center to act as the contact point with the filmmaking crew, advising on planning and coordinating support, from surveying and selecting the setting to necessary requirements during filming. "I think this is an opportunity, an important channel to promote the image of the homeland, moreover, it helps to connect and promote Phu Yen tourism to domestic and international audiences through movies. The department's perspective is to provide maximum support within our conditions and abilities", said Ms Thai.
The long story "Once Upon a Time There Was a Love Story" by Nguyen Nhat Anh was first published by Tre Publishing House in 2016, with over 10,000 paperback copies and 1,000 hardcover copies, sold out immediately after its release. The book has so far been reprinted more than 10 times.
"Once upon a time there was a love story" is about the friendship and love of two boys and a girl from childhood to adulthood before the challenges of fate. A love story is loved by readers because of its romance but full of contemplation about love and maturity. The trio of Phuc, Vinh, Mien (close friends, in the same class) has come to the end of a love story.
Sharing with the audience at the launch of the film project "Once upon a time there was a love story", director Trinh Dinh Le Minh said: The story brings a very unique flavor of writer Nguyen Nhat Anh, besides delicately exploiting the vibrations of puberty, it also deeply explores choices and maturity in love. The story is very gentle but also very intense.
The audience have shaped and given great love to films adapted from stories by writer Nguyen Nhat Anh, which will be a pressure for the next directors. However, Trinh Dinh Le Minh said that he was not pressured, even excited, because each director will have their own way of handling it. It will be new emotions, real cinematic experiences.
Remember a few years ago, the movie "I see yellow flowers on green grass" made viewers gasp when they saw the wonderful natural scenes, countryside, and sea of Phu Yen. Immediately after its release, the film carved a great impact, attracting a large number of tourists to Phu Yen province. Hopefully, "Once upon a time there was a love story" also triggered the same "phenomenon".
Translated by Trinh Thuy
Phu Yen News – baophuyen.vn – November 11, 2023