With heavenly beaches and resplendent resorts on a par with the Maldives, the island of Phu Quoc in Vietnam has fast become one of the most talked about destinations for global travelers searching for heaven on earth.
An upgraded version of Maldives
When dreaming of a luxurious island getaway, who doesn't conjure up images of Maldives? The jewel of the Indian Ocean is a tropical paradise where travelers wake up to the sight of azure waters over white sands and the sound of gentle waves lapping at their doorstep.
It's also a place where guests can indulge in unparalleled resort services. Indeed, the Maldives isn't just a destination; it's a dream shared by countless travelers worldwide. Each year, nearly two million people flock here to experience the opulence and romance of this island getaway.
But the Maldives isn't the only destination that offers picture-perfect beaches and world class luxury resorts. Tucked away in the Gulf of Thailand, just off the southwestern coast of Vietnam, Phu Quoc has swiftly caught the world's attention in recent years. Distinct from other coastal getaways in Vietnam, Phu Quoc is situated entirely within the Gulf of Thailand where it is shielded from the tempestuous grip of South China Sea storms. This means the island enjoys a mild climate all year round, making it the perfect spot for snorkeling, kayaking, or simply lolling around the beach.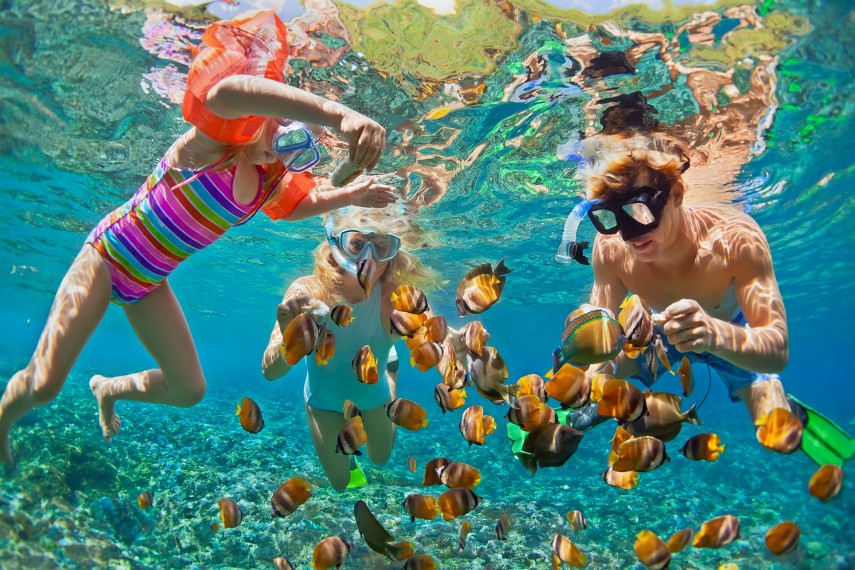 Admiring coral reefs in Phu Quoc
The island also possesses distinct geographical features. Venture north, and you'll be greeted by the captivating juxtaposition of primeval forests meeting the sea. In the center of the island, Phu Quoc National Park boasts a rich ecosystem of primeval, secondary and indigo forests, which is home to a thriving biodiversity. But it's in the southern part of the island where a different kind of enchantment awaits. This is where you will find white sands and crystal emerald waters that will truly take your breath away.
With striking parallels to the Maldives, Kem beach has been recognized by Flight Network as one of the 50 most beautiful beaches on the planet in 2018. It's easy to see why. When you walk across the white sands, and gaze over the azure waters, you will be treated to a sensory symphony as the crashing waves serenade the rocky cliffs of Ong Doi Cape. It's a truly stunning part of planet earth. If you venture further to the south to Hon Thom (a separate island which you can reach in a cable car that glides over the sea), you will discover an aquatic wonderland, where more than 120 coral species unite in a vibrant, kaleidoscopic dance under the water.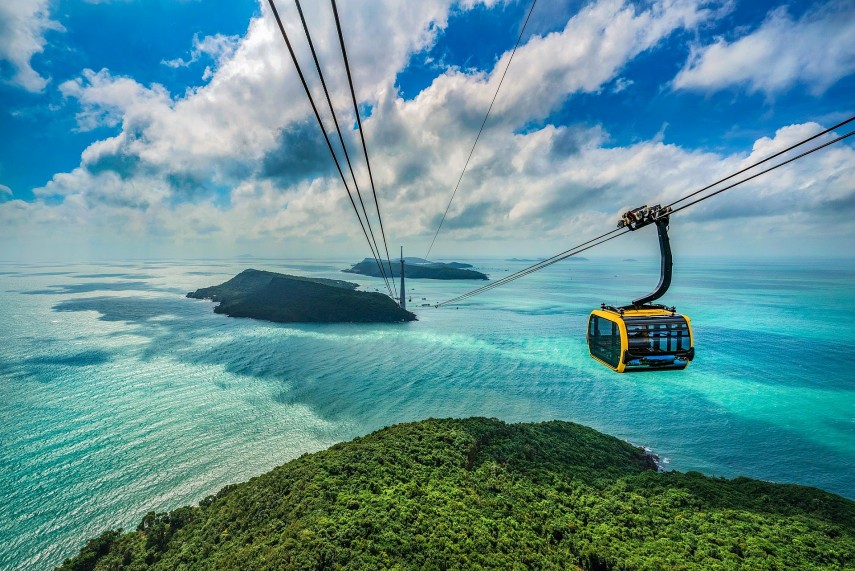 The world's longest three-cable ropeway to Hon Thom Island, Phu Quoc
If you wish to explore the island, Phu Quoc also offers plenty of distinctive cultural experiences – you can go fishing for squid at midnight, or day-long adventures to some of the unspoiled smaller islets in the Phu Quoc archipelago. Many visitors love to explore the pepper plantations and pearl farms, before savoring a bowl of the island's signature noodle dish Bun Quay (literally 'stirring noodles') or feasting on fresh seafood.
For those who have a deep appreciation for Asia's spiritual culture, a visit to Ve Quoc Pagoda is not to be missed. Here, visitors can behold the statue of Lady Bodhisattva as she gazes towards the ocean. Furthermore, the historic Dinh Cau Temple is another famous landmark. With its origins dating back to the 17th century, this sacred site symbolizes the enduring spirit of the region.
The lap of luxury
When it comes to heavenly hideaways, the 'Pearl Island' (as Vietnamese call Phu Quoc) certainly holds its own against the Maldives with an impressive collection of internationally renowned hotel management giants, including Marriott International, Accor Hotels, Hilton Worldwide, Rosewood Hotel Group, Best Western Premier, Park Hyatt, and many more, all now operating resorts on Phu Quoc.
Compared to the Maldives – a long established symbol of ultra-luxurious vacations since the '90s – Phu Quoc has only appeared on the world's luxury travel map in recent years. But travelers can already find a multitude of accommodation choices at award-winning resorts.
In 2016, Marriott International, a stalwart in the hotel industry for decades, partnered with Sun Group to unveil the 5-star++ JW Marriott Phu Quoc Emerald Bay Resort. This collaboration recast the image of Phu Quoc as a rather sleepy, rustic island getaway, transforming it as a destination for billionaires and celebrities.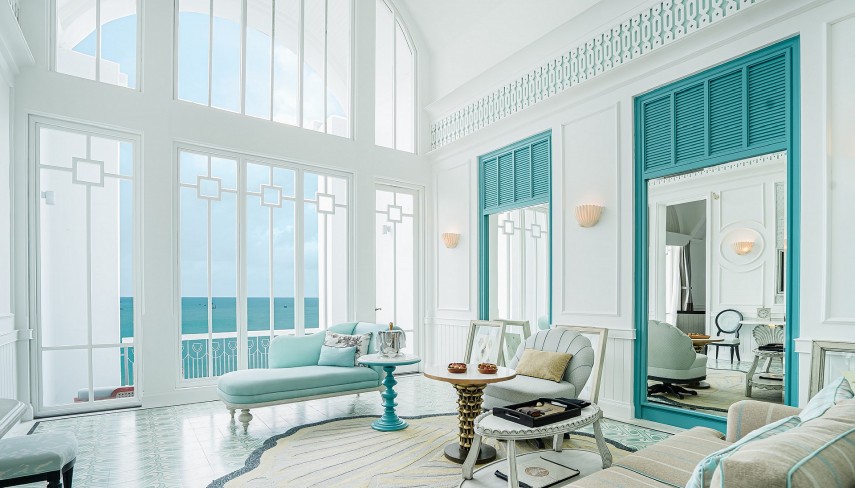 Edging the sand and surf of Kem Beach, JW Marriott Phu Quoc Emerald Bay Resort is a luxury haven amid a stunning travel destination
The renowned architect Bill Bensley, one described as the "wizard of resorts", was chosen to design this game-changing accommodation, which is located right on Kem Beach. Bensley created a completely "fictional university campus" with 18 distinct faculties, ranging from Nature to Social Science, Chemistry and Zoology. This playful concept whisks travelers through a magical portal into a fantasy land, where they can enjoy a mind-blowing luxury travel experience found nowhere else on Earth.
Just two years after its launch, the resort had gained such a great reputation that Indian billionaire Kaabia Grewal didn't think twice about choosing JW Marriott Phu Quoc over the Maldives as the venue for her extravagant seven-day wedding celebration. The event welcomed 700 guests and featured the participation of 125 performing artists from across the globe. Heralded as one of India's top nine most highly anticipated weddings of 2019, the event commanded the attention of media outlets worldwide, helping to spread word of Phu Quoc's stunning beaches and fabulous resorts.
Among the constellation of premium resorts on the island, New World Phu Quoc also stands out as a shining star. Many couples have chosen this coastal gem for an extravagant wedding celebration because they are enamored by the resort's rustic design, characterized by the charming thatched-roof villas that pay tribute to traditional Vietnamese villages. Needles to say, the resort also comes replete with sumptuous upscale services and amenities.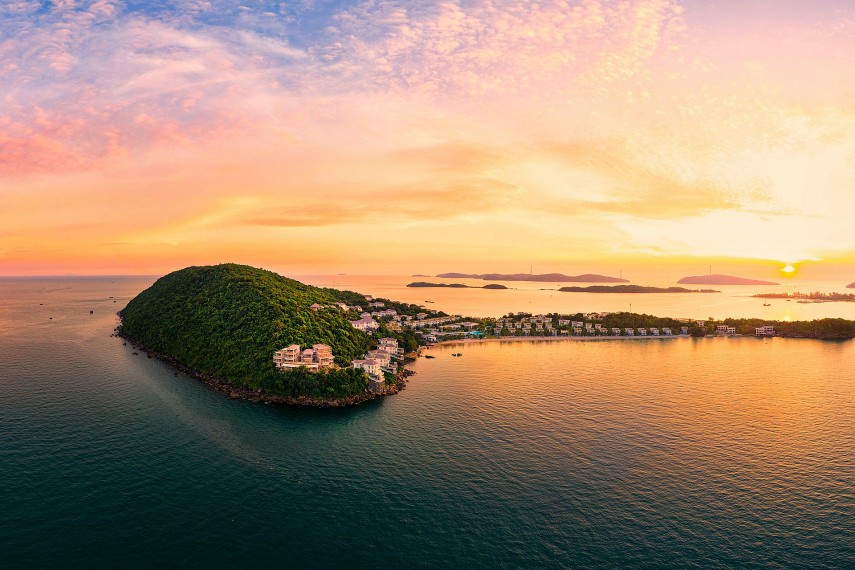 Premier Village Phu Quoc Resort is the only such place in Vietnam where it's possible to enjoy a double sea view of sunrise and sunset
Meanwhile, nestled at Mui Ong Doi, you'll find the Premier Village Phu Quoc Resort, managed by the prestigious Accor Hotels group. This accommodation is particularly favored by celebrities looking for the ultimate coastal hideaway with its collection of private villas perched on rocky cliffs. It is also the only place on Phu Quoc Island – and one of the rare spots worldwide – where guests can savor both the sun rising from, and setting on, the sea from a single location.
For those who crave the lavish splendor of floor-to-ceiling windows, and private in-room pools with ocean views, Regent Phu Quoc is a leading choice. Meanwhile, The Shells Resort with its architectural homage to seashells is another popular accommodation. For travelers seeking a more budget-friendly option, Mango Bay Resort has many admirers, who appreciate its rustic, eco-friendly feel (rather than rely on air conditioning, the rooms still stay refreshingly cool, thanks to the clever design).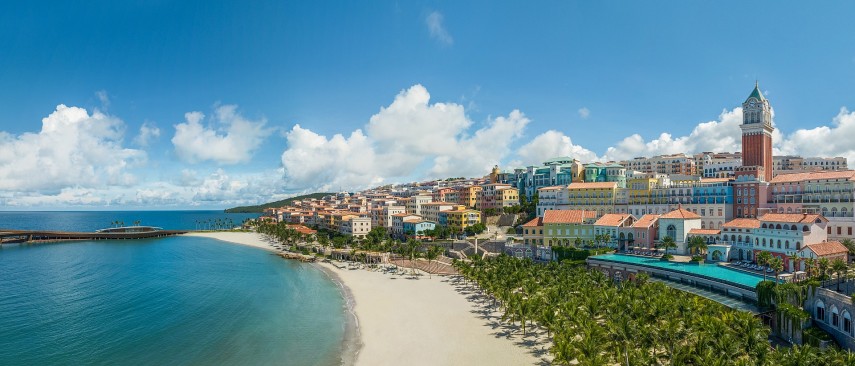 Being the first Curio Collection by Hilton in Vietnam, La Festa Phu Quoc is a creation of sensibilities that bring to life a cinematic Mediterranean dream
Promising to further solidify Phu Quoc's allure as a luxury travel destination is the "superlative" La Festa Phu Quoc resort. This project, backed by the Sun Group and managed by the prestigious Curio Collection by Hilton, is located in the heart of Sunset Town. Drawing inspiration from the vibrant colors of the Mediterranean, La Festa is poised to become a future hotspot for upscale getaways. It boasts a stunning backdrop that features the iconic Kiss Bridge, which gives the location an undeniably romantic ambiance – it's certainly no surprise that many young lovers come here to make a proposal or exchange vows as they stand perched over the sea with the sun setting in the background.
Beyond all of its breathtaking natural beauty, Phu Quoc Island has clearly arrived as a destination for luxury travel with an array of premium resorts. Prior to 2016, Phu Quoc welcomed fewer than one million visitors. In 2017, however, the island surprised the travel industry with arrivals surging to over 2.7 million tourists. In 2019, CNN recognized it as one of the best destinations in Asia, and by 2021, TIME magazine placed Phu Quoc among the Top 100 Greatest Places in the World. Most recently, the famous US travel magazine, Condé Nast Traveler, honored Phu Quoc as one of the best islands in the category "Readers' Choice Awards 2023". Bouncing back after the pandemic, in 2022, Phu Quoc welcomed nearly 5 million visitors, maintaining high occupancy rates between 80% to 90%, even during the low season with travelers from every corner of the globe coming to bask in the lap of luxury on an island that an only be described as paradise.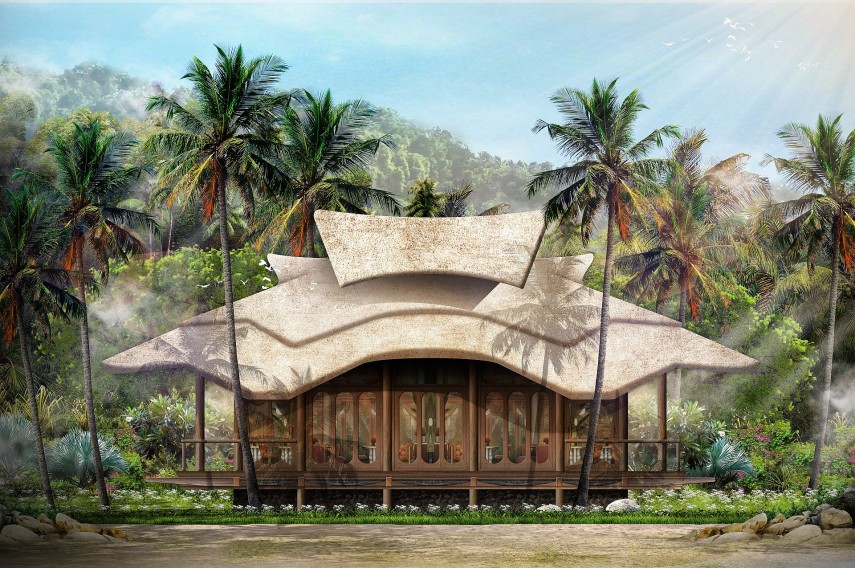 The Ritz Carlton Reserve, Hon Thom Island is a highly anticipated project from resort mogul Bill Bensley and Sun Group that is set to revolutionize the hospitality industry
In another exciting development, Sun Group together and Marriott International, a globally-renowned hotel management corporation, signed agreements on October 26, 2023 to bring The Luxury Collection and Ritz Carlton Reserve, two of the world's leading luxury hotel brands to Phu Quoc – it will also the first time these two prestigious brands will operate in Vietnam. The resorts operated by The Luxury Collection and Ritz Carlton will be located on Hon Thom (Phu Quoc), the stunning island that can be accessed by cable car that glides over the sea. These super luxurious accommodations will undoubtedly further Phu Quoc's reputation as the "Maldives of Vietnam" and entice billionaires and celebrities to this rising star of luxury travel.
Hong Ha
VEN – ven.congthuong.vn – November 10, 2023