(TITC) – On September 30, in Ha Noi, Ninh Thuan Provincial People's Committee held a conference to promote Ninh Thuan tourism in Ha Noi. Mr. Nguyen Trung Khanh, Chairman of Vietnam National Administration of Tourism attended the conference.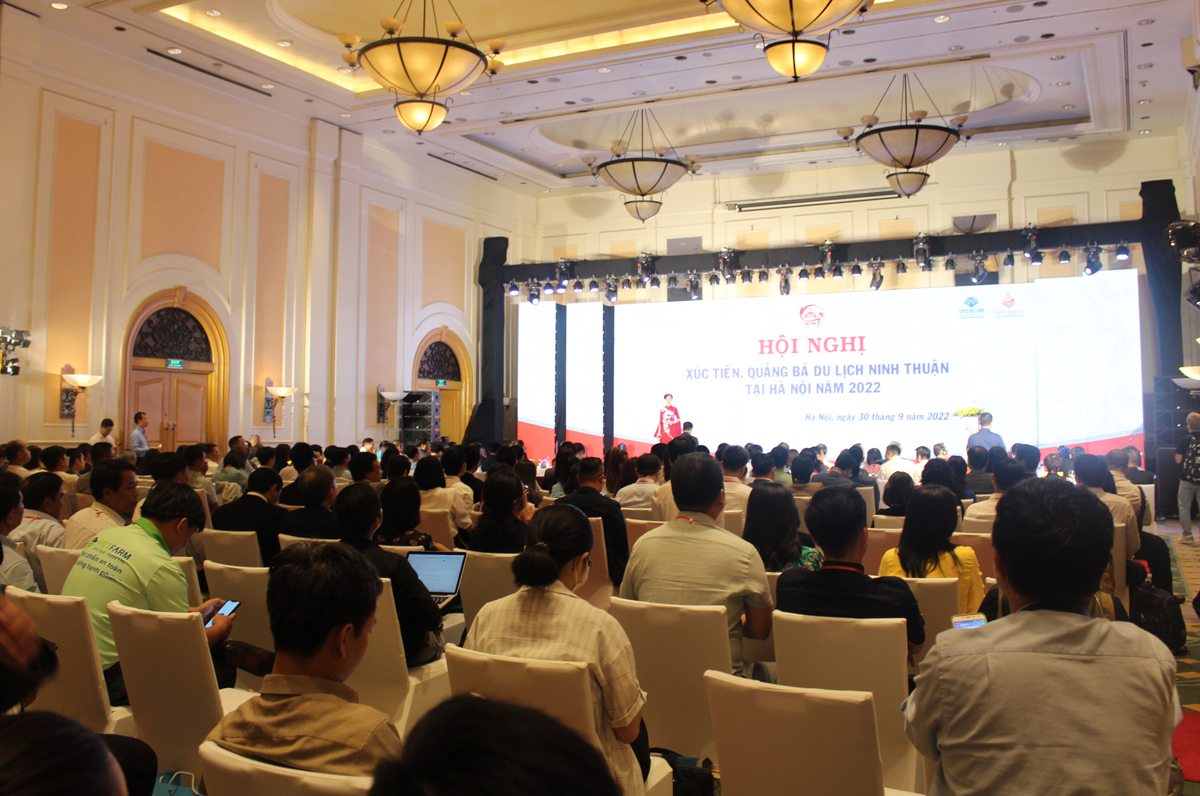 Overview of conference. Photo TITC
The conference attracted representatives of ministries, localities, embassies, tourism businesses and press reporters.
Ninh Thuan develops 4 special products, 4 new products and 4 complementary products
Chairman of Ninh Thuan Provincial People's Committee Tran Quoc Nam said that Ninh Thuan Province located in the South Central Coast region, with a typical climate: low rainfall, lots of sunshine and rare influence of storm. Geographers liken Ninh Thuan as "the unique desert area in Southeast Asia".
The province has more than 105 km coastline, in the center of upwelling waters with many species of seafood, endowed by nature with rich resources, biological diversity and landscapes.
Ninh Thuan Province will focus develop 4 specific products (sea leisure tourism; Cham cultural heritage tourism; high-tech agricultural tourism; ecological tourism associated with Nui Chua National Park); 4 new products (Sand – Salt discovery and recreation; semi-wild hunting; railway experience; treatment and wellness tourism); and 4 complementary products (community tourism; entertainment and culinary; renewable energy sightseeing; trading tourism).
At the same time, Ninh Thuan province prioritizes calling for investment projects in the northern, southern and the center of Phan Rang-Thap Cham City to form accommodation system in Binh Son beach, commercial center, complex entertainment areas…
In order to improve the investment attraction environment, the province has issued many preferential policies and guidelines on land, simplified administrative procedures, and created favorable conditions for businesses; pay attention to the planning and promotion of tourism. The system of accommodations continues to be developed with 203 establishments, over 4,400 rooms. The number of rooms with quality standards equivalent to 3 stars or more accounts for over 50%.
Vice Chairman of Ha Noi City People's Committee Nguyen Manh Quyen suggested that tourism associations and the Ha Noi business community continue to accompany and actively respond to tourism development activities in Ha Noi and Ninh Thuan. The two localities shall coordinate and create favorable conditions to call for and attract investment; coordinate in organizing survey to connect Ha Noi – Ninh Thuan with neighboring localities and vice versa.
Ninh Thuan tourism has a lot of potential for tourism development, it is necessary to exploit unique products to attract tourists.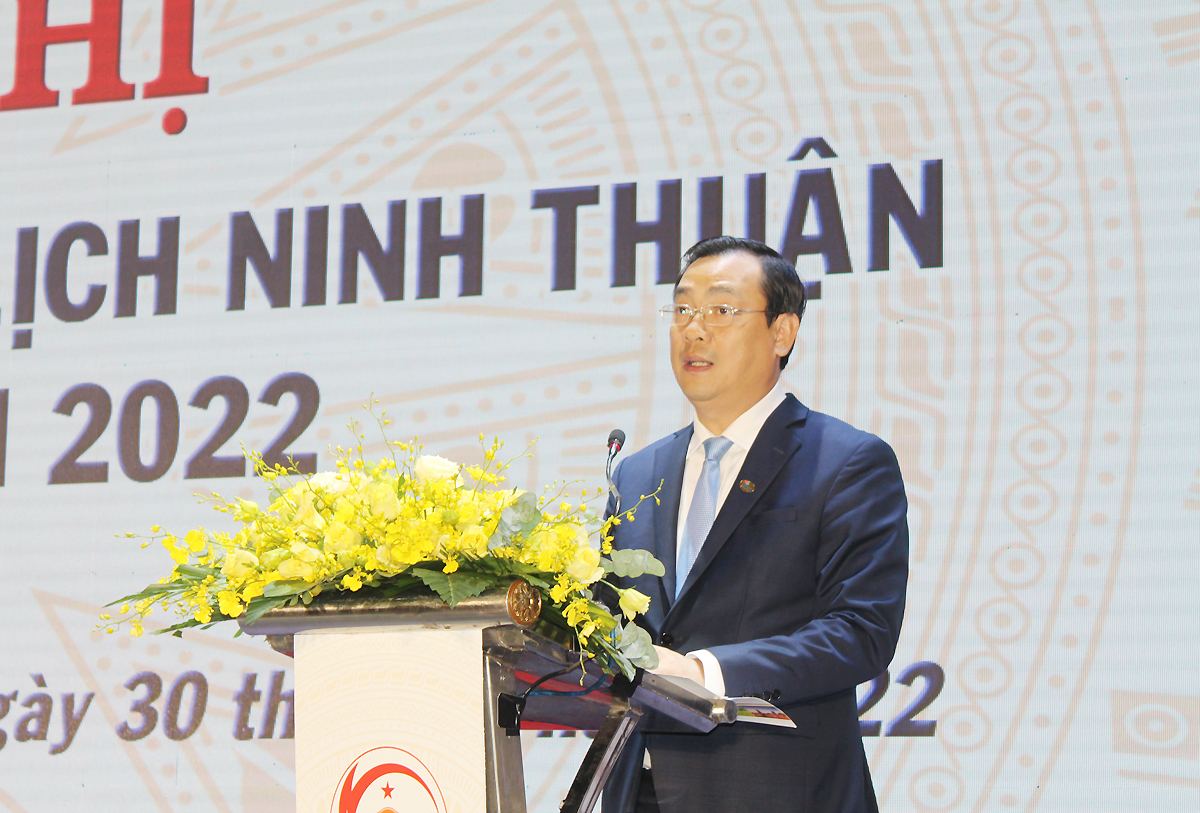 VNAT's Chairman Nguyen Trung Khanh at the confernce. Photo TITC
VNAT's Chairman Nguyen Trung Khanh appreciated that Ninh Thuan Province owns important geographical position, a transit point, connecting the Southeast key economic region with the South Central Coast and the Central Highlands, in the chain linking the Central Coast provinces.
He suggested the province to develop unique tourism products related to sea leisure tourism, Cham culture heritage, high-tech agricultural…; raising communication and digital application; fostering training human resource; strengthening linkages to tourism hub; improving environmental sanitation, security and safety at tourist sites and attractions, enhance competitiveness for local tourism.
Within the framework of the conference, Ninh Thuan businesses shared information about their strengths and products with the desire to connect and cooperate with businesses in Ha Noi in particular and the Northern region in general. The conference also witnessed businesses and tourism associations signing memorandums of understanding on investment cooperation.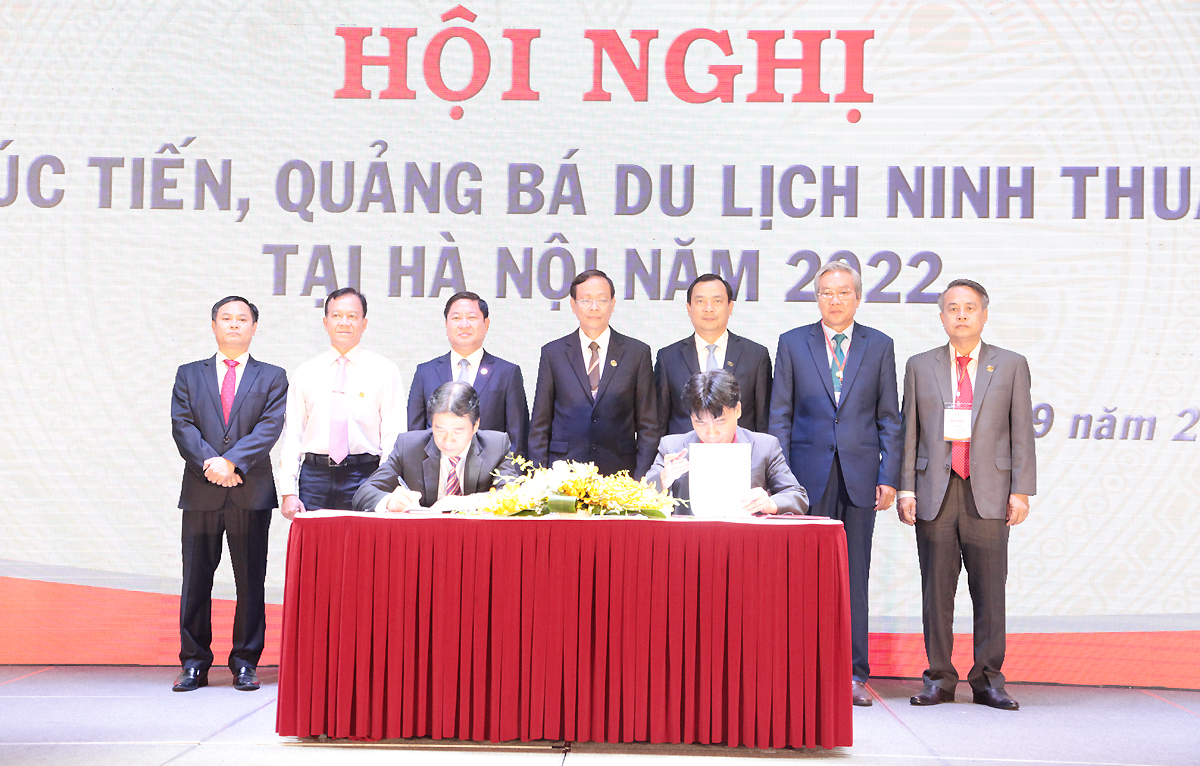 Signing memorandums of understanding on investment cooperation. Photo TITC
From September 30 to October 2, Ninh Thuan Province also organized Ninh Thuan Culture and Tourism Day in Ha Noi 2022 with many exciting and attractive activities.
Tourism Information Technology Center