(TITC) – On the first day of 2023, Thua Thien Hue Province organized the ceremony to announce Hue Festival 2023.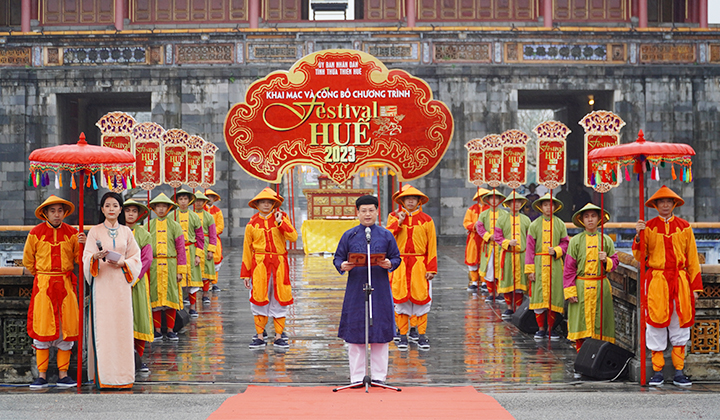 Ceremony to announce Hue Festival 2023. Photo Hue News
Thua Thien Hue is the leading locality in organizing a national and international contemporary festival, Hue Festival. Over the past 22 years, Hue Festival has become a notable festival in the system of festivals around the world. The role and position of the Hue Festival brand are increasingly affirmed.
Hue Festival 2023 especially focuses on activities to celebrate the 30th anniversary of the Complex of Hue Monuments recognized by UNESCO as a World Cultural Heritage; 20 years of Nha Nhac, Vietnamese Court Music was inscribed as the Intangible Cultural Heritage of Humanity. Besides, a number of activities to celebrate the even-numbered year of establishing diplomatic relations between Vietnam and other countries will also be organized by the embassies in collaboration with Thua Thien Hue.
From the results and experiences gained, Hue Festival 2023 will continue to perform forms of folk festivals, royal festivals, religious festivals, and traditional festivals, and at the same time gradually build up new festival program, in line with the trend, meeting the public's demand for enjoyment, developing into a festival tourism product that contributes to socio-economic development.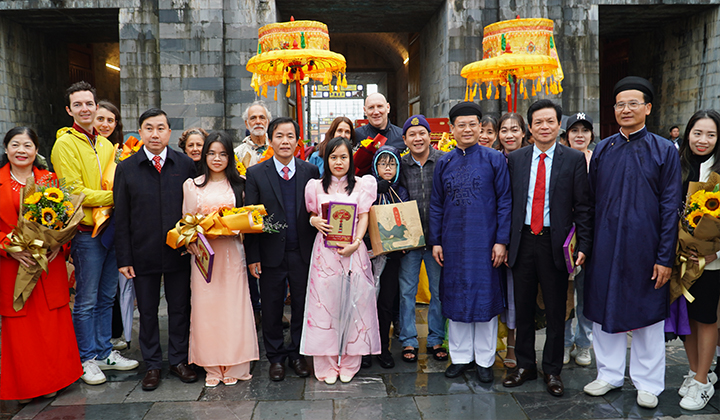 Welcome the first visitors to Hue in 2023. Photo Hue News
Hue Festival 2023 with the theme "Cultural Heritage: Integration and Development" will have more than 50 main activities and nearly 100 responding activities taking place all year around in the direction of four seasons: "Spring Ancient Capital", "Shining Citadel" in summer, "Hue in autumn", "Winter of Hue".
Domestic and international art troupes representing regional and national cultural identities conduct programs to exchange and collaborate in culture, honor and promote specific cultural features of cultural ancient capital.
According to Mr. Nguyen Thanh Binh, Standing Vice Chairman of Thua Thien Hue Province People's Committee, Hue Festival 2023 continues to show the spirit of innovation and diversify the types of festival organization towards the participation of the people's community. The province will strengthen the socialization of the organization of festivals, linking festival activities with tourism products, contributing to the introducing of the cultural quintessence of Hue as well as promoting a beautiful, friendly, and safe destination, the typical festival city.
Schedule of activities in Hue Festival 2023– Spring Festival will take place from January to March, with both royal and traditional festivals. The starting is the opening ceremony of Hue Festival 2023 and the re-enactment of Ban Soc ceremony. Especially, the Yellow Apricot Flower Festival will be held for the first time (9th – 19th January) with the goal of establishing Hue as Vietnam's yellow apricot flower land.- "Shining Citadel" Summer Festival (April – June): Its highlights include an art program commemorating the 30th anniversary Complex of Hue Monuments and the 20th anniversary of Nha Nhac, Vietnamese Court Music honoured by UNESCO, and Hue Traditional Craft Festival Week: "Vietnamese Craft Quintessence" from 28th April to 5th May.- Autumn Festival (July – September): A number of activities will be held on this occasion such as Ao dai festival, Hue Ao dai week, the lantern festival, lion dance festival, lantern parade, and the lion dance parade.- Winter Festival (October – December) with new events such as an international music festival and a new year countdown program.
Tourism Information Technology Center