As most tourists tend to come to Hue and then book a tour instead of booking in advance, there needs to be a diversity of city tours to meet their demands.
More city tours to serve visitors
When tourism returns to normal, there are quite a few changes in the demands and tastes of tourists when choosing a city tour. In the past, tourists often actively made a booking before coming to Hue, or some travel agencies would contact a city tour company in Hue to book services for their customers. But now, tourists tend to come and book a tour later.
Regarding service demands, besides choosing the city tour products allowing them to visit heritage sites and experience culture, tourists now do not need to go to too many places, but prefer enhancing their experiences, visiting new places and getting closer to nature.
Thereby, businesses are required to be more proactive in exploiting the source of customers and provide new city tour products to meet their demands. According to the Provincial Travel Association, a new city tour, focusing on the depth of Hue culture and taking advantage of its landscape, has been exploited in the past time.
As in the last National Day, city tours such as "hop on hop off" to explore Hue by convertible double-decker bus; shared public bicycles; tours combining with new services such as having afternoon tea on the river, visiting garden houses and enjoying typical and rustic dishes prepared by local people, etc., contributes to helping Hue impress tourists.
Apart from these, Hue heritage exploration city tours as well as Hue discovery tours by cyclo, bicycle, motorbike, and boat are also maintained and exploited. All of these are combined to offer diverse options for tourists traveling to Hue in the past time.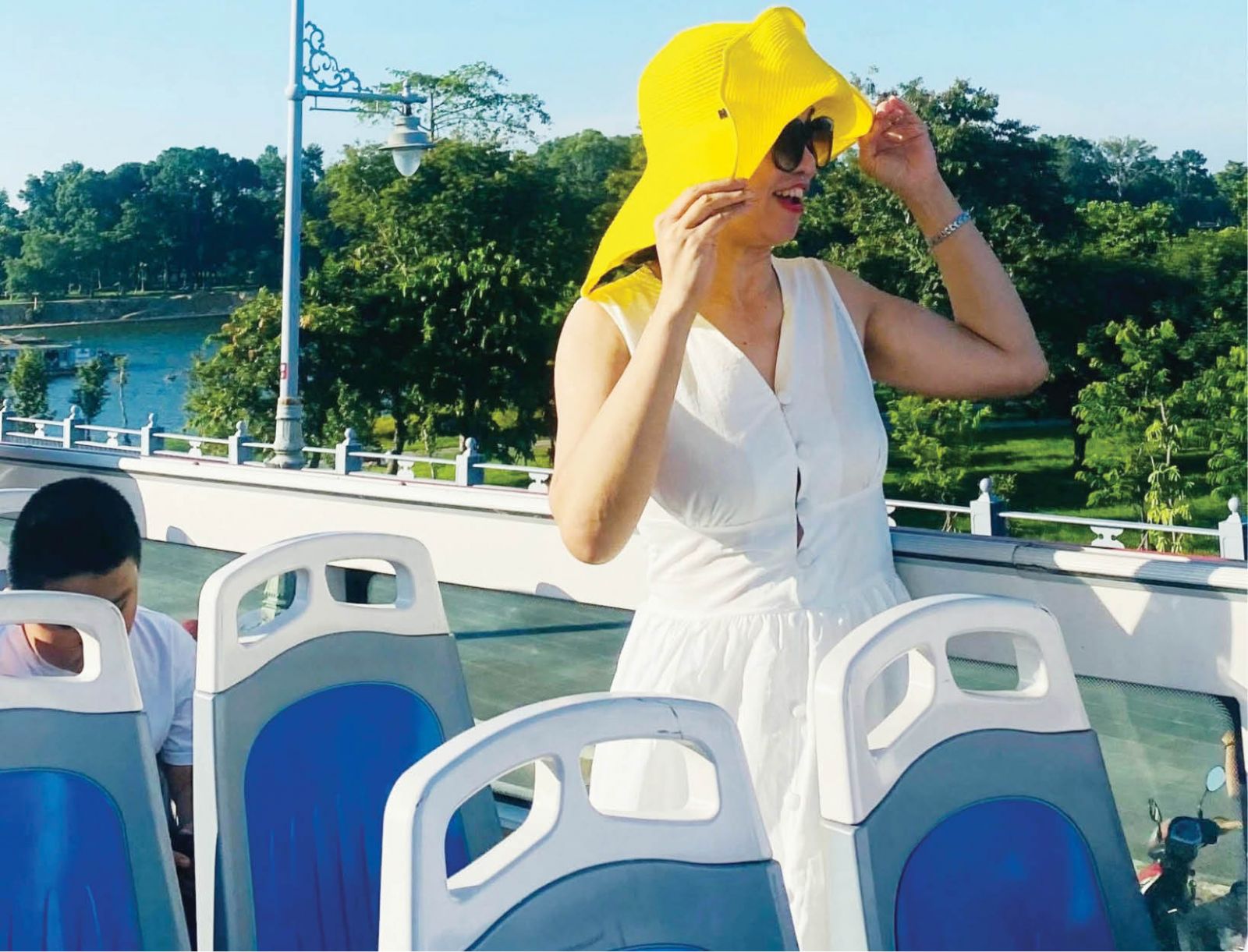 Tourists enjoying the view of Hue City from the convertible double-decker bus. Photo: MC
According to Ms. Le Thi Kim Dung, Director of Hue Holiday One Member Limited Liability Company, one of the businesses that effectively exploit information city tours, the business has become more flexible in providing services to adapt to the new changes.
Unlike in the past when tourists often went in groups, there are more individual travelers now; therefore, the company actively finds sources of customers to form groups. To ensure quality pairing, there should not be over 12 customers in each tour. Besides, a number of add-on services are offered. In particular, every company's city tour provides additional herbal foot bath services.
After a day-long city tour, a foot bath is a relaxation that provides guests with a more interesting and impressive experience when coming to Hue.
Though being relatively new, Hue City sight-seeing tours by convertible double-decker bus have been chosen by many tourists. Ms. Duong Thi Cong Ly, Director of Vietnam – Hanoi Tourism Joint Stock Company – Hue Branch, a tour operator, shared that the company initially put into operation two tours, one of which was "City tour – Hue Ancient Capital Heritage Journey" with the highlight of visiting 12 famous spots of Hue City.
Up to now, this is probably the first city tour that takes visitors to most of the spots in Hue City such as Dong Ba Market, the Flag Tower, An Hien Garden, Thien Mu Pagoda, Khai Dinh Tomb, Tu Duc Tomb, new destinations such as Thuy Xuan incense village, etc.
The second tour is "Hue Night Sightseeing" which involves passing Phu Xuan Bridge and Da Vien Bridge to enjoy the night view, with new perspectives on the beautiful and ancient city. From exploiting new tours, the business wishes to contribute to increasing the number of new services and products, thereby attracting tourists to stay longer in Hue.
The need for sustainable tours
Although Hue tourism always provides new city tour products from time to time, there is a fact that many city tours are considered very attractive, environmental-friendly and able to promote the advantages of a heritage city, yet unsustainable. These include the tour allowing tourists to wear antique clothes to visit the city by cyclo and tram, or the piloted "food tour" which was then only exploited only for a short time.
Another fact is that some tours provide rewarding experiences for tourists when being individually exploited, but there is a lack of connection between them to create more comprehensive products. For example, the bicycle sharing service is very good, yet it has not been connected to form a city tour by bicycle through the famous tourist attractions of Hue, but stops at merely the service of traveling by bicycle.
Mr. Do Ngoc Co, Chairman of the Provincial Travel Association, said that the association had just held meetings and fortunately, over the past time, businesses had linked and connected together to exploit products. Enterprises jointly exploit a price bracket and offer add-on services to improve the quality. This both reduces unfair competition on prices and supports each other in terms of customers, thereby jointly maintaining the tour operation.
Mr. Nguyen Van Phuc, Director of the Department of Tourism, stated that city tour was a comprehensive solution when it met the actual needs to experience of travelers passionate about discovery, while helping to promote the potentials and particular strengths of the tourism industry and providing visitors with an experience they couldn't find elsewhere.
In the coming time, the Department of Tourism will continue to research to have new product orientations to welcome international tourists expected increase in number in the coming time, encourage travel agencies and destinations to link and support each other well, contributing to increase the attractiveness and diversity of Hue tourism.
By DUC QUANG
Source: Hue News – baothuathienhue.vn