Banh mi and Pho are familiar Vietnamese dishes that have made it into the English dictionary for any foreign diners to order them correctly. Banh mi has been added to the famous American dictionary Merriam-Webster in its new terms for the 2022 edition.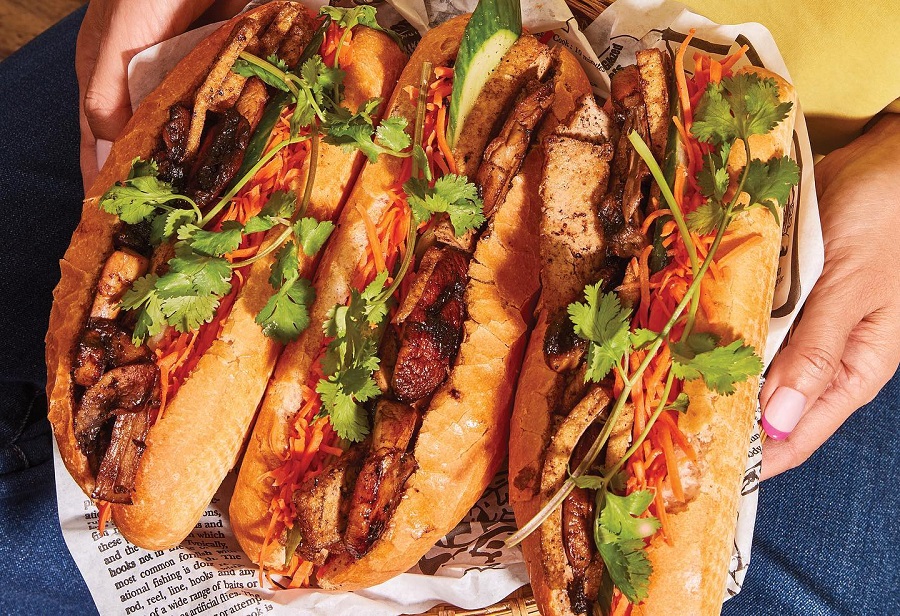 Delicious banh mi with grilled pork fillings. Photo: Chantaline
Languages are constantly changing, so dictionaries need to be updated regularly, and Merriam-Webster is no exception. And when the English language can't find a suitable expression for a foreign concept, that's when foreign words are added.
On the vocabulary update in early September, Merriam-Webster said it had just added 370 new words to its dictionary, including the Vietnamese word banh mi. The dish is one among nine new entries for foreign food, including pumpkin spice, omakase, ras el hanout, mojo, birria, oat milk, sessionable and plant-based.
As defined by Merriam-Webster, "banh mi" is a noun. "A usually spicy sandwich in Vietnamese cuisine consisting of a split baguette filled typically with meat (such as pork or chicken) and pickled vegetables (such as carrot and daikon) and garnished with cilantro and often cucumbers."
This iconic baguette sandwich is a "child of colonialism" that was made from French staples and Vietnamese sensibilities. After the American War in Vietnam (1954-1975), the sandwich traveled from Saigon to California and then throughout the rest of the country, according to Merriam-Webster.
"These days every major city in the US has a banh mi shop and US search interest in the sandwich has skyrocketed in the past two decades, according to Google Trends," it stated.
"These terms have met our criteria for entry as words an English speaker is likely to encounter," Peter Sokolowski, an editor at large for Merriam-Webster, told NBC News. "They have shown both widespread and long-term use, and can now be considered to be English words."
Previously, the famous Vietnamese noodle soup was also added to its dictionary by Merriam-Webster in 2014.
Vietnamese flavor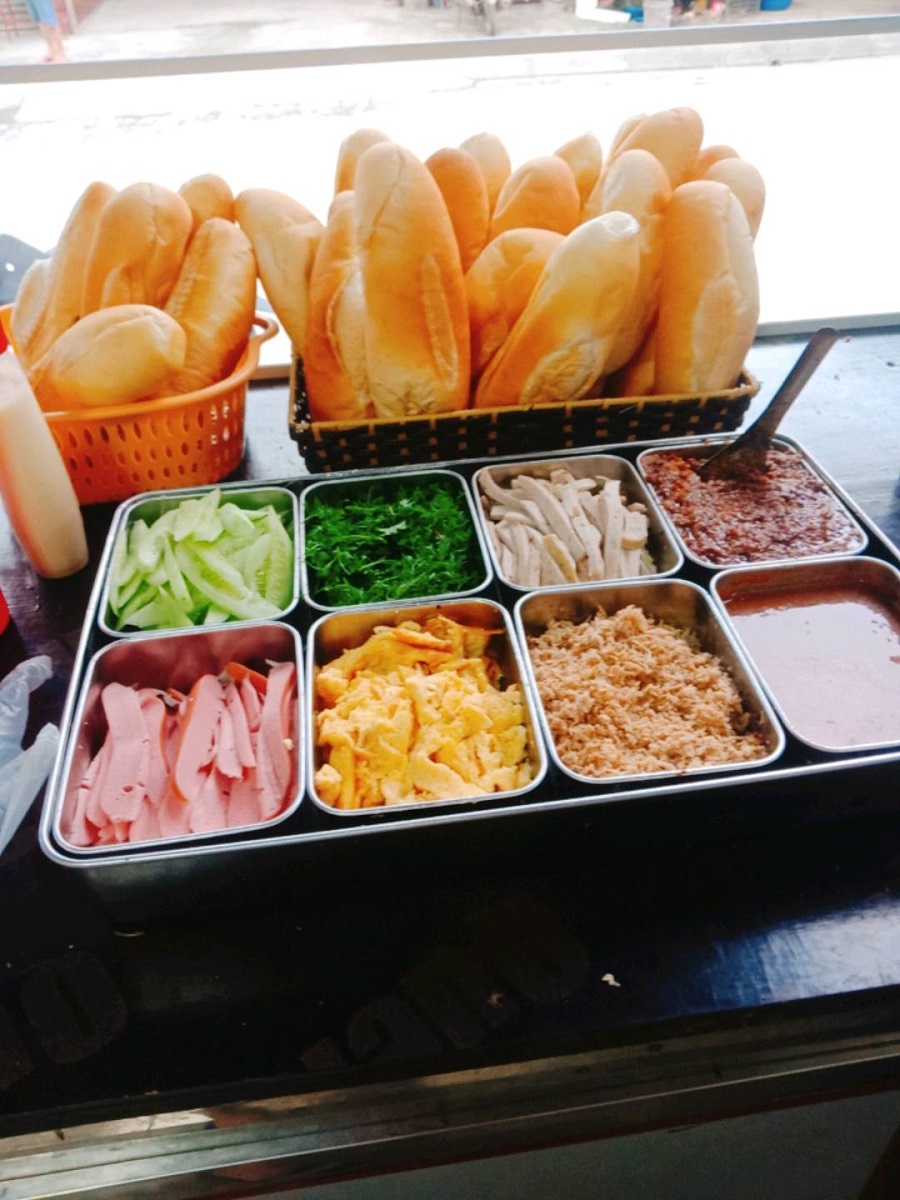 The ingredients of banh mi. Photo: Cynthy Kitchen
In fact, banh mi is found literally everywhere in Vietnam. It was street food long before street food became an obsession. Readily available, convenient, and a bargain at VND25,000 or less than one US dollar, banh mi is now the most common breakfast in the country. It can be a yummy midday meal or even dinner for those who are too busy to cook at home, and it also makes a nice change from rice.
Based on various ingredients and eating habits, banh mi may taste different in different parts of Vietnam, but its fillings, somehow, are similar. They include roast pork or grilled chicken, together with homemade pâté, cured ham, shredded pork, cheese, thin layers of sweet-and-sour radish and carrot, slices of cucumber, a generous sprinkling of cilantro leaves, and mayonnaise or chili sauce.
More than a decade ago a new variation of banh mi popped up and soon won favor. Called Banh Mi Bit Tet or baguette and beefsteak, the ingredients are actually kept separate. The dish is presented on a small pan taken off the heat just before serving. Everything is piping hot and the dish includes a large piece of fried beef, homemade pâté, a fried egg, chips and onions, to enjoy with banh mi and a cucumber salad.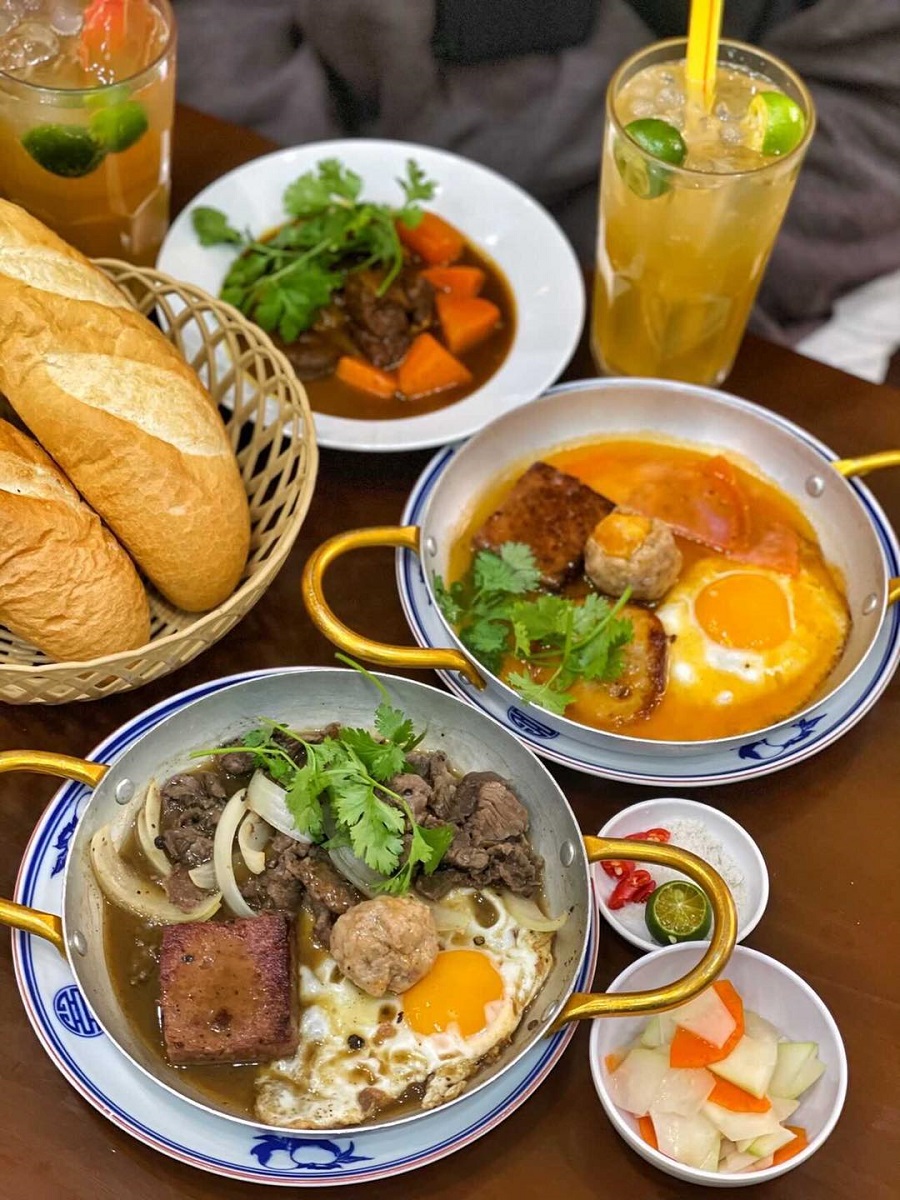 New variation of banh mi with beef balls, pan-fried beef and omelet. Photo: Vua Banh Mi
Another type of banh mi now popular is pure bread served with French style beef au vin. The savory beef mixed with spices and especially wine goes perfectly with the bread, especially on winter days.
A typical bánh mi in the northern city of Haiphong is Banh mi Que or breadsticks or banh mi cay or spicy baguettes. As its name suggests, it's small and long like a stick and has simple fillings of homemade pâté and some hot chili. It's available from street carts at a dirt-cheap VND8,000 or around 25 cents for a super-fast snack that quietens a rumbling stomach.
Whatever type you may eat, every bite of a well-stacked banh mi is sure to provide you with a moment of glory, as it is at once crunchy, soft, aromatic, spicy, salty, sour, sweet, and savory.
This also explains why Vietnamese bread soon crossed borders and became appreciated the world over. Following reunification in 1975, many Vietnamese people headed to Europe, Australia, Canada and the US. Some set up bakeries and delis to cater to the tastes of other Vietnamese. But when local people got wind of banh mi, its popularity boomed. In 2011, banh mi found a place in the updated Oxford Dictionary.
David Farley, a writer with the BBC specializing in tourism and cuisine, once asked "Is banh mi the world's best sandwich?" lamfoodblog– a famous food blogger-wrote: "I think banh mi might be my favorite sandwich".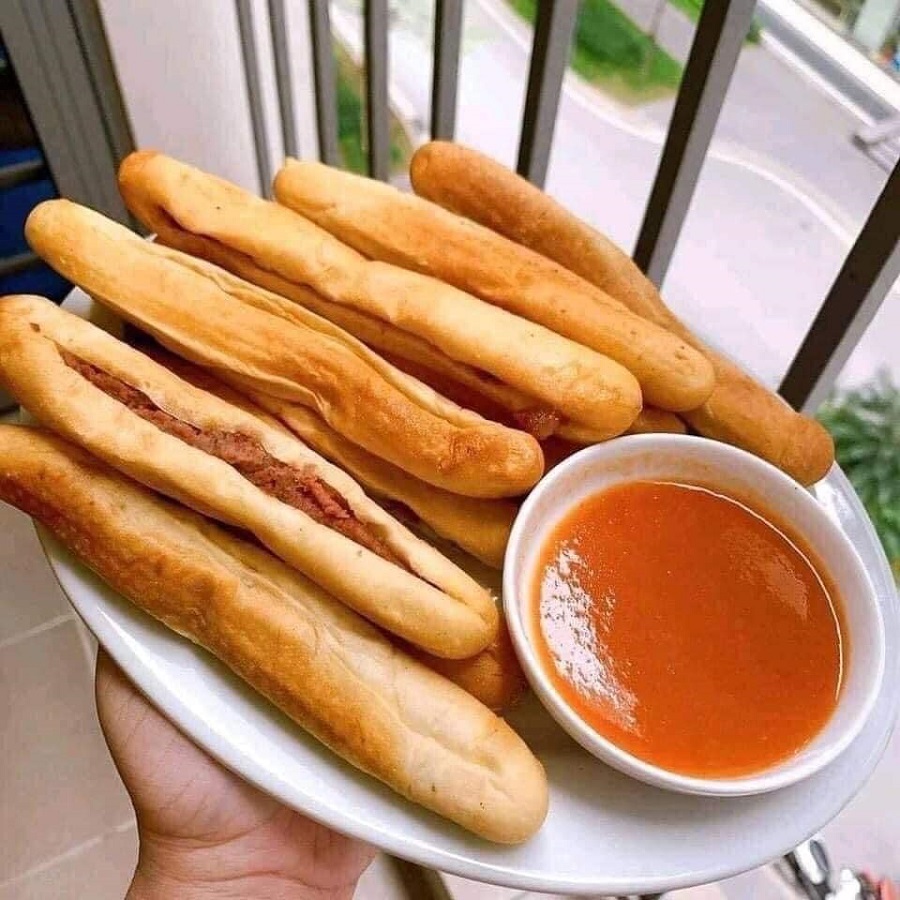 Banh mi cay or spicy banh mi. Photo: Thanh Thuy
Together with pho and bun cha or grilled pork with noodle, banh mi was also chosen among the world's Top 100 most delicious dishes by the World Records Union.
Jenna Duong
Source: HanoiTimes – hanoitimes.vn