(TITC) – Arriving Ho Chi Minh City, the legendary Borussia Dortmund (BVB) players joined the Ho Chi Minh City tour, visited famous landmarks and had interesting experiences on 27th September.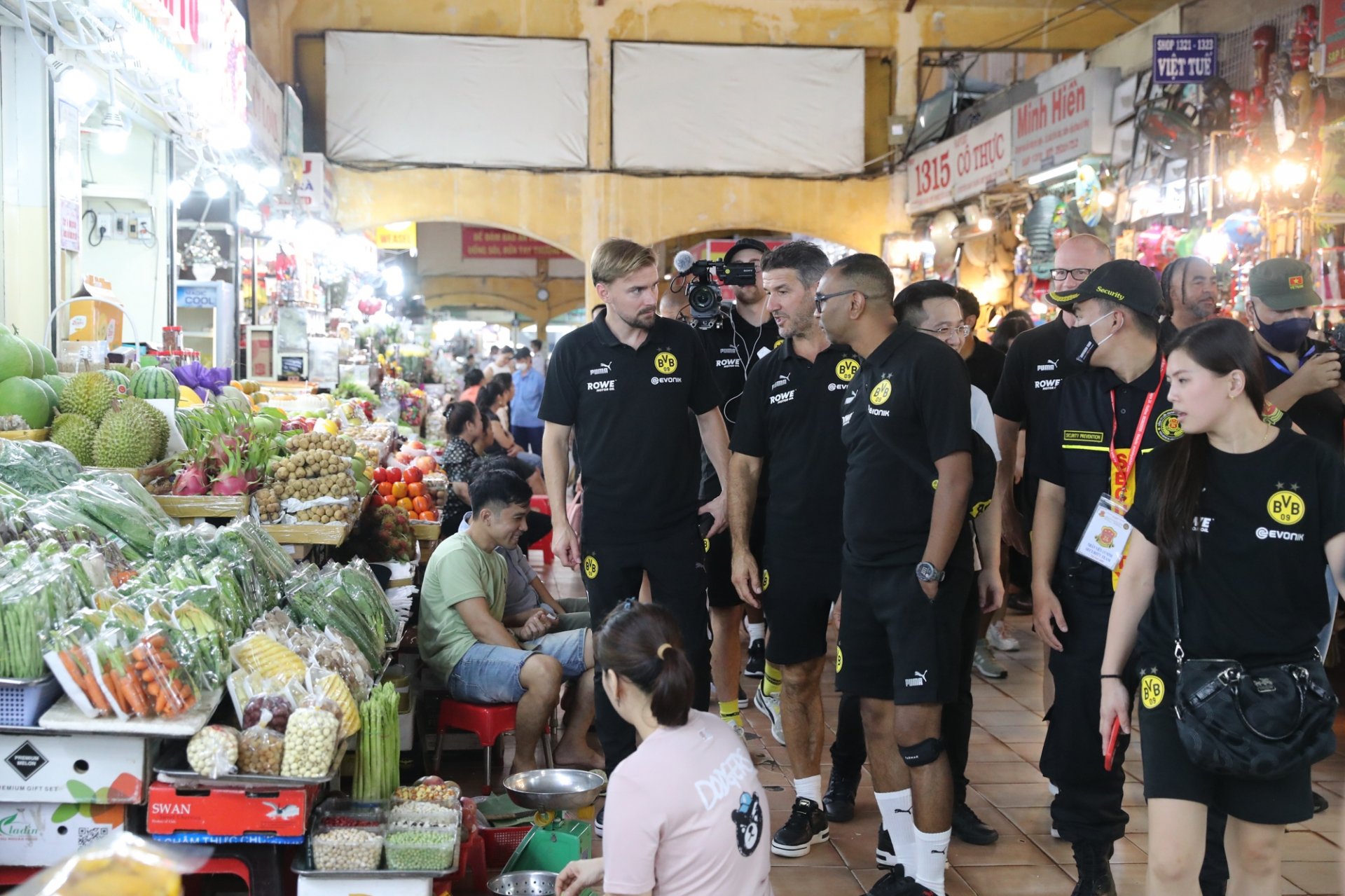 The legendary Borussia Dortmund players visit Ben Thanh Market. Photo internet
The delegation departed from the hotel to the first location, the Central Post Office of Ho Chi Minh City. After that, the former BVB players took a walk around Notre Dame Cathedral before spending time visiting the Independence Palace. The last place on the city tour is Ben Thanh market, according to information of the Tourism Review of HCMC.
In addition to visiting famous landmarks in Ho Chi Minh City, Roman Weidenfeller and former famous European players also have interesting experiences, meet local fans, and enjoy delicious cuisine in the city.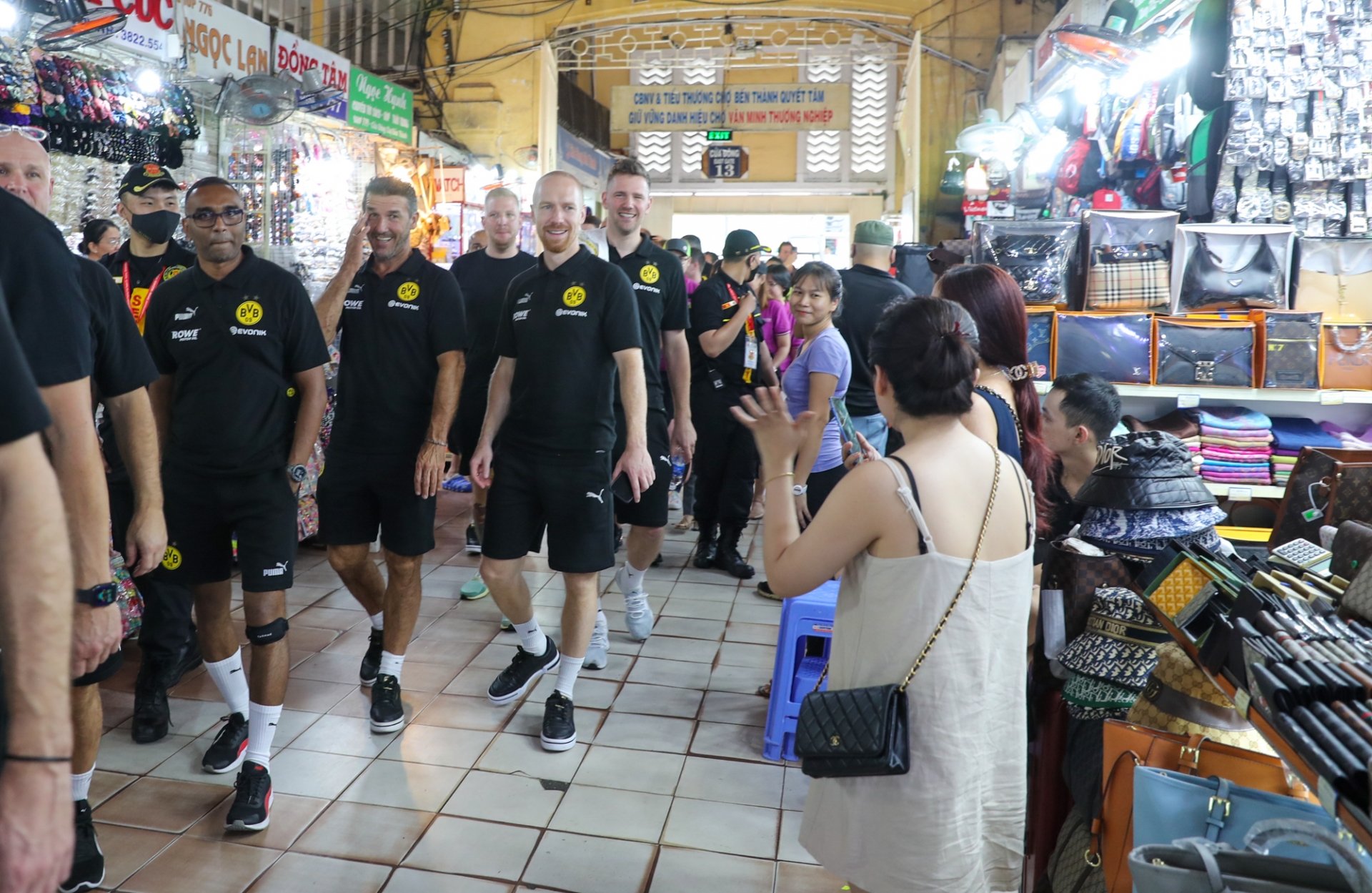 The unexpected visit of the special guests attracted a large number of curious people. Photo internet
Sharing at the program, Mr. Suresh Letchmanan, Managing Director of BVB Asia-Pacific said: "First of all, I want to say to you: Hello Vietnam, thank you very much for welcoming us. We are here. We are really happy and excited to come to Vietnam."
"You can see the fans in black and yellow wearing coming here to greet us, with the match against the Vietnam All Stars team at 7pm on 28th September. And most importantly, it is calling for support for children's charity funds in Ho Chi Minh City," said Mr. Suresh Letchmanan.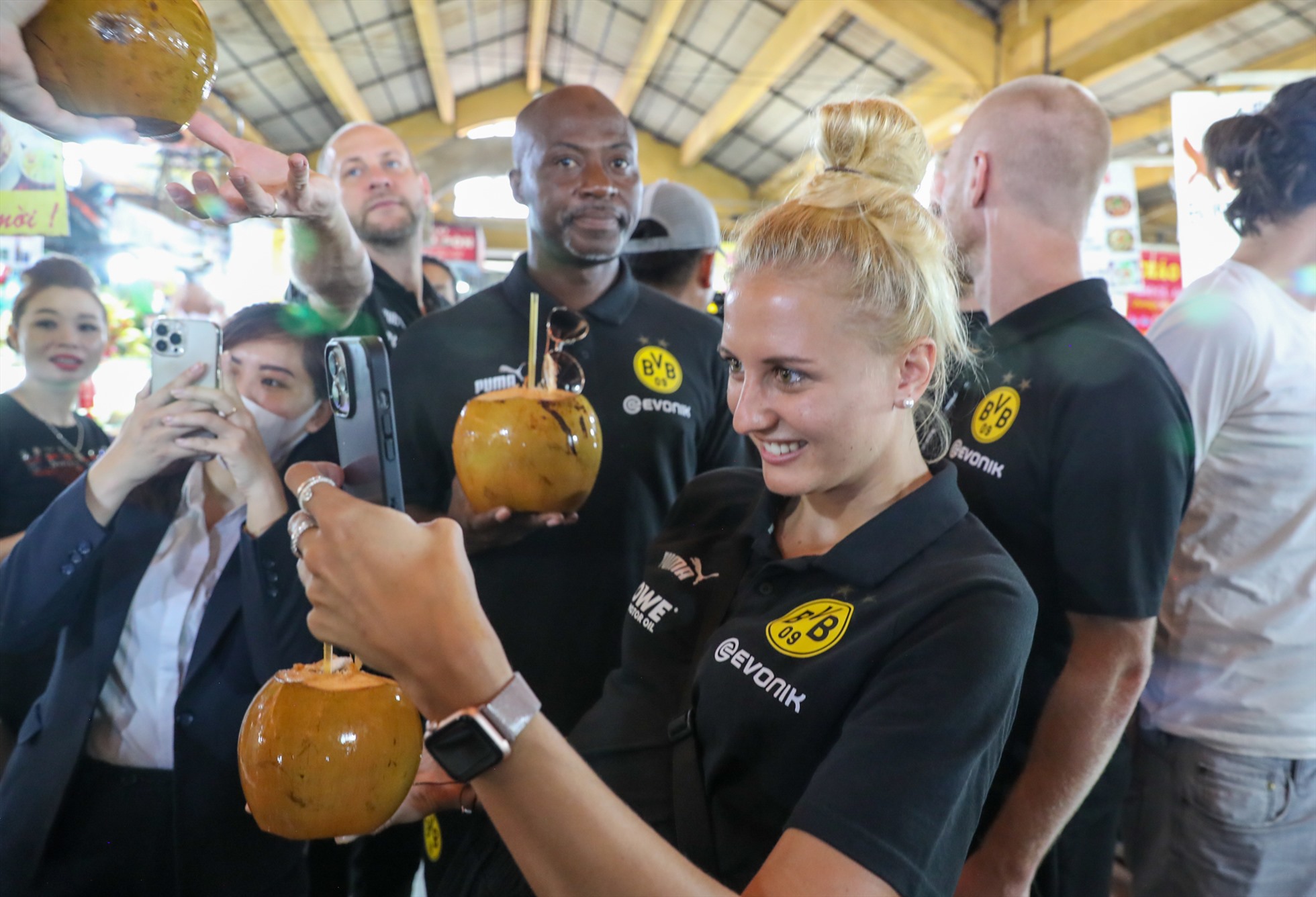 The former BVB players enjoyed coconut water (an attractive and very famous drink in Ben Thanh Market). They also spend time walking around the stalls, buying some souvenirs. Photo internet
The appearance of BVB legends at this long-standing market attracts the curiosity of many small traders and tourists, making the atmosphere of the already busy Ben Thanh market even more exciting. The enthusiasm and hospitality of Vietnamese people once again impressed Jan Koller and the former BVB players.
Earlier on 26th September, the legendary Borussia Dortmund team was present at Tan Son Nhat International Airport to prepare for the True Love charity project. The focus is the match between the legends of BVB and Vietnam All Stars.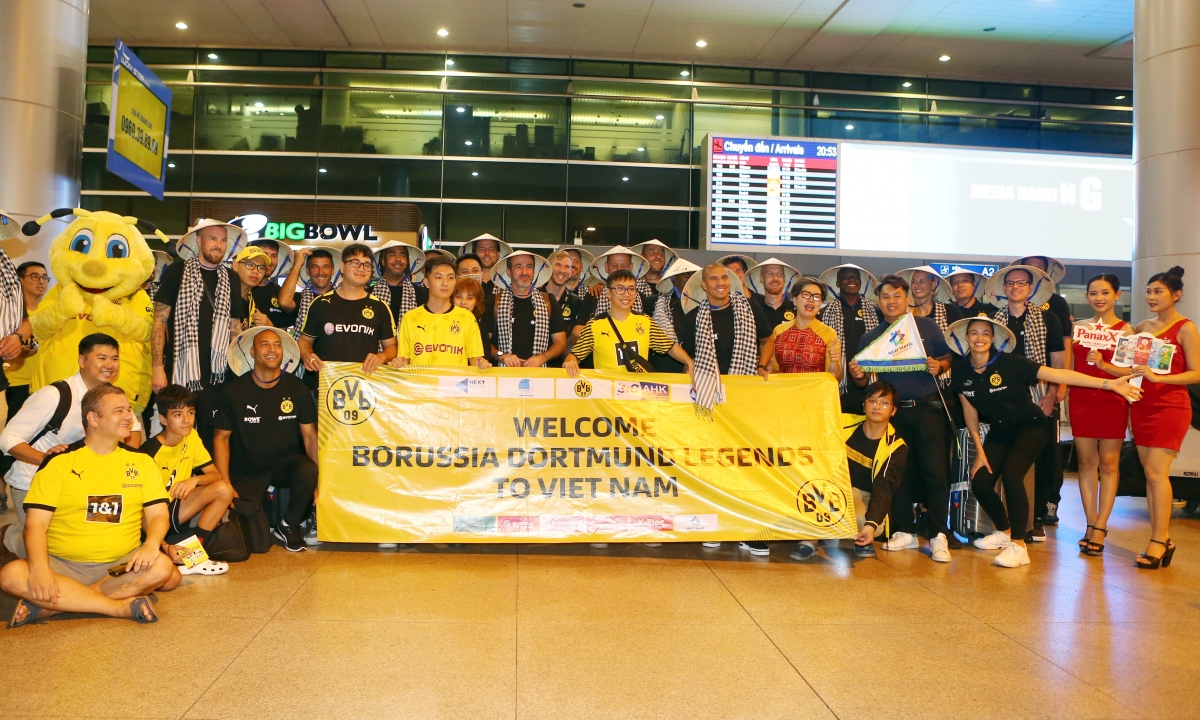 The delegation received a warm welcome from the Organizing Committee as well as the fans of the German football team in Vietnam. Photo VOV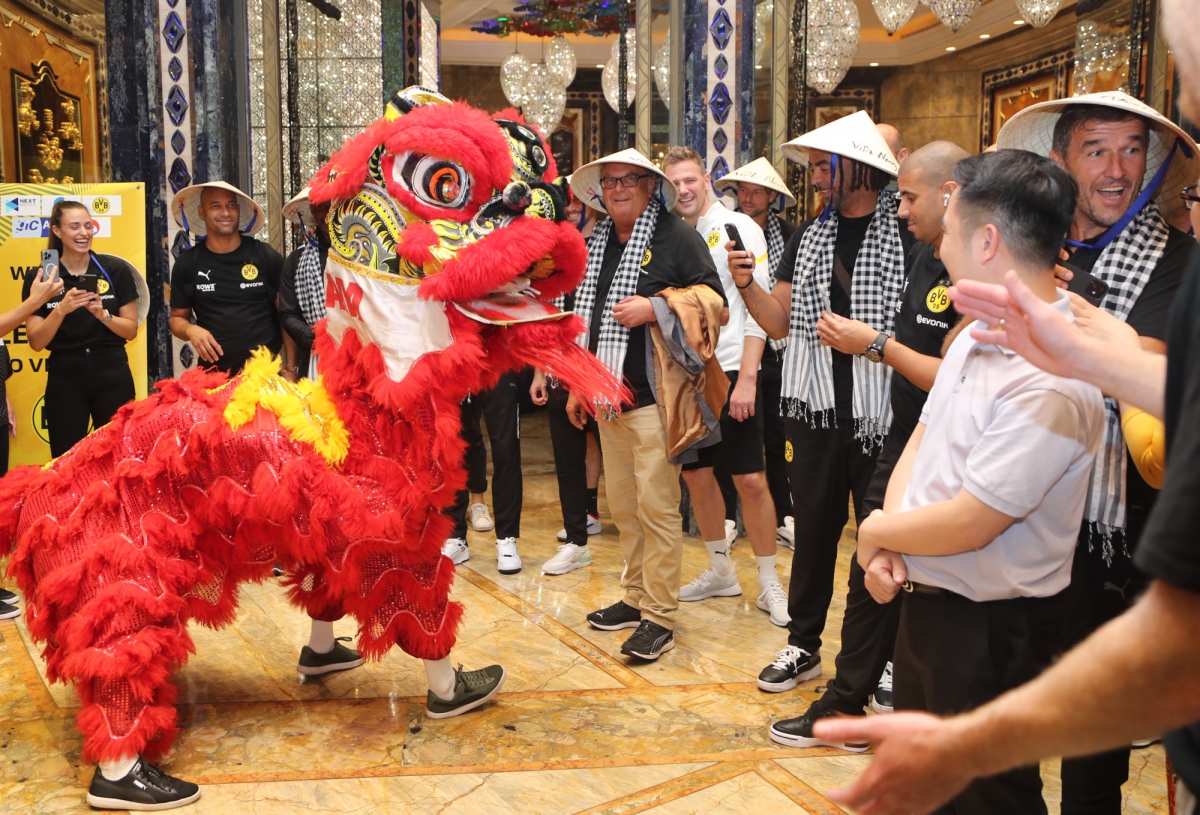 Legendary Borussia Dortmund players stay at River Saigon Hotel. Photo VOV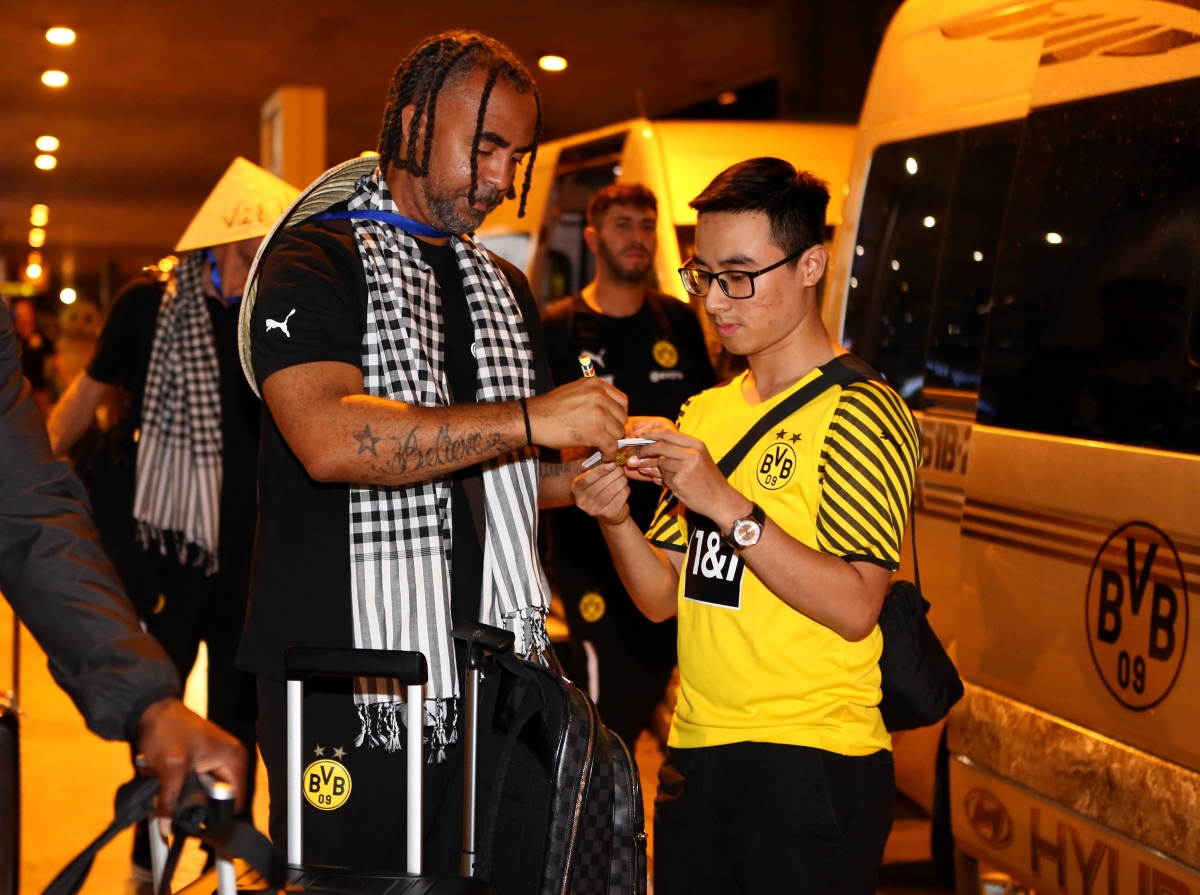 Signing for fan. Photo VOV
Tourism Information Technology Center