The travel trend of tourists has changed a lot, which requires tourism service providers to take a new approach to spur up attractiveness in many different forms. The Da Nang tourism industry has made ceaseless efforts to make more innovations in the methods and content of communication, especially targeting potential markets.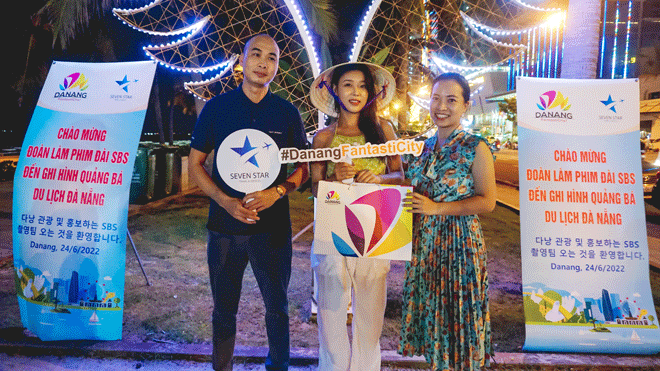 Ms. Nguyen Thi Hoai An, the Director of the Da Nang Tourism Promotion Centre (right) presents gifts to actors of the South Korean TV network SBS's crew during their stay in Da Nang for filming (Photo courtesy of the Da Nang Tourism Promotion Centre).
With each stage, the city's tourism industry has taken different communication methods with different campaigns to reach each target tourist group and market.
For example, when just starting to enter the tourism recovery phase around March 2022, the Da Nang Tourism Promotion Centre initiatively organised the Danang Fantasticity Online Travel Fair with the participation of international buyers in online B2B events, launched virtual travel exhibition booths and connected international buyers and sellers, and deploy the VR360 virtual tourism system 'One touch to Da Nang' .
Upon returning to the new normal, the city's tourism industry has increased communication and promotion with the message "Enjoy Da Nang" to attract visitors. At the same time, promoting effective communications on existing Danang Fantasticity social networking platforms such as Fanpage, Youtube, TikTok, Instagram and developing social networking sites providing Da Nang tourism information for the international market via Twitter, Linkdin and Fanpage Enjoy Danang.
According to Mr. Nguyen Ngoc Thien, the Deputy General Director of Hai Van Cat International Travel JSC, promoting the destination's image by inviting famous people and influential people to Da Nang for travel experience is also a good way. In reality, the images and videos made after each trip posted on their personal Facebook pages often have high interactions and great spread, and are well-known by many followers.
There is no denying that great efforts have been made to carry out a variety of communication and promotion activities based on IT platforms. In order to enrich travel experience for visitors, the Da Nang Tourism Promotion Centre recently launched Phase 2 the VR360 virtual tourism system 'One touch to Da Nang' at https://vr360.danangfantasticity.com/
Ms. Huynh Thi Huong Lan, the Deputy Director of Da Nang Tourism Promotion Centre, said that, over the past time, her agency has built up very detailed and specific communication and promotion programmes.
In addition to releasing promotional videos about the city's tourism image on social platforms, the centre has entered into agreements to strengthen cooperation in tourism communication and promotion with such agencies as Traveloka Vietnam, Klook Vietnam Travel Co., Ltd and GDL Multimedia Joint Stock Company (GDL JSC) in an attempt to lure even more tourists to Da Nang.
After the signing, the parties has implemented many highly-practical activities to promote Da Nang tourism on social platforms such as Facebook, Instagram and Tiktok in various forms such as welcoming KOLs (key opinion leaders) and tiktoker to Da Nang for tourism promotion, creating video clips about the city's tourism and promote major Da Nang events on their channels.
Especially, after the resumption of international flights from the South Korean market, many South Korean celebrities have chosen Da Nang as their destination for travelling, filmming, recording game shows and taking pictorials.
According to data released by the Da Nang Tourism Promotion Centre, since the start of this year, Da Nang has welcomed 5 film crew and delegations from such famous TV channels as SBS, IHQ and their partners, with the participation of many famous South Korean stars.
Recently, actor Lee Je-Hoon was present in Da Nang to join in the second part of the movie Taxi Driver produced by South Korean TV network SBS. Some areas at the Da Nang Airport's international terminal also made appearance in the filming of the second part of this interesting movie.
The fact that South Korean stars and prestigious film crews have chosen Da Nang as the destination to carry out their film projects is contributing to affirming that Da Nang is not only a resort paradise but also an ideal place for the filming of international movies.
In fact, the city has set an sight on expanding and upgrading a number of attractions such as APEC Statue Park, night landscape on both banks of the Han River, Han Market, museums of Da Nang and Fine Arts, the landscape of An Thuong Tourist Streets complex and My An night-time beach;, Hoa Bac space, Danang Mikazuki Japanese Resort & Spa; Nui Than Tai Hot Spring Park, and Yen Retreat tourist area.
There are also virtual booth space (VR Mall) for hospitality businesses on vr360.danangfantasticity.com.
In the coming time, more initiatives will be taken to synchronously deploy many effective solutions on promoting the system of Da Nang tourism products and services to the city's key domestic and international markets.
In detail, heed will be paid to implementing the 'Da Nang tourism check-in 2022' contest, recording of the 'Cuisine adventure diary' programme, building a digital map of culinary tourism, welcoming more international famtrip delegations, participating in tourism fairs, launching Da Nang tourism promotion events in Japan, South Korea, India and Singapore in order to attract more tourists.
Reporting by THU HA – Translating by A.THU