(TITC) – Christina Liao, an editor of US Vogue posted an article to recommend worldwide travellers 29 must-eat Vietnamese dishes besides Pho and Banh Mi.
Vietnamese dishes are the complex of flavours and contrasting textures. Since it's influenced by its French colonial past and its neighbourhood countries such as Laos, Cambodia, Thailand, and China, Vietnamese cuisine is an amalgamation of the exciting eatery that shows off its own identity, stated Christina Liao.
Pho and Banh Mi are the two popular dishes which represent Vietnamese cuisine, however, there is so much more to enjoy the quintessential in 29 must-try dishes of Vietnam.
1. Banh Xeo – Crispy pancake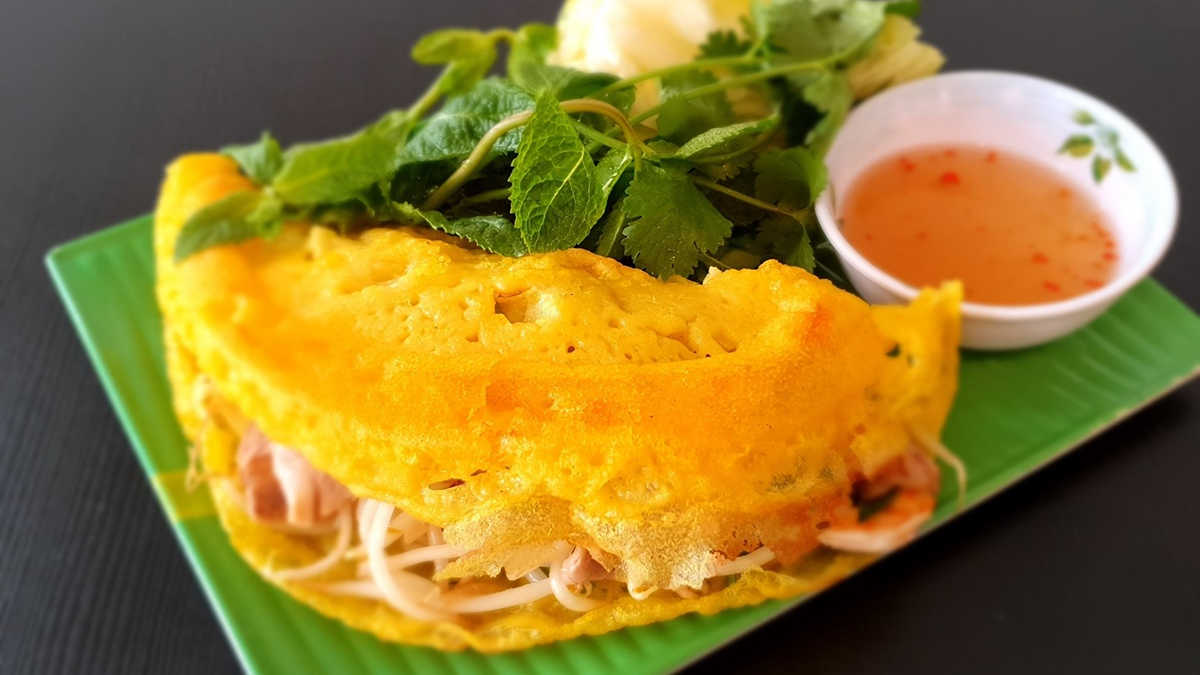 Photo: TITC
Banh Xeo is a type of savoury crepe made from rice flour and turmeric powder (hence the yellow hue) and is stuffed with pork, shrimp, and bean sprouts. Banh Xeo can be eaten by wrapping in lettuce, adding some herbs to it, and dipping it into some fish sauce.
2. Banh Khot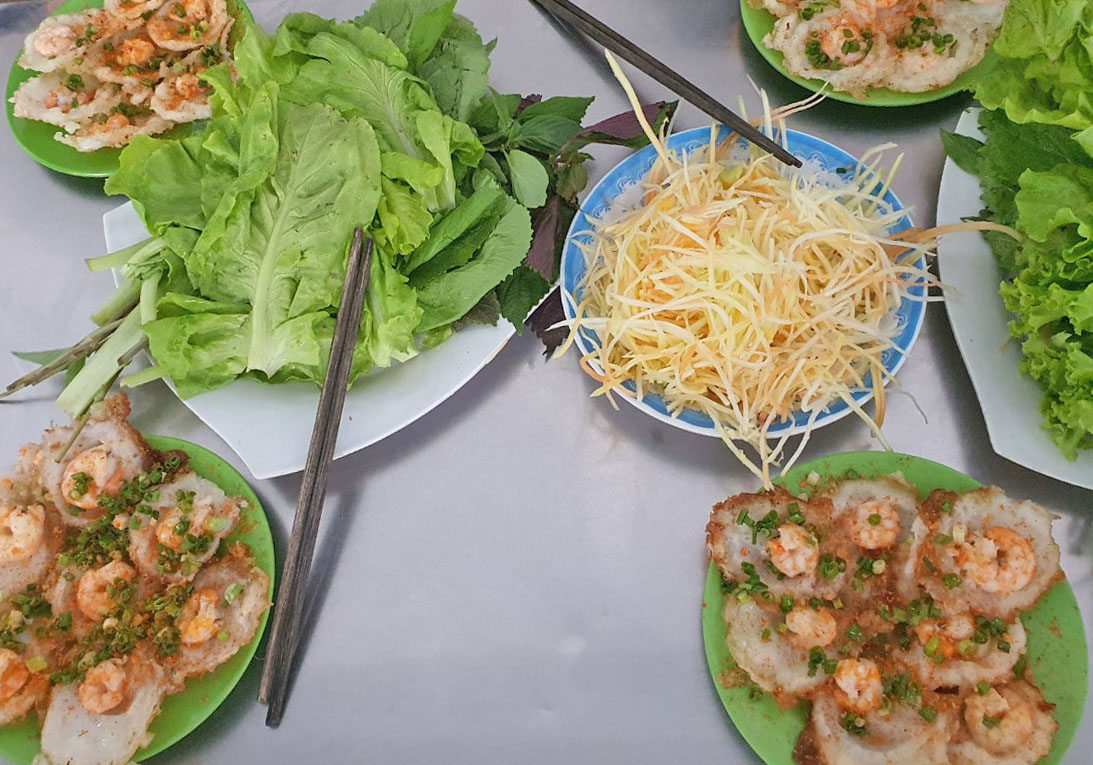 Photo: TITC
Banh Khot is quite similar to Banh Xeo but smaller in size, using the same batter, but it resembles a mini pancake with a single shrimp in the centre.. Banh Khot is cooked in a special cast-iron plate to make it crispy on the outside and fluffy on the inside.
3. Bun Rieu – Crab noodle soup
This noodle soup has various versions but the basic recipe of it is a crab and tomato broth. "The crustaceans produce a piquant aroma while the red vegetable adds a layer of acidity and a hint of sourness to the soup", described Christina Liao. Toppings can be modified, from meatballs, pork knuckles, fried tofu to fish, snails and blood cubes.
4. Goi Cuon – Summer rolls
Most travellers are familiar with fried spring rolls but its brother is a lighter and healthier appetiser. Slices of pork, shrimp, lettuce, mint, and vermicelli noodles are neatly wrapped up in a translucent rice paper before being dunked into a hoisin-peanut dip.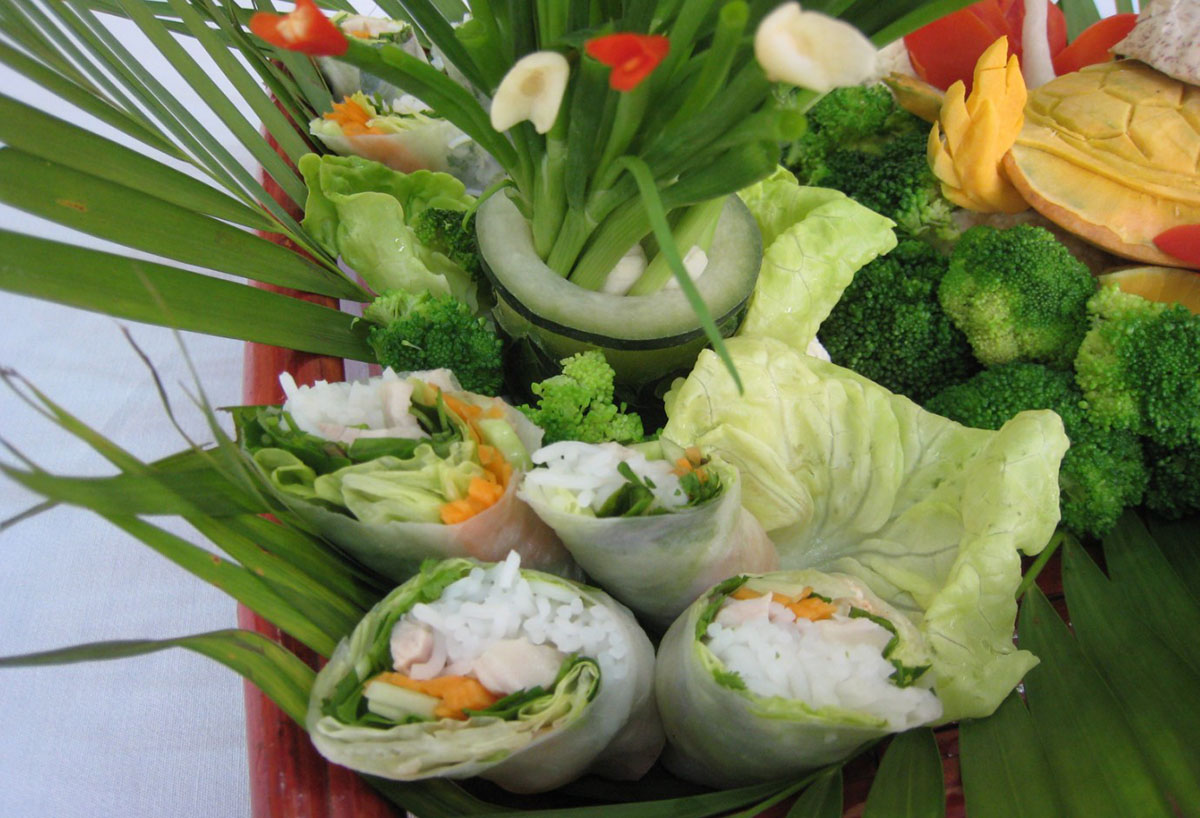 Photo: TITC
5. Thit kho to – Caramelised pork belly
Pork belly is slowly braised in sugar and fish sauce until fork tender. This dish is served in a clay pot with some rice and boiled vegetables. Ca kho to (Caramelised fish) is another version that is suited to a fan of non-fatty meat.
6. Bun Bo Hue
As a representative dish from Central Vietnam, this Spicy beef noodle soup from Hue is the combination of broth made from pork bones with lemongrass, shrimp paste, and lime juice. Visitors can challenge themselves with a cubed pig's blood and a pork trotter to totally enjoy the local taste. In the food bloggers point of view, the best place to have this spicy dish is in Hue, the original hometown of the dish.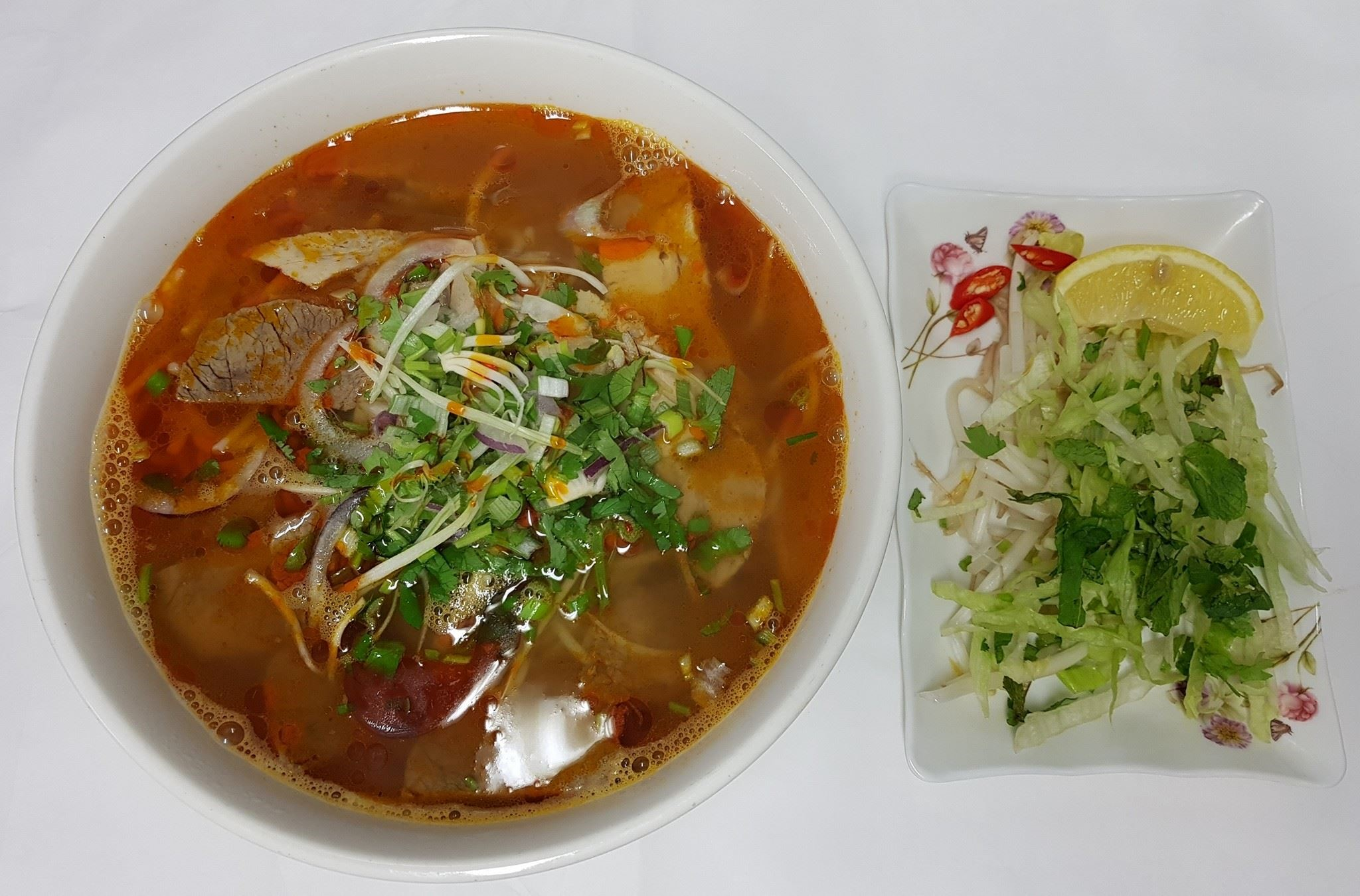 Photo: TITC
7. Rau muong xao toi – Morning glory stir-fried with garlic
Also known as water spinach, is a common vegetable in Vietnam. According to Christina, the best way to have it is stir-fried with copious amounts of garlic (and maybe a hint of fish sauce and sugar).
8. Cao Lau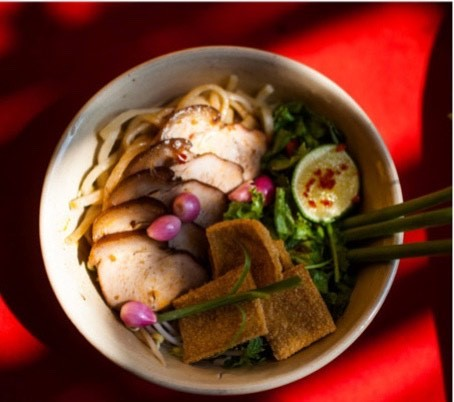 Photo: TITC
This is a must eat in Hoi An Ancient Town. The dish has thick, firm, tonnarelli-like, rice noodles and crunchy, square, flat rice noodle croutons with typical ingredients like protein (often barbecued pork) and green herbs.
9. Banh Cuon – Steamed rice rolls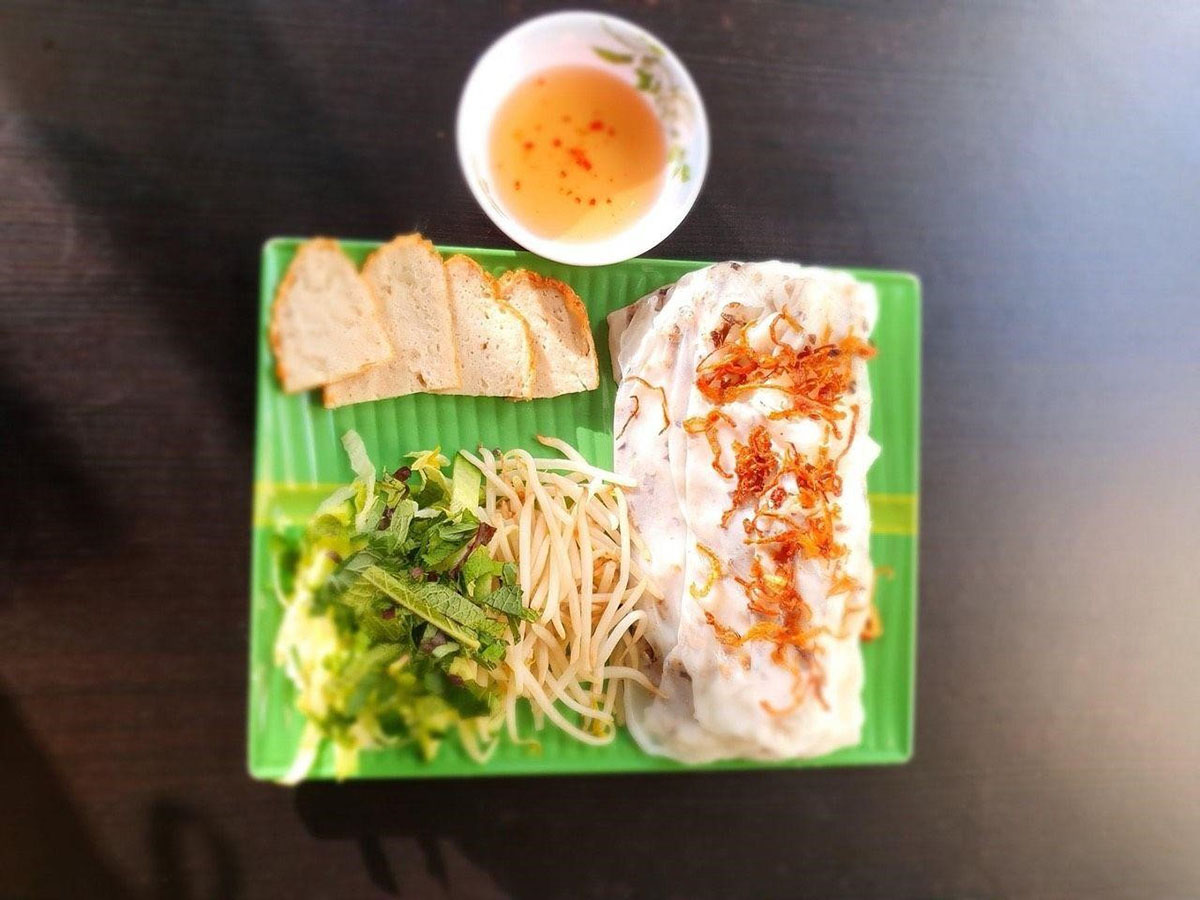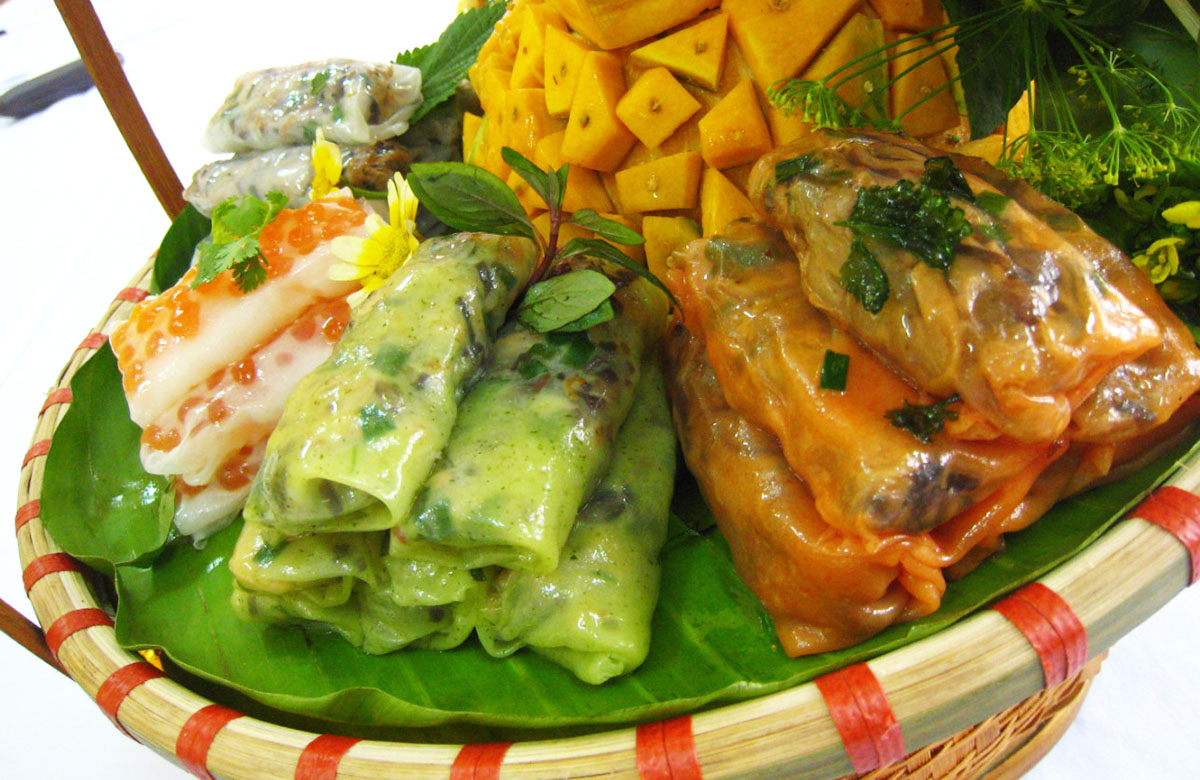 Photo: TITC
Banh Cuon may look familiar with Cheung fun of China but its fillings are different, minced pork and wood ear mushroom, then topped with a smattering of fried shallots and dipped into fish sauce, this is how banh cuon is made and enjoyed. Travellers should have it hot and soft.
10. Bo luc lac – Stir-fried beef cube
Its nickname is shaking beef based on the way it is made. The meat in a wok, cubes of beef are sautéed with garlic, onions, black pepper, and soy sauce. Served with a salad of lettuce, tomatoes, and cucumber.
11. Bun thit nuong – Grilled pork noodle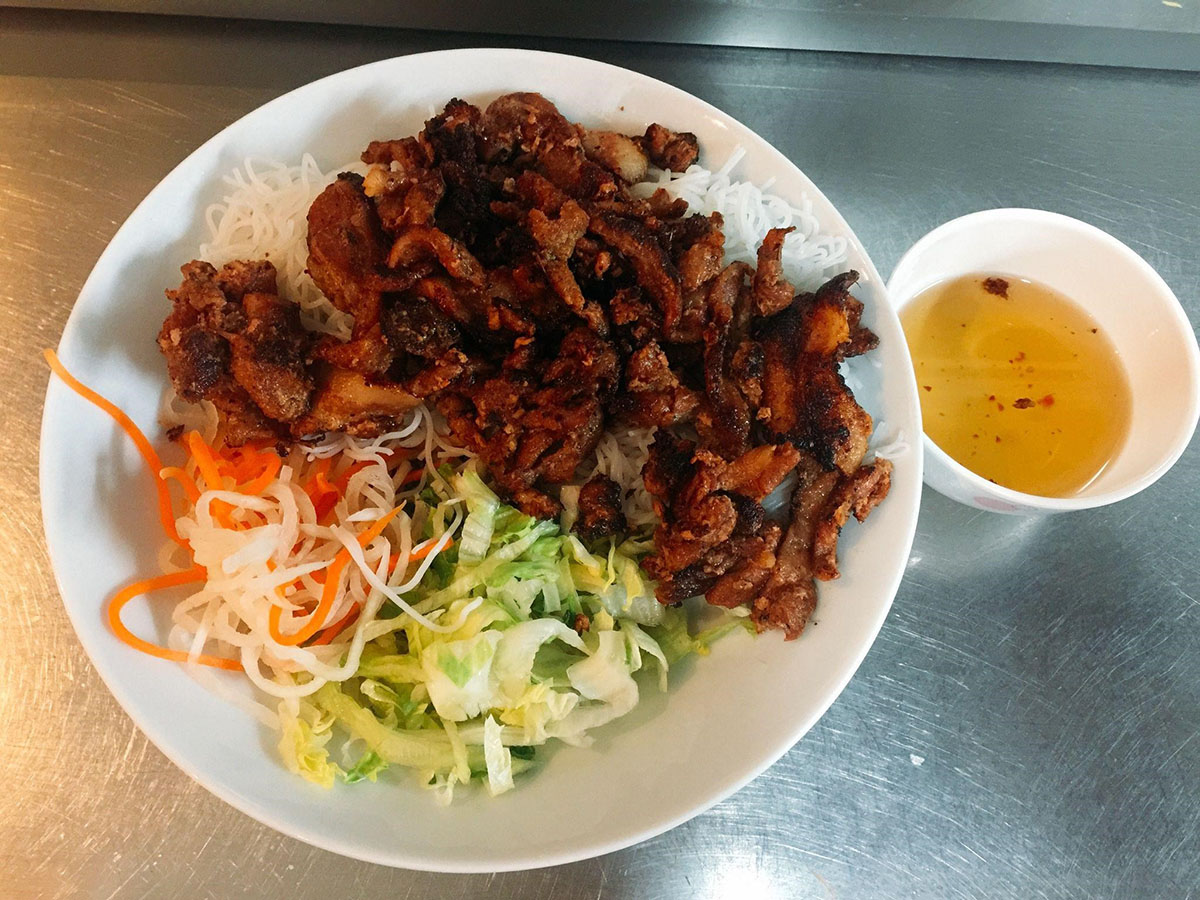 Photo: TITC
Grilled marinated pork with vermicelli noodles, a handful of herbs, pickled daikon, and carrots. Add fried spring rolls, drizzle some fish sauce over the entire bowl, mix everything up, and enjoy.
12. Bun Cha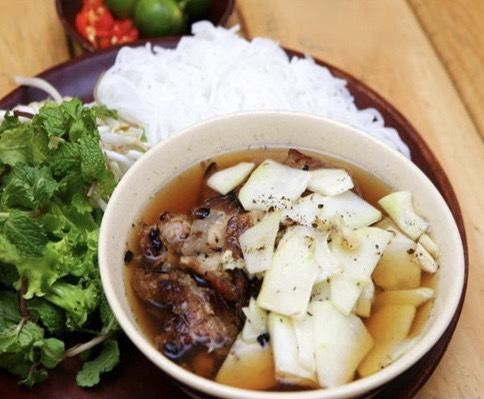 Photo: TITC
Bun Cha is one of the most popular dishes in Ha Noi. a bowl of rice vermicelli noodles dipped into sauce, a sweet yet savoury sauce made with ingredients like fish sauce, sugar and vinegar, with a grilled combination of ground and whole pork. Add green herbs to the bowl such as lettuce, beansprouts, corianders, cilantro, etc. Bun Cha can be eaten with crispy spring rolls on the side.
13. Goi Xoai – Green mango salad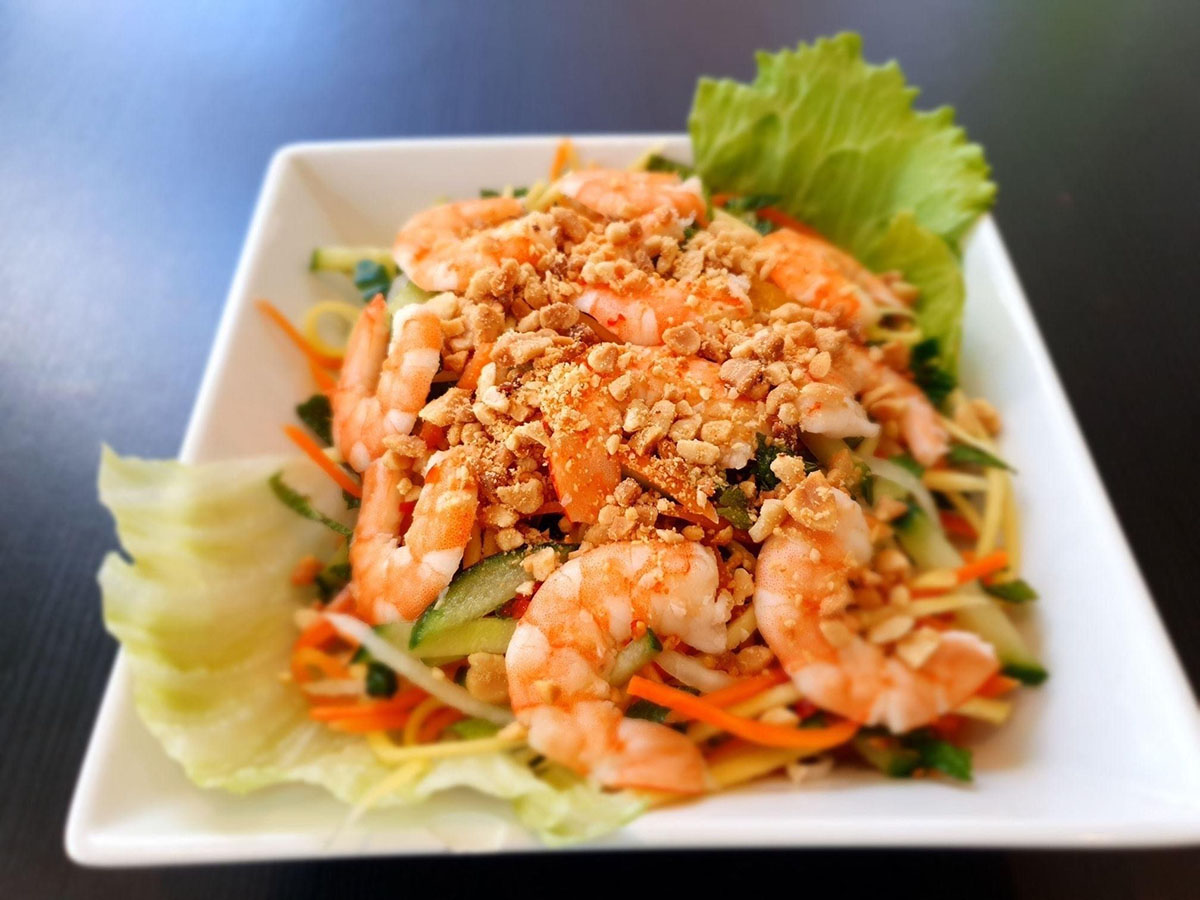 Photo: TITC
Fresh and light with julienned carrots, onions, and unripe mango are mixed with herbs like mint and basil, marinated in sweet fish and lime-based sauce. The salad is topped with either boiled shrimp or dried beef and decorated with fried shallots and roasted crushed peanuts to add some crunch and depth to the plate.
14. Canh Chua
This dish tastes sweet and sour, consists of a tamarind broth and is typically made with fish, pineapple, tomatoes, and vegetables.
15. Thit luoc tom chua
It can be considered as a DIY summer rolls dish. Boiled pork belly, a heap of herbs and vegetables, and sour shrimp sauce (or fermented shrimp paste) wrapped with vermicelli noodles in a rice paper.
16. Hen xuc banh trang
This dish is perfect to be served with beer. Crunchy sesame rice crackers act as both your vessel and utensil, making this a great finger food with a contrast in both textures and flavours.
17. Banh Beo
It will be a favourite dish for those who enjoy the sticky and chewy textures. Similar to Japanese mochi but in different shapes and sizes. Banh Beo is filled with ingredients such as dried baby shrimp, scallions, and fried shallots. Top them off with fish sauce and enjoy.
18. Banh Bao
Visitors will recognise this dish instantly since it is the resampling of Chinese dai bao. These large steamed buns frequently sold by street vendors are filled with minced meat, a quail egg, Chinese sausage, and vegetables. A perfect breakfast for the rush hours.
19. Chao – Porridge
Christina once affirmed that Chao is an omnipresent dish in Asian cuisine. Chao can be eaten with different toppings, from meats to eggs, intestines… And if anyone feels a little uneasy, order a plain bowl to help settle it down.
20. Com tam – Broken rice
These fractured grains are eaten with your preferred protein such as grilled pork, prawns, or beef along with fresh and pickled vegetables, an over-easy egg, crispy spring rolls, and thinly shredded pork skin. Complete a taste with a healthy dose of fish sauce over the plate.
21. Mi xao mem
Stir-fried egg noodle is cooked in soy sauce and oyster sauce with a mix of vegetables and choice of protein. This old but gold dish can ease anyone's stomach at any time.
22. Ga Tan – Steamed chicken
Ga Tan is sure to be a dish to cure all ailments and one of the popular street food dishes in Ha Noi. Chunks of chicken are stewed with a variety of vegetables and herbs. A dark hue broth may not be the appealing colour when it comes to food but this dish can surely warm visitors up from the inside out.
23. Hu tieu
A popular noodle dish of Southern Vietnam. Hu tieu can be served in a broth or dry with sauce. It's most frequently served with tapioca noodles or egg noodles. Toppings include pork, beef, chicken, and seafood, along with a mix of herbs and vegetables.
24. Xoi – Sticky rice
It is truly a meal in Vietnam and can be either savoury or sweet. Original ingredients such as roasted peanuts, shredded meat, fried onions, or mung bean, then being modified with coconut and sugar. Some visitors can be surprised when in the northern region, xoi is cooked with herbs and the various pigments symbolise five elements: land, wood, fire, water, and metal to come out in bright hues.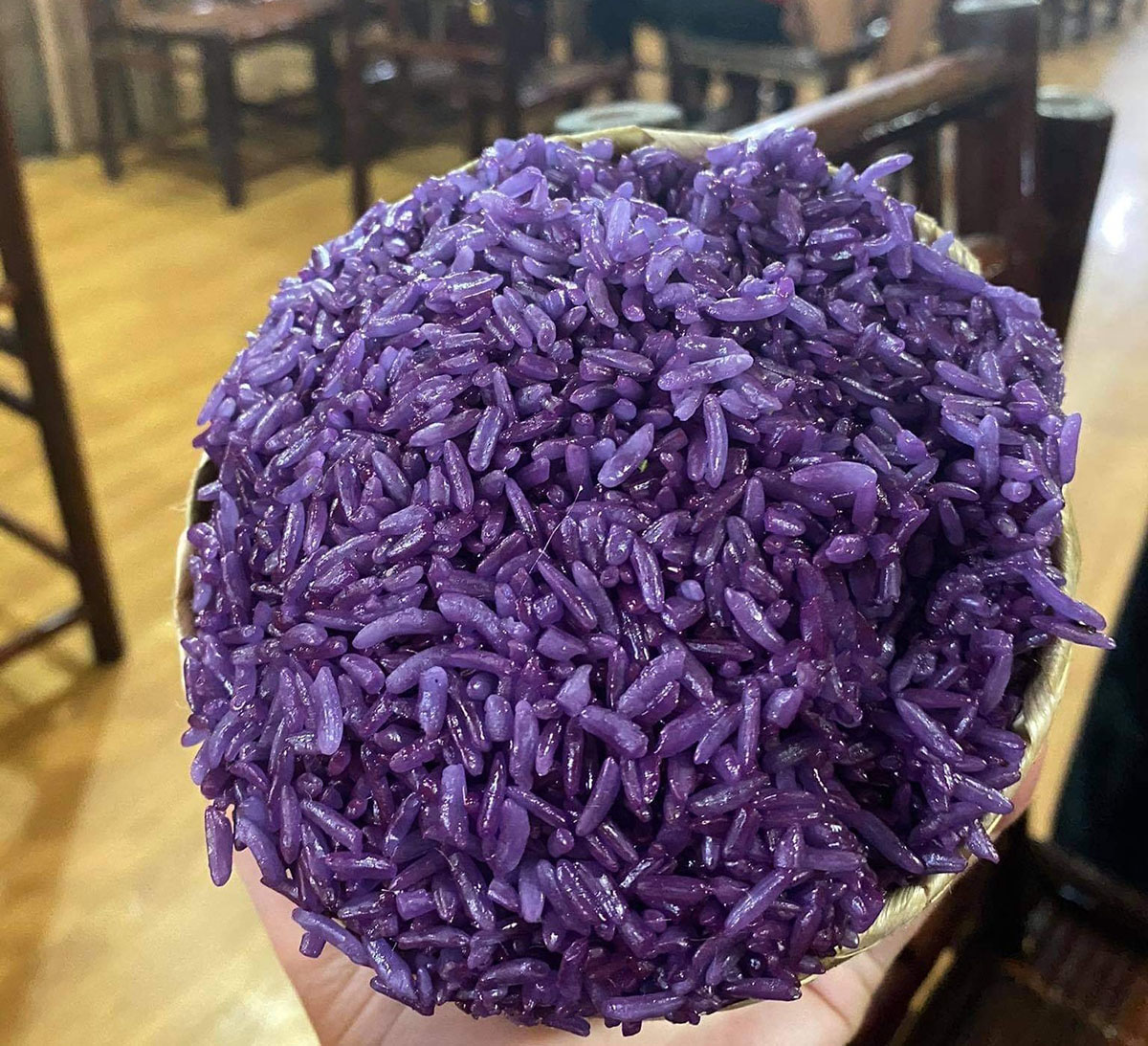 Photo: TITC
25. Bot Chien
Another street food dish in Southern Vietnam Bot Chien is pan-fried rice cakes with a thin layer of egg. These savoury and chewy bites are usually topped with fresh scallions and are served with a tangy soy sauce.
26. Lau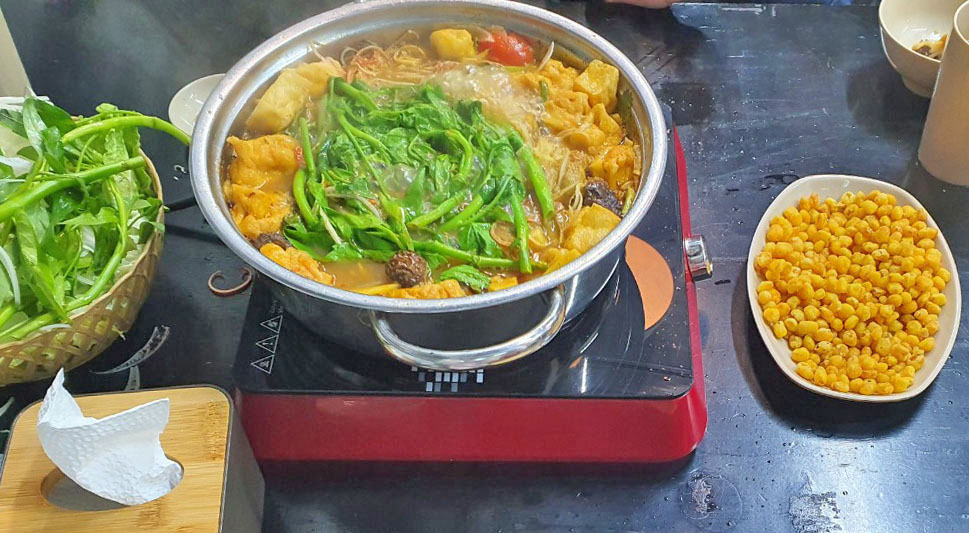 Photo: TITC
The Vietnamese take on hot pot often features a sweet and sour broth that's been seasoned with lime, lemongrass, tomatoes, chilli, and aromatics. Raw ingredients such as sliced meat, vegetables, seafood, tofu, and noodles are cooked in the bubbling cauldron. This dish features enough family-style dining of Asian culture.
27. Bo ne
The Vietnamese version of beef steak. Bo ne is a brunch favourite. The marinated steak is cooked with tomatoes, onions, eggs, and pâté on a sizzling cast iron skillet with butter. A toasted baguette is often served on the side so that it can be used to sop up all of the sauce in the pan.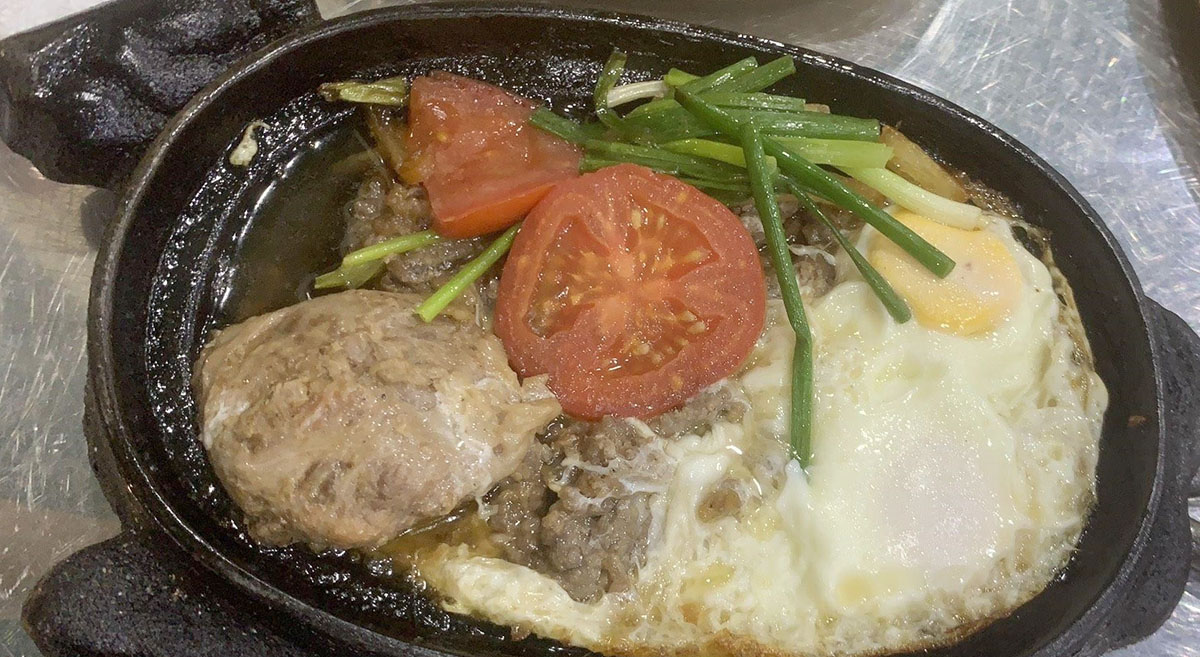 Photo: TITC
28. Mi Quang – Quang noodle bowl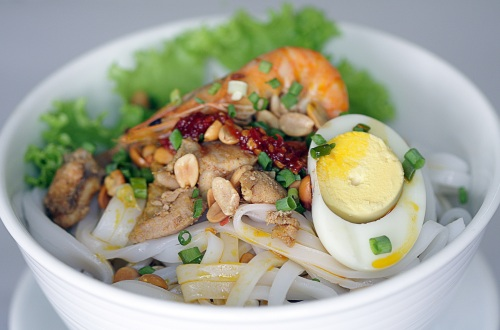 Photo: TITC
Touch the soil of Da Nang, the central hub of Vietnam. This local favourite is cheap and available everywhere. Mi Quang is made of a rice noodle with a choice of proteins like pork, chicken, shrimp, quail eggs, mussels and eel served in a soupy, beefy broth.
29. Bo Kho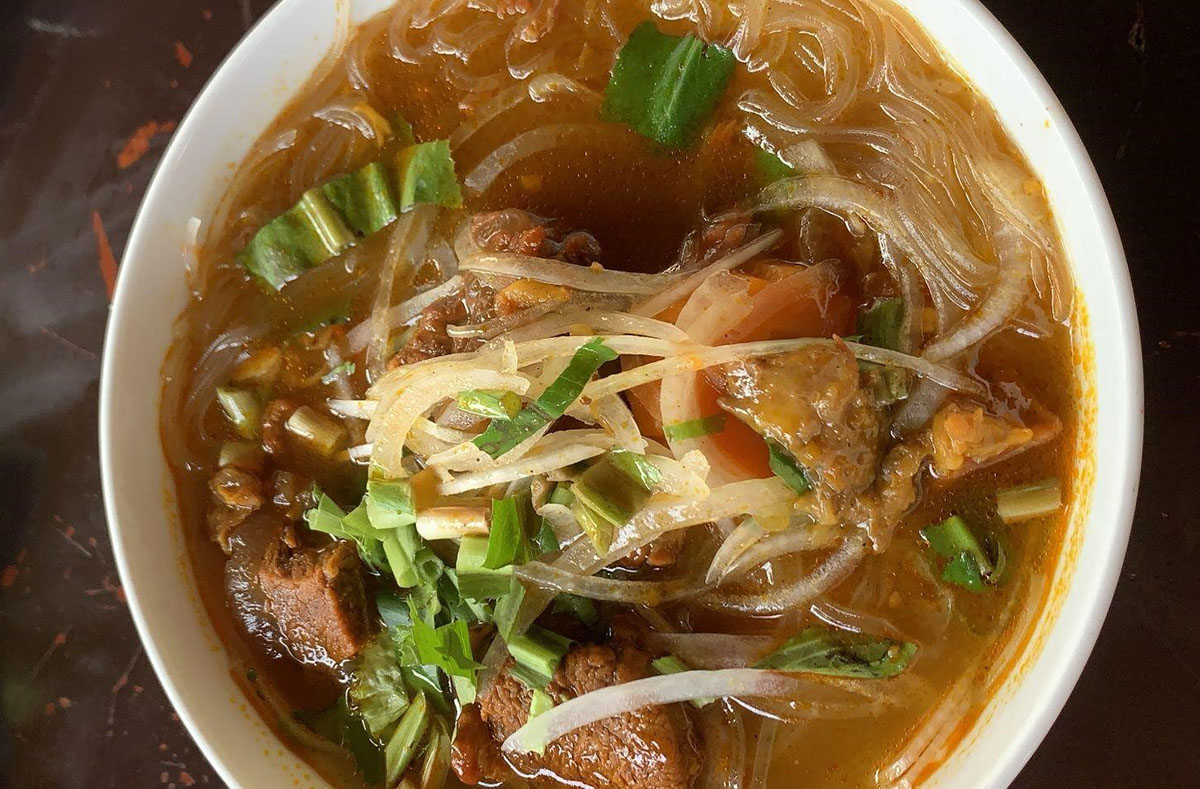 Photo: TITC
This dish is rich in aromatics. The broth, which is simmered for hours, has a thinner consistency and is made with lemongrass, star anise, cloves, cinnamon, onions, and garlic. Chunks of beef are seared prior to being finished off in the pot with carrots until both are fork-tender.
Tourism Information Technology Center