The Yen Tu Complex of Monuments and Landscapes, known as the ancestral land of Vietnam's Truc Lam Zen Buddhism, was recognised as a special national relic site by the Government. Therefore, turning Yen Tu into a national cultural and spiritual tourism centre is one of the long-term and sustainable development directions that is receiving attention and investment from Quang Ninh Province and Uong Bi City.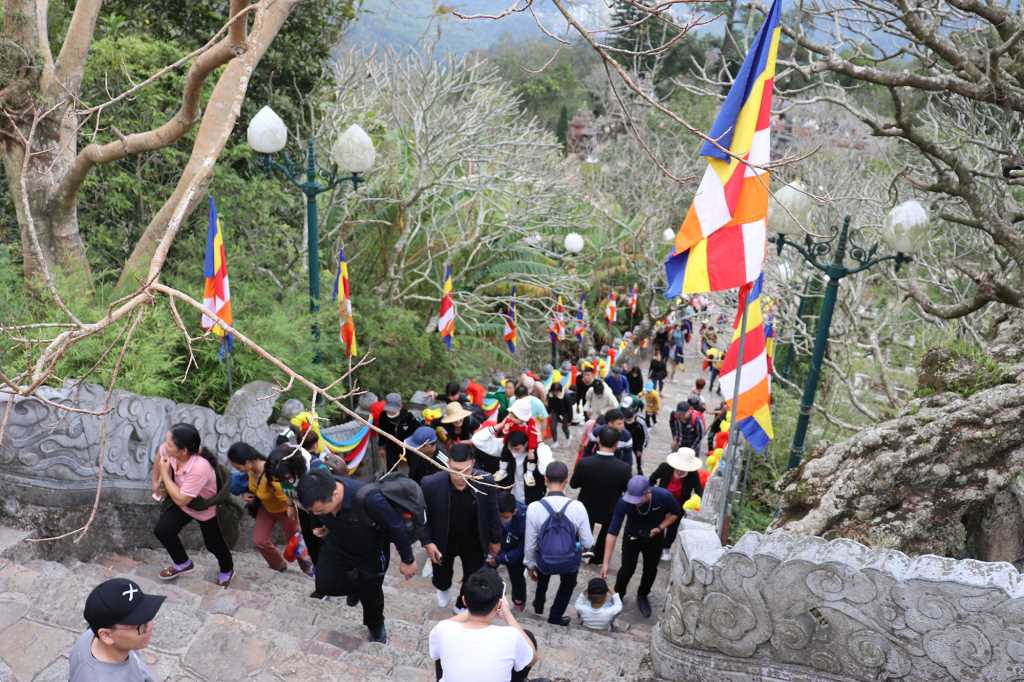 Tourists visit Yen Tu in March 2023. (Photo: quangninh.gov.vn)
Yen Tu has long been famous for its history and majestic natural landscape. This place preserves about 2,700 ha of almost intact primary forest. In particular, Yen Tu boasts a combination of picturesque natural landscapes, with a unique spiritual relic complex of pagodas, temples, and towers of precious architectural, artistic and sculptural values of the Ly, Tran, Le, and Nguyen dynasties.
Thus, Uong Bi City has always appreciated the value and great potential of the Yen Tu complex to preserve its cultural identity, associated with promoting economic development, especially sustainable tourism. However, the process of management, conservation, and exploitation of the complex faces some challenges, such as the harmony between coal mining and the conservation of forests and relic sites. In addition, tourism products are not diverse or unique and few services can retain customers for long stays.
Therefore, Quang Ninh Province and Uong Bi City have planned to boost the sustainable tourism development of Uong Bi City and Yen Tu complex. Accordingly, since 2002, Quang Ninh Province has resolutely stopped coal mining at some important mines of the Nam Mau Coal Company, requesting the restoration and delineation of Yen Tu National Forest for protection.
Besides, the awareness of residents has been raised so that they do not destroy the forests and hunt animals while stopping the free grazing of livestock. Instead of exploiting valuable typical forestry products in the forest, such products have been cultivated and developed by local people, according to specific planning, becoming local brands such as Yen Tu yellow apricot flower, trau tien (a medicinal plant with a scientific name of Asarum maximum Hemsl), apricots, bamboo shoots, and others.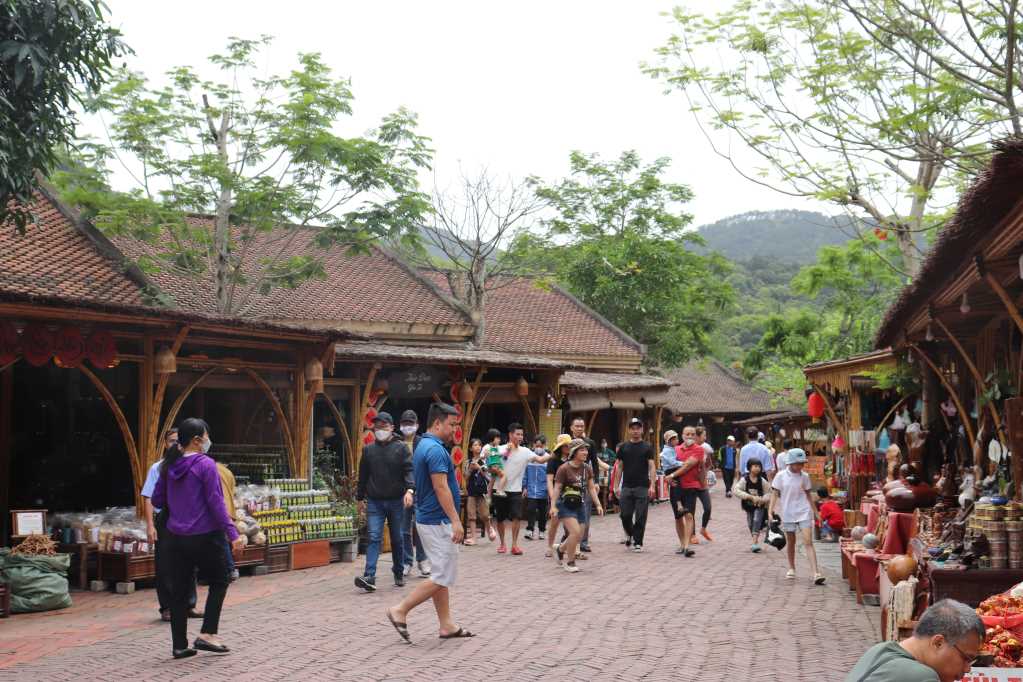 Visitors shop in the Lang Nuong site at the foot of the Yen Tu Mountain.
Quang Ninh Province and Uong Bi City have also prioritised inviting potential investors, who know how to evaluate and exploit the value of the Yen Tu complex. Some facilities and services have been built by prestigious companies, such as a chain of facilities and services on 20ha by Tung Lam Development JSC, the 133-room Legacy Yen Tu resort, the 700-seat Dien Hong Ballroom, the Am Tue Tinh Wellness Centre, the Minh Tam and Hoa Tam squares, capable of accommodating tens of thousands of visitors, and a modern cable car system using French technology, to Hoa Yen Pagoda and Dong Pagoda.
Quang Ninh Province also focuses on investing in synchronous and modern transportation infrastructure, connecting Yen Tu with the Tran Dynasty relic site in Dong Trieu District. In the near future, National Highway 279 and Provincial Road 327 will be upgraded to connect Yen Tu with Bac Giang and Lang Son. In particular, the Provincial People's Committee has been coordinating with the People's Committees of Bac Giang and Hai Duong Provinces, to complete the scientific dossier entitled "Yen Tu – Vinh Nghiem – Con Son, Kiep Bac relic and landscape complex", to submit to UNESCO for recognition as a World Heritage Site.
Secretary of the Uong Bi City Party Committee and Chairman of the City People's Council Nghiem Xuan Cuong said, intending to turn "Uong Bi into a spiritual-cultural tourism centre of the country", the city will continue to boost Yen Tu tourism sustainably, including raising people's awareness in preserving and promoting the unique values of Yen Tu.
The city will also form a chain of spiritual cultural tourism links between localities, inside and outside the province, especially between localities located in the Yen Tu complex in the three provinces of Quang Ninh, Hai Duong, and Bac Giang.
Furthermore, the city will strengthen the state management over preserving and protecting the landscapes and ecological environment of Yen Tu National Forest. At the same time, the city will foster coordination with the Executive Board of the Buddhist Sangha of Quang Ninh Province and Tung Lam Development JSC, to effectively exploit the tourism potential, cultural tradition, and spiritual values of the Truc Lam Zen Buddhism in Yen Tu complex.
Hoang Quynh – Translated by NDO
NDO – en.nhandan.vn – November 2nd, 2023