Since it was put into operation in July 2020, The Vietage, a high-end tourist railway carriage, has brought passengers a unique travel experience thanks to its luxurious design and full range of services.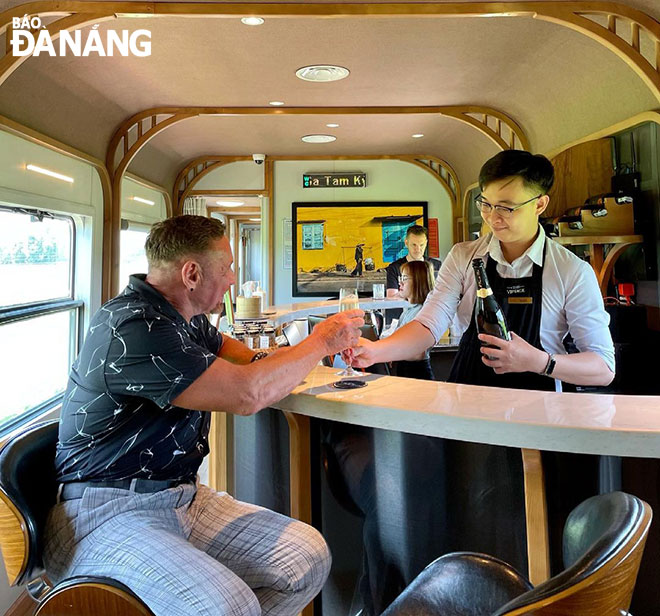 A passenger experiences luxurious services in The Vietage luxury carriage (Photo courtesy of The Vietage)
This carriage will be connected with the train SE5 at the Da Nang Railway Station in the morning and return with the train SE8 from the Dieu Tri Railway Station in Binh Dinh Province in the afternoon the same day.
Renovated by the Di An Railway JSC, the elegant carriage is a luxury train in Viet Nam connecting the two resorts Anantara Hoi An Resort and Anantara Quy Nhon Villas on a six-hour closed journey, which immerses travellers in the romance of the rails.
Joining the experience on the train, guests are served a French main meal, including wine, craft beer, fruits, tea, coffee and snacks at the bar. Notably, The Vietage offers a varied menu for children, dieters and participants in movement games.
Named by CNN as one of the six amazing Asia train journeys in late 2021, The Vietage with only 12 seats, accompanied by restaurant, bar, and massage services, is designed to ensure the best comfort and privacy for passengers.
Besides enjoying French meals and admiring the scenery on both sides of the road, each passenger is served 30 minutes of head and shoulder spa treatments.
It can be said the carriage is designed as a miniature 5-star restaurant with full amenities.
The Vietage combines old-world comfort, breath-taking views and gourmet dining to leave you inspired, refreshed, and ready for your next destination.
The Vietage carriage boasts sleek-lined modern interiors, big picture windows and large comfy seats, while a sit-up bar offers a change of scenery and the chance to enjoy cocktails, local craft beers, wines and snacks over conversation with friends, before the main culinary experience.
The journey to experience with The Vietage carriage is considered an interesting time, helping visitors better understand the land, culture and people along the railway from Da Nang to Quy Nhon.
At the price of VND4 million /person/turn, The Vietage is attracting customers with economic conditions and the desire to explore Central Viet Nam by train.
Reporting by HUYNH LE – Translating by M.DUNG
Source: Da Nang Today – baodanang.vn/english