The Lu ethnic group in Lai Chau province, which has fewer than 10,000 people, has retained its unique culture. The local authorities have helped the group preserve their stilt houses, costumes, festivals, and folk songs.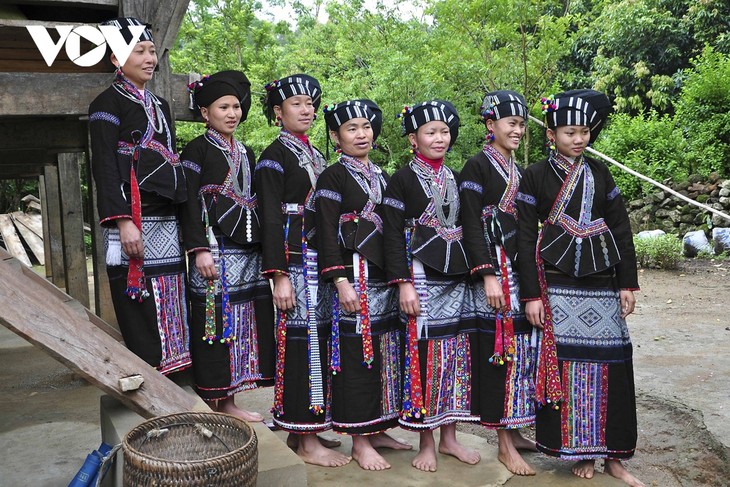 Lu women make all clothes and accessories for their family members. (Photo: VOV)
70-year-old Lo Thi Son of Ban Hon commune, Tam Duong district, has taught young people to play flutes and gongs and perform the old dances and folk songs of the Lu for years.
"While doing farm work, I write songs, and then I teach the children to sing the songs and dance to them. Some children can now write their own songs. I'm old but I'm still involved in cultural movements. We enjoy dancing and singing," Son said.
The daily life of the Lu involves small-scale farming and raising livestock. In their free time, Lu women weave fabrics and embroider clothes. Almost every family has a loom. Before they marry, Lu girls learn to weave and tailor clothes for their family.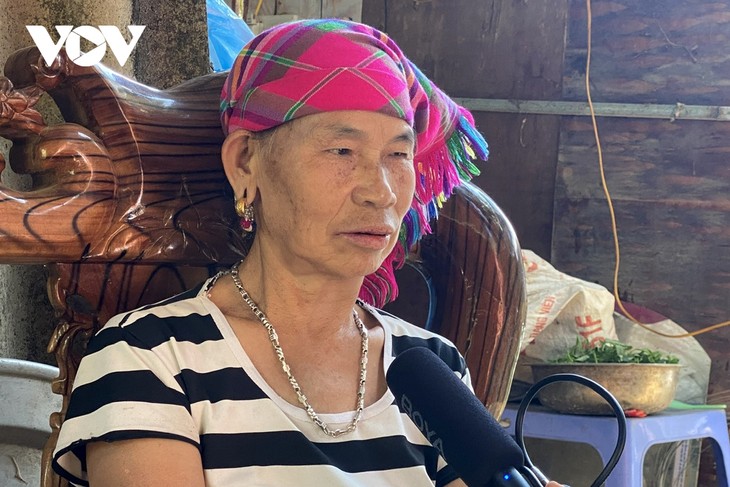 70-year-old Lo Thi Son of Ban Hon commune, Tam Duong district, Lai Chau province. (Photo: VOV)
Lu clothing, and accessories like scarves and bags, are all handmade and embroidered with traditional patterns. Lu women wear indigo shirts with the left flap overlapping the right flap in the front and tied at the waist with colorful tassels. On ordinary days, they wear indigo skirts with simple embroidery.
On holidays, during festivals, or when the family has distinguished guests, they wear 2-layer dresses decorated with beautiful patterns – the upper part has diamond-shaped motifs, the lower part is a dark indigo color, and the hem of the skirt is colorfully embroidered.
Last year, Ban Hon commune welcomed 30,000 visitors. Tao Van In, Deputy Secretary of the commune's Party Committee, said, "We continue to raise people's awareness of their responsibility for preserving their traditional culture. We will strengthen preservation and promotion of cultural values to create a healthy environment for economic development, improving people's lives, and promoting the roles of artisans, senior villagers, and patriarchs."
Lai Chau province has 20 ethnic groups living together. The Lu have about 1,300 households with nearly 7,000 people, most of them in Tam Duong and Sin Ho district. They have preserved their festivals, stilt houses, weaving, costumes, language, and folk arts. The local authorities have worked with the people to restore festivals and rituals.
Tran Manh Hung, Deputy Director of the Lai Chau provincial Department of Culture, Sports, and Tourism, said the festivals of the Lu are on the list to receive money for restoration. There are classes to teach young Lu people to make their clothes and handicrafts and speak their language.
"We have policies to support community art troupes and folk culture clubs. The province has developed a dossier to honor People's Artisans and Emeritus Artisans, who are masters of their role in teaching and popularizing traditional culture," said Hung.
Preserving and promoting Lu culture in Ban Hon has boosted tourism and improved the local standard of living. It has encouraged ethnic people to get involved in preserving their culture and replicating successful models, so that the identity of the Lu will blend with the culture of Vietnam's 54 ethnic groups.
Khac Kien – Vinh Phong
VOV – english.vov.vn – October 27, 2023