Regent Phu Quoc reveals "Escape Life's Gravity" this August and September, introducing a curated retreat at the pearl island of Phu Quoc with a number of exclusive privileges that will complement the experience.
Seven-bedroom club beach pool villas mark the echelon of palatial living, showcasing tasteful Vietnamese and contemporary design within its seven-bedrooms, four panoramic infinity pools and two plunge pools.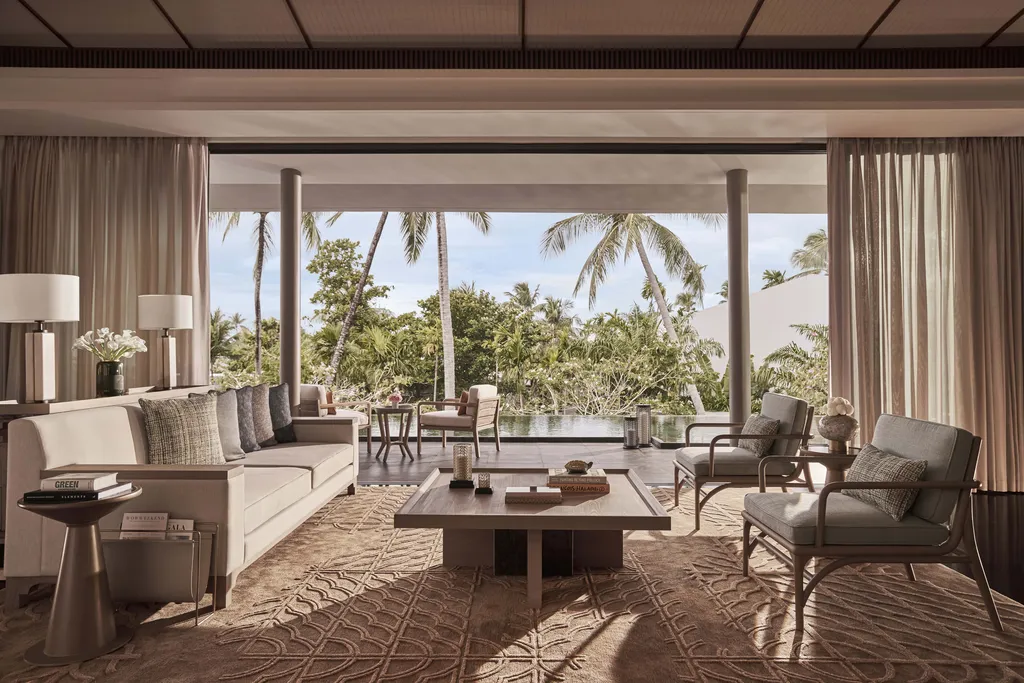 Three-bedroom lagoon pool villa living room.
Sky pool villas
One-bedroom club sky pool villas present a unique vertical villa concept with exquisite rooms, a private terrace, infinity pool and double chaise longue offering the benchmark of true indulgence. The two-bedroom club sky pool villa is perfect for family or friends.
Lagoon Pool Villas
The two-bedroom lagoon pool villa will immerse guests in ambient lagoons from the comfort of a private terrace or infinity pool. The three-bedroom lagoon pool villa is nestled around the resort lagoons, opening onto a large veranda featuring an infinity pool, ideal for families wishing to enjoy magical hours together.
The four-bedroom club lagoon pool villa lays upon luxurious resort lagoons with decadent ocean views, drawing out to a generously furnished veranda of two plunge pools and an infinity pool.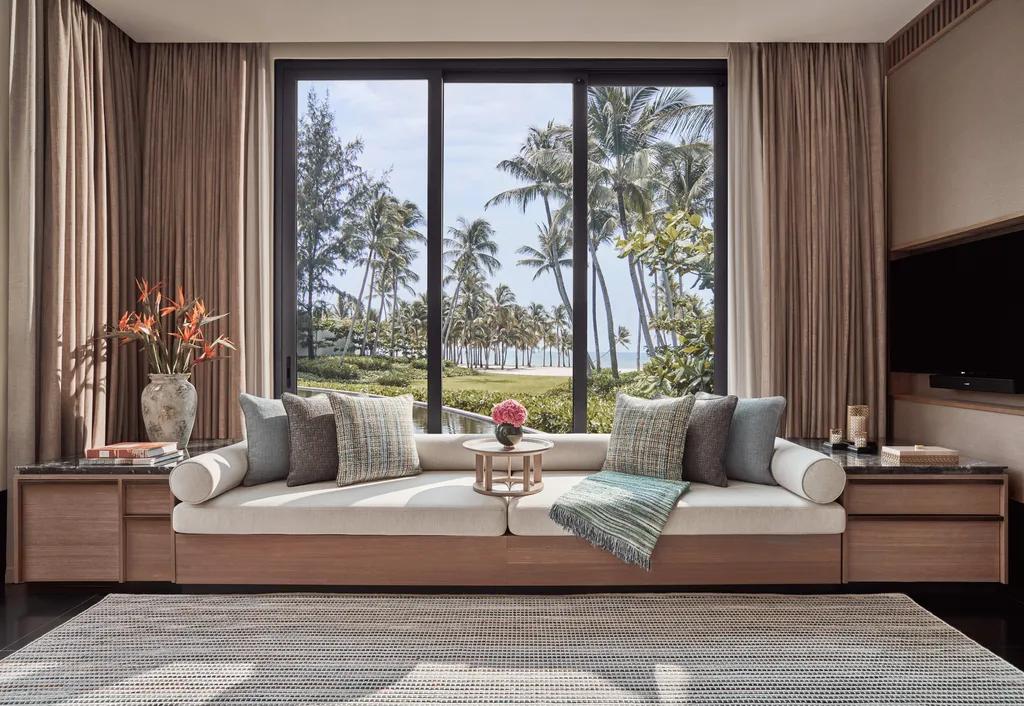 Three-bedroom terrace pool villa.
Terrace Pool Villas
One-bedroom terrace pool villas lay the perfect perch for being at one with the beauty and tranquility of the destination, against lush tropical foliage from which your own furnished, sun-kissed terrace sits alongside a private infinity pool. Two-bedroom terrace pool villas are designed for families or travelling friends with unparalleled views of Phu Quoc's glorious sunsets.
Three bedroom terrace pool villas present sumptuous decadence throughout a refined private sanctuary of two stories with a connecting semi-outdoor staircase, offering uninterrupted moments to lounge on the sun terrace or in a private infinity pool.
Stylish suites with a view
The garden pool suite is a private oasis lavished with a private veranda and a landscaped garden, outdoor shower, private plunge pool and a daybed, to fulfil a yearning for total disconnection.
The ocean view suite is reserved for the most discerning guests. Both suites also feature a complimentary Refreshment Gallery with a coffee machine and high-end entertainment systems, for on-demand 'pick me up' moments.
VNS – vietnamnews.vn