(TITC) – On 6th October 2022, in Ha Noi, the National Political Publishing House held a ceremony introducing its 2023 Calendar themed 'Dat Nuoc Nhin Tu Bien' (Country viewed from the Sea). VNAT's Chairman Nguyen Trung Khanh attended the ceremony.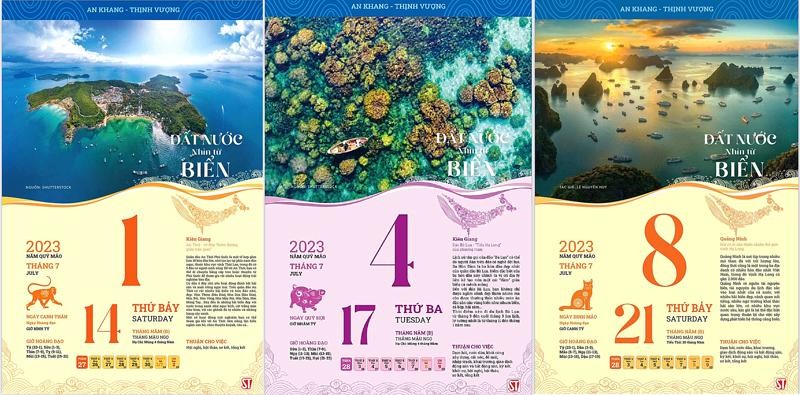 Vietnam's sea and islands spotlighted in year 2023 calendar
The bloc calendar, comprising 365 sheets, is designed as a travel manual providing basic information about typical tourist attractions in 28 coastal provinces and cities across Vietnam so that viewers can explore the country's sea and islands day by day.
It can be said that this is a very different calendar. Distinguished by the blue color of the sea, by the moments recorded in pictures, depicting the beauty of the sea from many angles. It is the beauty of the coastal city, the bright smiles of the coastal people, the sunrise or sunset on the sea or the way people conquer the sea, make friends with the sea…
Speaking at the ceremony, Mr. Pham Minh Tuan, Director – Editor-in-Chief of National Political Publishing House said that Vietnam is a coastal country, the gateway to the East Sea with more than 3,260 km of coastline stretching from North to South, nearly 3,000 large and small islands and two archipelagos of Truong Sa and Hoang Sa, 28 coastal provinces and cities, 125 coastal districts and 12 island districts.
The calendar is designed with photos and information about the beauty of the sea in order to promote the potential of sustainable tourism, retelling the "stories" about the livelihood of coastal people.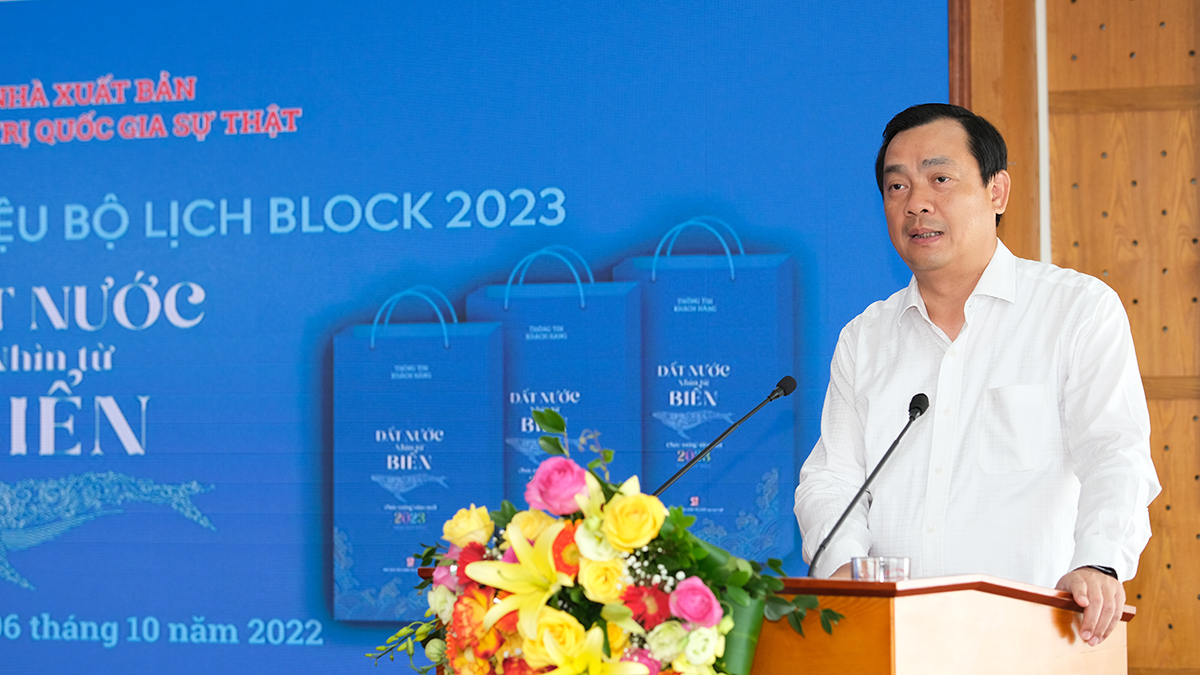 VNAT's Chairman Nguyen Trung Khanh speaks at the ceremony. Photo TITC
VNAT's Chairman Nguyen Trung Khanh said that Vietnam tourism development strategy to 2030 has determined to develop sea and island tourism. VNAT accompanies localities and businesses to actively promote domestically and internationally.
For many years, the tourism industry has focused on calling for and attracting investment in the development of high-class beach resort centers associated with key tourism development areas including Quang Ninh, Thua Thien Hue, Da Nang, Quang Nam, Quang Ngai, provinces of South Central Coast Region and Phu Quoc (Kien Giang). Many of Vietnam's beach tourism destinations have created a strong brand mark in the international tourism market, which is the priority of choice for a large number of international tourists.
Ha Long Bay (Quang Ninh) is honored by UNESCO as the World's Natural Heritage with thousands of magnificent and lively islands. The coastal cities of Da Nang and Nha Trang offer visitors wonderful experiences at five-star resorts, enjoying fun-entertainment activities and bustling nightlife. Islands such as Phu Quoc and Con Dao are famous for their pristine coastline, fine white sand and inviting crystal clear waters.
Visitors who love scuba diving, windsurfing and a variety of marine sports activities are very fond of destinations such as Mui Ne (Binh Thuan Province).
Phu Quoc Island is chosen in the list of 25 best islands in the world by Travel+Leisure's World's Best Awards 2022, and top islands in the world by Condé Nast Traveler's Reader Choice Awards 2022.
He affirmed that this bloc calendar plays important role for tourism, preservation and promotion of the unique cultural values of Vietnam's sea and islands, protect national maritime security sovereignty. At the same time, 365 pages of a calendar representing the country viewed from the sea will inspire viewers to explore, to travel, contributing to boosting Vietnam tourism recovery.
Tourism Information Technology Center