Many craft villages have crossed the boundary of "self-sufficiency" and successfully commercialized their products. More specially, the famous craft villages of Thua Thien Hue can also develop tourism.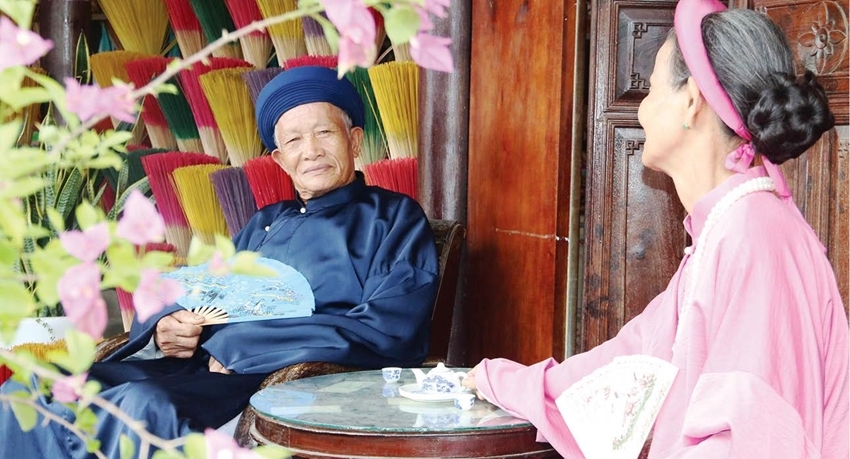 Old tourists also like to experience at Thuy Xuan incense village
Favorable conditions
Living near Thuy Xuan incense village (Hue City), I have witnessed a skyrocketing number of tourists in recent years. With the advantage of living near the Tu Duc mausoleum monument or near Vong Canh Hill, people here invest in facilities and historical costumes for rent and become a superb tourist attraction. Every day, this place appeals to hundreds, even thousands of tourists. The number of incense selling points associated with tourist services is also on the rise.
Thua Thien Hue is a land with many craft villages that were formed, existed, and developed very early, creating unique characteristics. Today, the craft villages not only meet the requirements of socio-economic development and increase the people's income but also contribute to the diverse development of local tourism with its own appeal.
According to the 2022 statistics, Thua Thien Hue has 86 craft villages, 57 traditional crafts such as áo dài ((Vietnamese traditional gowns), nón lá (palm-leaf conical hats), bamboo and rattan weaving, Zeng weaving… with a large team of skilled craftsmen. Having gone through many ups and downs in history, the local craft villages still endure and continuously develop, creating many quality products and goods to serve the needs of the people and tourism development.
However, currently, not all craft villages in Hue are invested in tourism development. Aside from the tourist attractions such as Thuy Xuan incense village, Sinh Village with Thanh Tien bougainvillea, and Van The palm-leaf conical village…, many craft villages are still not widely known on the tourist "map" of the Ancient Capital.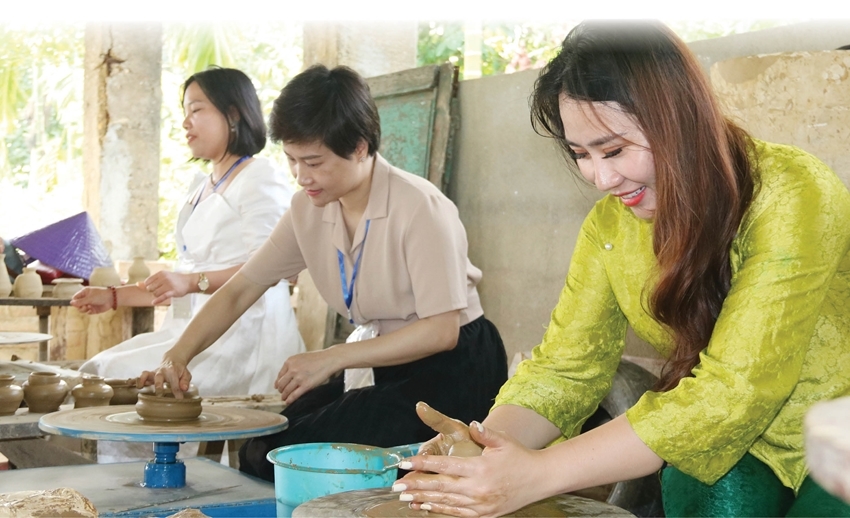 Tourists experience making pottery in Phuoc Tich ancient village
Doing a small survey of tourists, we received feedback about the desire to experience more than sightseeing. Ms. Ngo Thi My Hanh, a tourist from Khanh Hoa shared, "Reaching Hue, we also desire to try learning how to make palm-leaf conical hats, make incense or experience craftsman's occupational activities in craft villages and record the moments with pictures. However, not every place invests in serving tourists."
In reality, tourism trends have changed. Many people's conception of traveling now is not only restricted to visiting monuments and landscapes but also experiencing the culture and identity of Hue originating from craft villages. With the diversity of tourism types and cultural identity, many craft villages in Thua Thien Hue have conditions to develop craft village tourism.
Investment in products
Of course, from potential, favorable conditions to effective tourism model implementation is a long story. However, the foundation, the initial factor, is also an opening for investment and development.
To achieve high efficiency, tourism development associated with craft villages needs to be done with focus and quality to increase economic value, creating the value of spreading the local culture to the Vietnamese and world community. In particular, the focus should be on diversifying products and creating an experience space to attract tourists.
Vietnam's countryside goes hand in hand with hamlets and craft villages. Those are the basic characteristics of the economic and cultural traditions of Vietnamese rural society. In addition, craft villages are a bridge between agriculture and industry, between rural and urban areas, and between tradition and modernity. From those factors, investment in building products must create appeal through historical and cultural stories alongside experiences to bring high value to tourists.
Considering the experience of some countries worldwide upon tapping traditional craft villages or festivals as tourism business products, they use the "3-together" form: tourists eat, live, and work together with the indigenous people of a certain traditional craft village. Based on the reality of previous models, it can be seen that "pulling" tourists into the lives of local people will make the duration of a tourism program longer. Simultaneously, tourists' interest will rise when they enjoy the fruits with their own hands under the guidance of craft village artisans. But craft villages or artisans cannot "play solo", but need to connect with the travel and tourism units to jointly research, exploit and build appropriate tourism products.
A plus of Thua Thien Hue is that it has successfully organized many Hue Traditional Craft Festivals. Hue needs to take this opportunity to gather craft villages across the country and develop into the craft village center of the country. At that time, building unique craft village tours and developing the economy from the craft village itself is also a good direction.
Mr. Vu Van Tuyen, Director of Travelogy Vietnam Tourism Co., Ltd. said that the direction of developing night markets in many localities has not been successful. However, for Hue, a land with many traditional craft villages, night markets can be formed right in the craft villages. There are many different ways to carry out it, but researching ways to increase the value of experience for tourists is needed. That is also a way to get craft villages "livelier" and draw more tourists.
Story and photos: Huu Phuc
Hue News – baothuathienhue.vn – November 8, 2023