The strong development of Ninh Binh's tourism sector in the past years has affirmed right policies of the province. However, after a period of growth, the sector has revealed some shortcomings, requiring Ninh Binh to take strategic measures for long term development.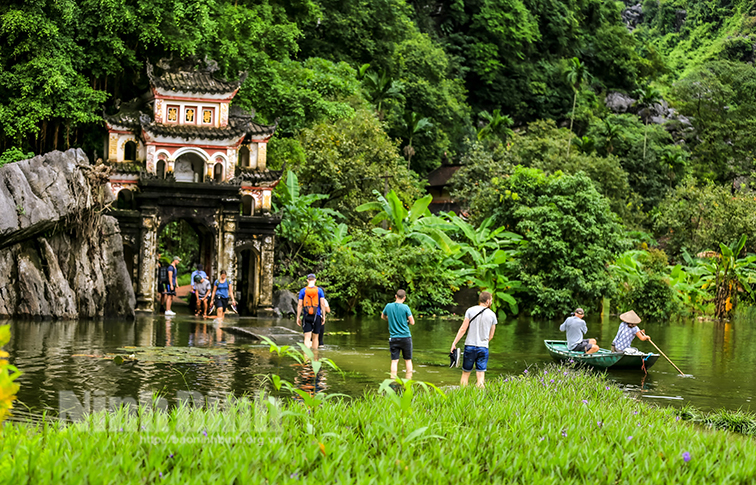 Foreign vistors in Bich Dong pagoda
Opportunities and challenges
In the past years, Ninh Binh's tourism has been growing strongly and greatly contributed to the province's GRPD and helped to preserve traditionalcultural values and effectively exploit natural resources.
Ninh Binh has been marked in the world tourism map and named in the list of the most attractive destinations or the country's top 15 destinations and the top five paddy rice fields in Vietnam by international travel magazines and domestic ones.
Some new tourism products have attracted a lot of domestic and foreign visitors. Infrastructure has met the requirements of tourism development, especially roads, lighting, medical and hygiene water systems.
However, the tourism sector has still faced numerous difficulties and challenges that hinder its breakthrough growth.
A recent study carried out by local researchers named "Solutions to boost industry and tourism of Ninh Binh" pointed out several shortcomings. The number of tourists staying overnight remains low and their stay remains short while tourism revenue is not commensurate with the numbers of visitors.
Poor tourism products with boat sightseeing tour, no outstanding tourism products.
In addition, Ninh Binh has yet to define potential tourism markets to organise promotion programmes.
The quality of tourism personnel remains low while the application of technologies at business facilities is limited and investment in tourism infrastructure is not synchronic, failing to attract big investors.
Focusing on key solutions
According to the study, in a bid to resolve these shortcomings, Ninh Binh's tourism industry needs to implement synchronous solutions.
First, it must step up investment, application of technologies and digital transformation in tourism development to 2030 with a vision to 2045.
Second, the sector needs to expand tourism markets. In the short term or medium term, it must focus on attracting domestic guests from cities and provinces such as Ha Noi, Hai Phong, Quang Ninh, Thanh hoa, Nghe An, Central Highlands, and Ho Chi Minh City.
For international markets, the sector should give priority to attracting tourists from France, Japan, the Republic of Korea and Australia.
It is necessary to build new tourism products to create fresh experiences for travellers. To this end, it should take advantage of the province's potential such as cultural tourism, historical tourism, spiritual tourism combined with heritages, festivals, and craft villages.
The most important and urgent solution is to improve the quality of the tourism workforce.
Building mechanisms and policies to develop tourism, upgrading accommodation establishments, investing in entertainment areas and stepping up promotion activities are other solutions that Ninh Binh must carry out in the coming time.
According to the study, Ninh Binh should develop industry and tourism harmoniously. It must zone off industrial clusters and industrial parks far from local residential areas and tourist destinations; strictly control waste discharge and environmental protection; develop green industry and attract safe production projects.
Moreover, Ninh Binh needs to devise policies to share the responsibility of environmental protection and restoring exploited tourism resources with tourists.
Translated by Nguyen Thuy
Source: Ninh Binh Newspaper – en.baoninhbinh.org.vn