After many missed appointments due to the COVID-19 pandemic, Hue Festival has returned this year with unique "cultural parties", bringing an interesting new look to the domestic and international public.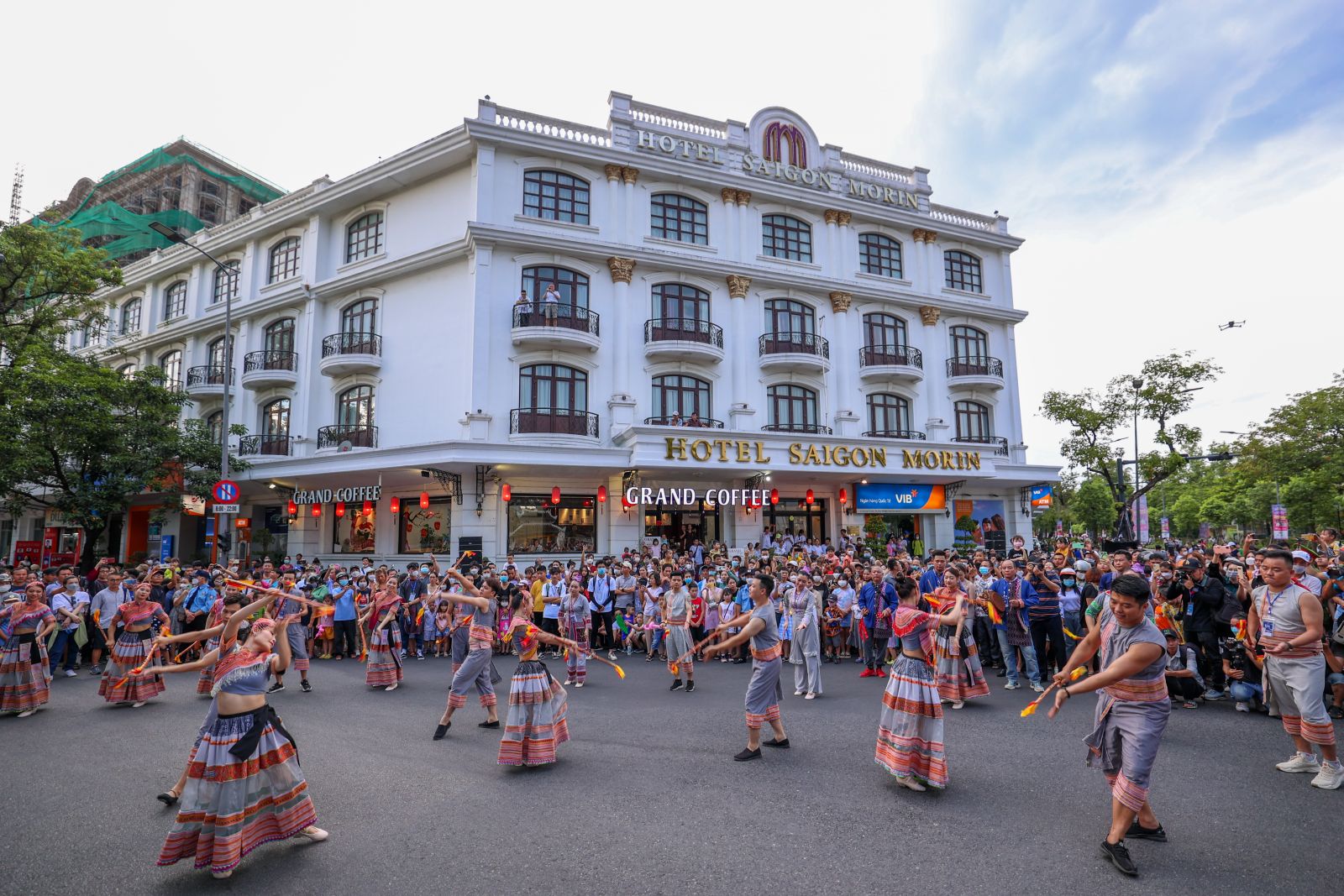 A large number of people and tourists enjoying the "Colors of Culture" street festival. Photo: Trung Phan
Hue Festival 2022 gathers six international art troupes from Israel, Brazil, Spain, Belgium, France, and Russia. For many artists, Hue Festival 2022 is their chance to keep on staging, giving impressive and colorful performances to the audience, sending out messages, and making efforts to contribute to the solidarity among peoples and nations.
The images of international artists performing at their best on stage, and foreign visitors cheering joyfully are the proofs that Hue Festival 2022 has achieved certain successes.
The following is how international visitors and friends think about the festival, which is recorded by Thua Thien Hue Online.
Mr. Simon (tourist from Germany): Love the warmth and dedication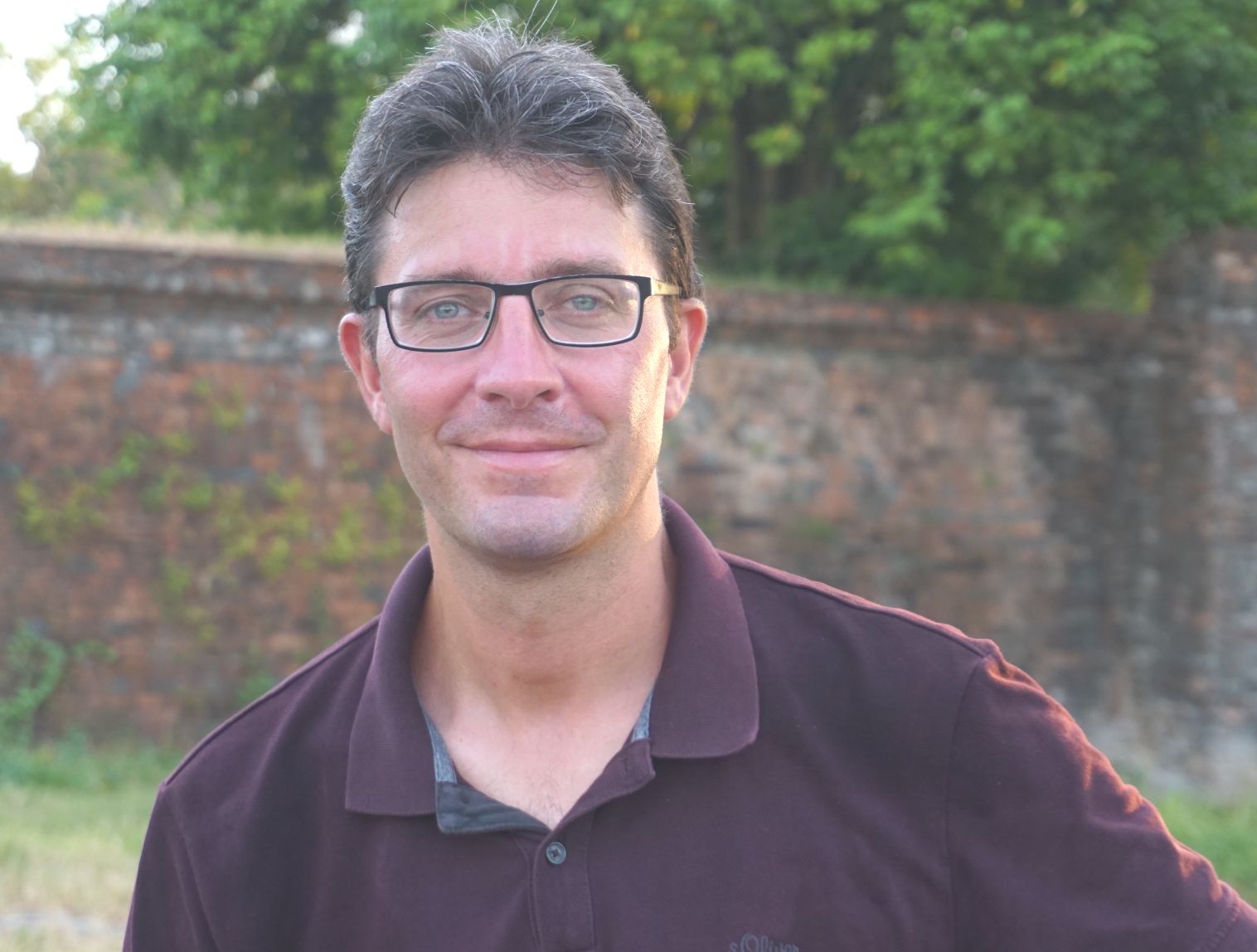 Mr. Simon
As the first time I come to Hue Festival, I am very excited to watch performances by international and Vietnamese art troupes. I had chance to watch the show of Belgian art troupe and a Hue traditional music performance in the Citadel. Each performance had its own attractive features, and they were all wonderful.
Hue Festival must be loved by many people, and everywhere seems to be covered by the festive atmosphere. As I was at the hotel, I was introduced to Hue Festival; when I came to a restaurant, I was also asked whether I had participated in any events in the festival; even when I asked for directions, I was given more advice on the programs: where to go and what to see … It was really interesting! I was very impressed with the enthusiasm and dedication to Hue Festival from the people around.
I would love to come back to Hue Festival at the soonest possible opportunity and hope that there will be German artists attending in it, so that I can proudly re-introduce our art and culture to you.
Ms. Sharon (tourists from Australia): I come here for Hue Festival and I will come back again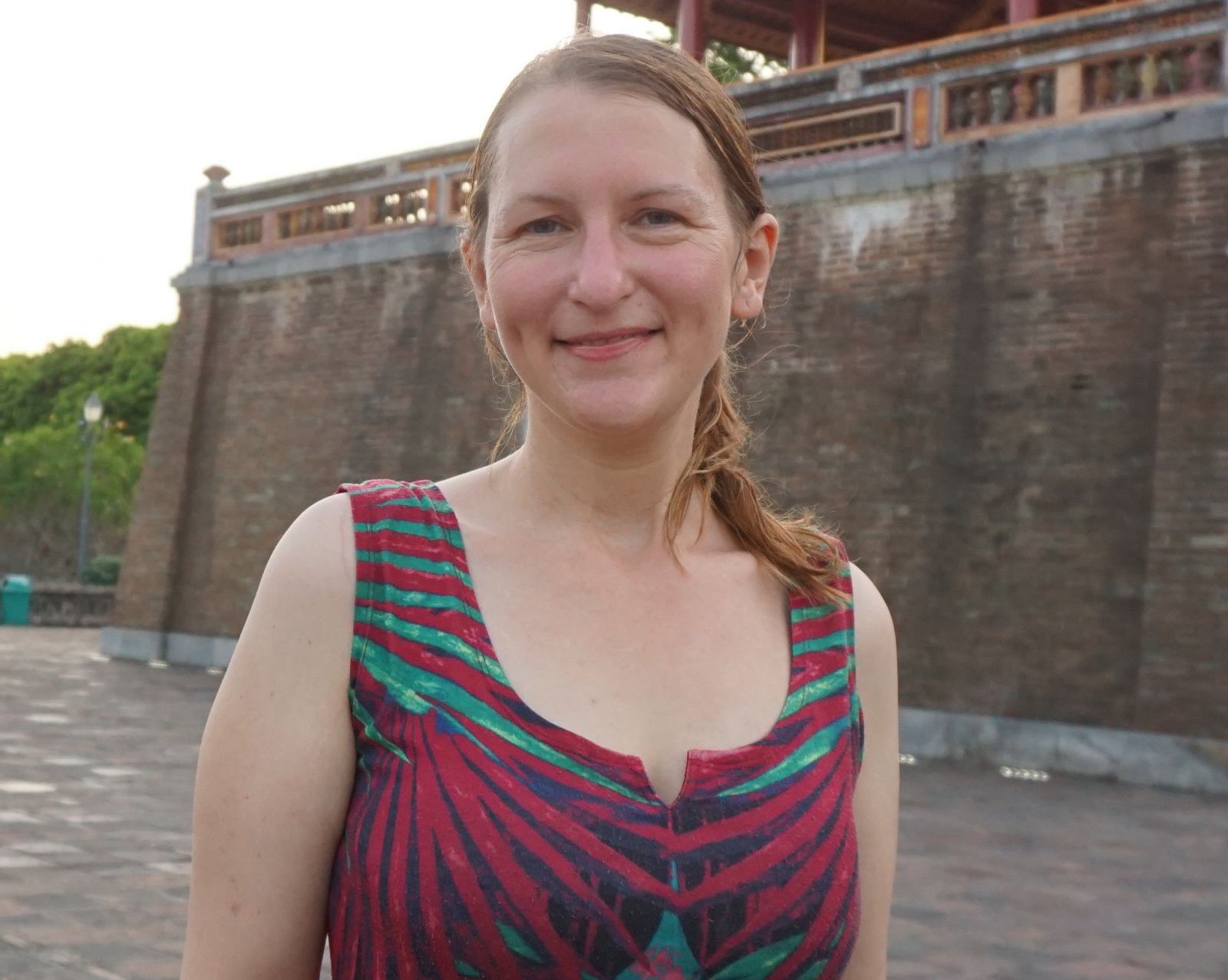 Ms. Sharon
Coming to Hue on the occasion of Hue Festival 2022, I got the chance to visit art galleries, Ao dai shows, and music concerts, etc. In the music concerts, I could see and feel the enthusiasm of the audience when everyone sang and stood up for the lively songs, etc.
This is the second time that I've been in Hue, the first time was also on the occasion of Hue Festival, maybe in 5-10 years ago. With the things that have been stayed in my memories, I chose to come back to Hue this year especially for this festival.
In terms of the festival's scale, in my opinion, Hue Festival 2022 is invested elaborately. This year, the festival is quite modern with various events and festivals, including the culinary festival that I and other tourists can come to enjoy the specialties, the uniqueness of Vietnamese cuisine. As I remember, Hue Festival in the past was well-known with the activity of floating candles along the Huong River and set candles in many places, etc. However, the light system is the outstanding point of this year festival. To me, it is the main difference.
I love everything of Hue and of the festival this year. I do believe that from each point of view everyone will find out the beauty and the attraction of Hue Festival 2022 by themselves. Therefore, I will come back to Hue, to a new festival season in the future for sure. Of course, I will definitely tell my friends about this land and Hue Festival as a not-to-miss destination, so that they will get the chance to enjoy and mix with this colorful festival atmosphere.
The Scott family (living in Singapore): Being excited to experience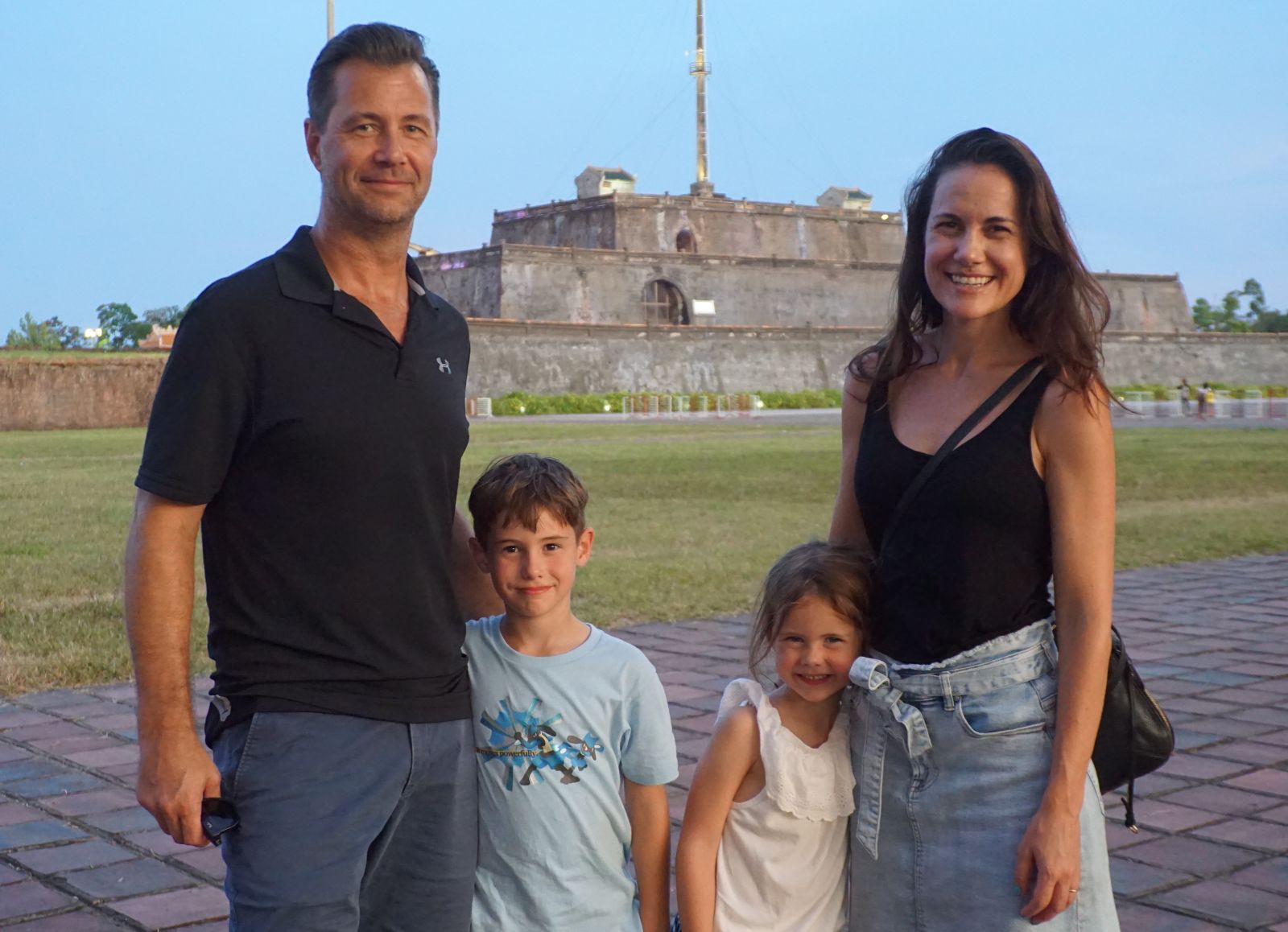 The Scott family
As travelling to Hue for the first time, my family planned to visit the Imperial Citadel, and the temples as well. We also excitedly participated and experienced the programs within the framework of Hue Festival Week 2022.
I chose Hue as the destination for our trip, as there are many historical sites in Hue, where the whole family would like to see.
In this trip, we plan to learn and explore about culture, history, and also the food. We love Vietnamese food, including Hue's food!
Artist Mathieu Hocine (Leader of the Kid Francescoli Band, France): Nothing can compare to Hue Festival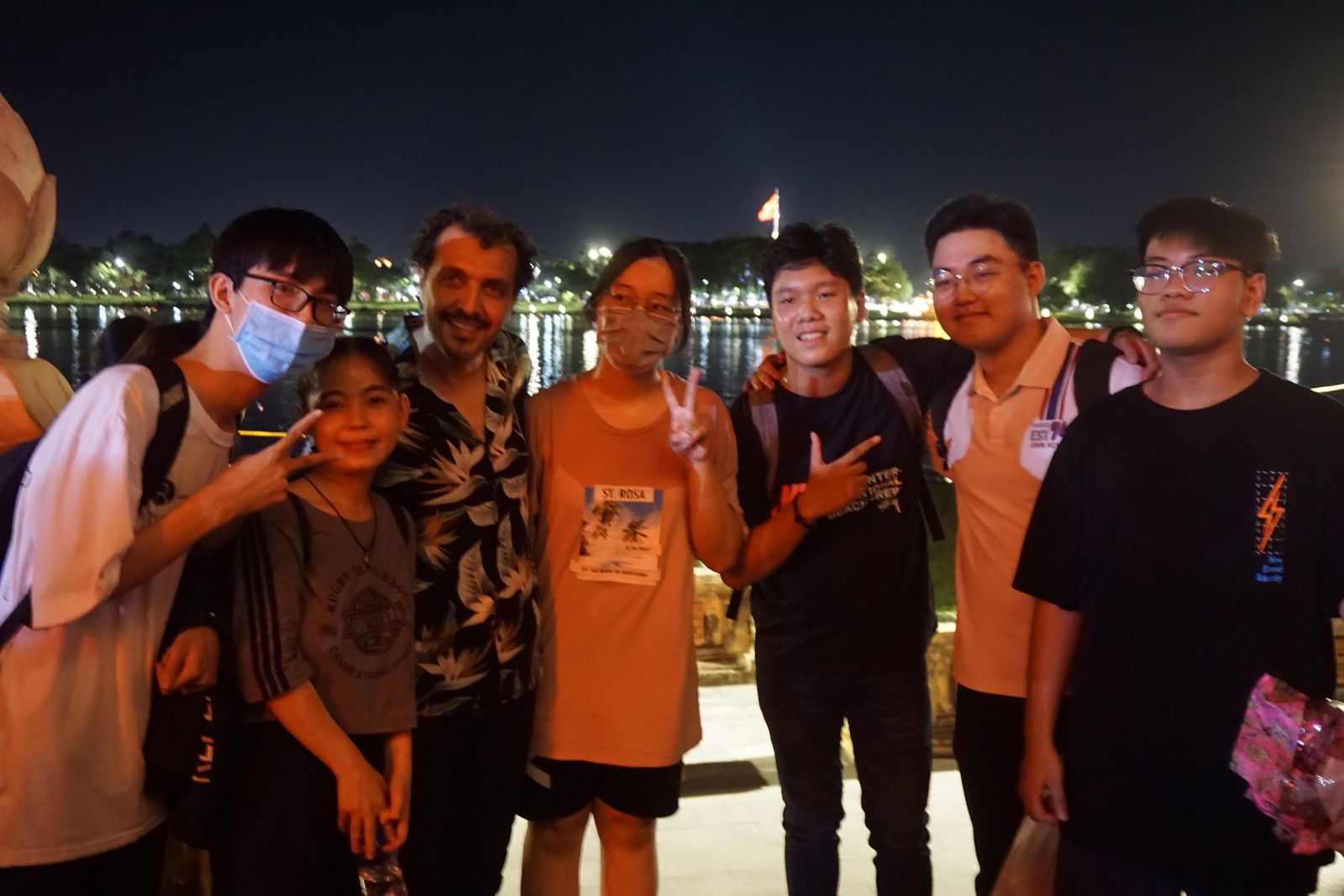 Mathieu Hocine (3rd from left) surrounded by young fans after his performance on the evening of June 29
This is the first time that my band has been in Hue and attend Hue Festival. Although we have performed on many stages, we are really impressed by Hue Festival. This is an important event with the diversified combination among forms of art such as from singing, dancing, to exhibitions, food festivals, etc…. It carried a huge difference from other festivals in Europe, which often specialize only in one particular art form.
To me, Hue Festival is an event of great significance and plays as a bridge to link many artists from all over the world to join the festival, as well as connecting the audiences at home and abroad to mix with the festival atmosphere.
I would like to congratulate Hue for the successful organization of this large-scaled festival. If we have chance, we want to keep on serving the audiences with our performances in the upcoming festival seasons. Everybody should come to Hue to experience the culture, cuisine, as well as enjoy the special events in the framework of Hue Festival because there is no other festivals in the world can compare to this festival.
By Nhi Thao Quyen
Hue News – baothuathienhue.vn