Hanoi's tourism industry encourages the creation of new and unique tourism products for young and enthusiastic tourists who love discovery, focusing on harnessing local strengths such as hot air balloon services at Ba Vi National Park, paragliding in Chuong My District's Bu Hill and adventure tourism.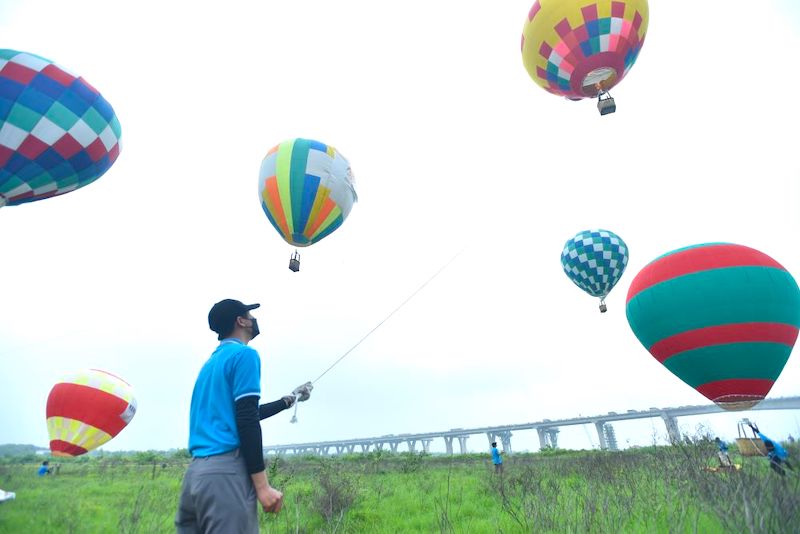 Hanoi tourism industry will promote the development of adventure tours professionally and on a large scale. Photo: Khanh Huy/ The Hanoi Times
Accordingly, the municipal Department of Tourism encourages the combination of experience, sports, resort activities with health care, homestay tourism in the suburban districts of Ba Vi, Son Tay and Soc Son, shopping tourism in Dong Anh – Soc Son districts, and night-time cultural tourism and cuisine tours around the city's Old Quarter.
"We will continue to support travel companies and tourist destinations to build cultural, experience, sports and MICE [Meeting, Incentive, Conference, Exhibition] tourism in the near future," Director of the Hanoi Department of Tourism Dang Huong Giang said.
"In the coming time, the tourism industry will promote the development of adventure tours professionally and on a large scale. It is important to ensure the safety of visitors when they experience the adventure tour," she told The Hanoi Times.
According to the leader of the municipal Department of Tourism, the development of tourism in the suburbs receives special attention from the city. The department will conduct surveys in these areas to increase efficiency in developing new products, connect travel agencies with localities, as well as boost tourism development in the suburban area.
Leaders of the department and Long Bien District People's Committee planned to launch more hot air balloon services after the success of the tourism stimulus program titled "Hanoi Tourism Welcomes – Get on Hanoi 2022" in March.
The Ba Vi National Park in Ba Vi District, about 60 km west of downtown Hanoi, covering an area of ​​nearly 11,000 ha, is a complex of areas for entertainment, discovery and resorts. This is an ideal place for families, especially young people, to have fun and relax on weekends, according to local insiders.
From mid-October to early December, when wild sunflowers bloom in Ba Vi National Park, many tourists, especially young people, plan to enjoy wild sunflowers here and experience flying hot air balloons at altitudes of 400 meters and 900 meters.
Another attractive product of adventure tourism is parachuting on Bu Hill in Chuong My district. About 40 km from central Hanoi, Bu Hill is an attractive place for young people to have a picnic, check-in, watch the sunset, take photos, especially experience exciting paragliding.
In about 15-20 minutes of skydiving, visitors have the opportunity to observe the natural landscape of the suburban countryside from above. Summer and autumn are the best times for parachuting over Bu Hill, as visitors will be able to see fields of ripe rice or reed with pure white flowers.
Ba Vi National Park is also a place for adventure tourism as visitors can challenge themselves, find a new feeling in trekking. On the journey, trekkers can discover many French colonial relics, some of them are in ruins such as a church and a windmill, as well as exploit rare plant species in the park.
Nguyen Phi Hung, Director of the Environmental Education and Service Center said that many short trekking routes have been opened, suitable for both amateurs and professionals. Hikers can be free from worries of getting lost or other risks as there are guards supporting them, he told The Hanoi Times.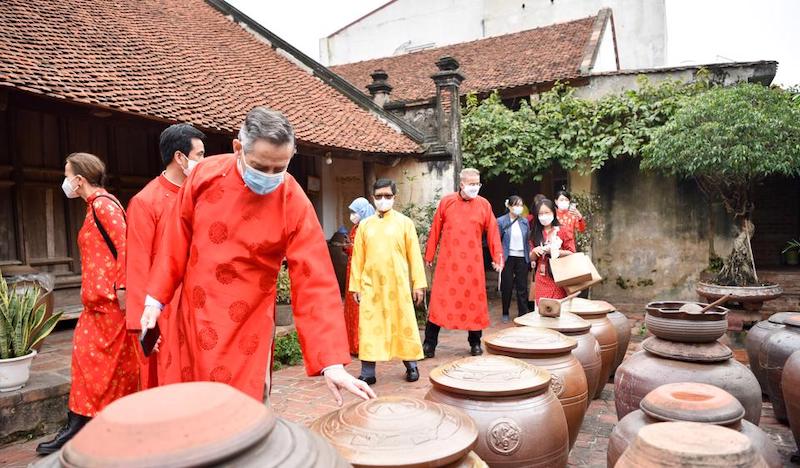 Foreign tourists enjoy Duong Lam Ancient Village in the capital's Son Tay Town. Photo: Bao Chung/ The Hanoi Times
Rising tourists to Hanoi
In the first eight months of 2022, the number of tourists to Hanoi was estimated at more than 12 million, 4.2 times higher than the same period in 2021. Among the arrivals, international tourists were estimated at 582,000 while domestic tourists were around 11.8 million, up four times over the same period last year.
Total revenue from tourists was estimated at VND35.9 trillion (US$1.54 billion), up 4.4 times on year.
In August, the average occupancy rate of 1-5-star hotels was estimated at 40.8%, up 31.1 % over the same period in 2021. During January-August, the rate was estimated at 32.9%, up 10.7% year on year.
Currently, Hanoi has 27 food catering establishments, 35 shopping service businesses, nine entertainment facilities, and one sports service establishment which has been recognized as meeting standards for serving tourists.
Such results were favorable premises for the city's tourism to make progress in the near future, according to the municipal tourism department.
Source: HanoiTimes – hanoitimes.vn