(TITC) – The American Cable News Network (CNN) recommended a list of best places to go for fall to offer to those yearning hearts for an autumn getaway, yet prefer for a little less crowded, less expensive, less hot and chaotic. Ha Noi, the capital of Vietnam, was named in the list.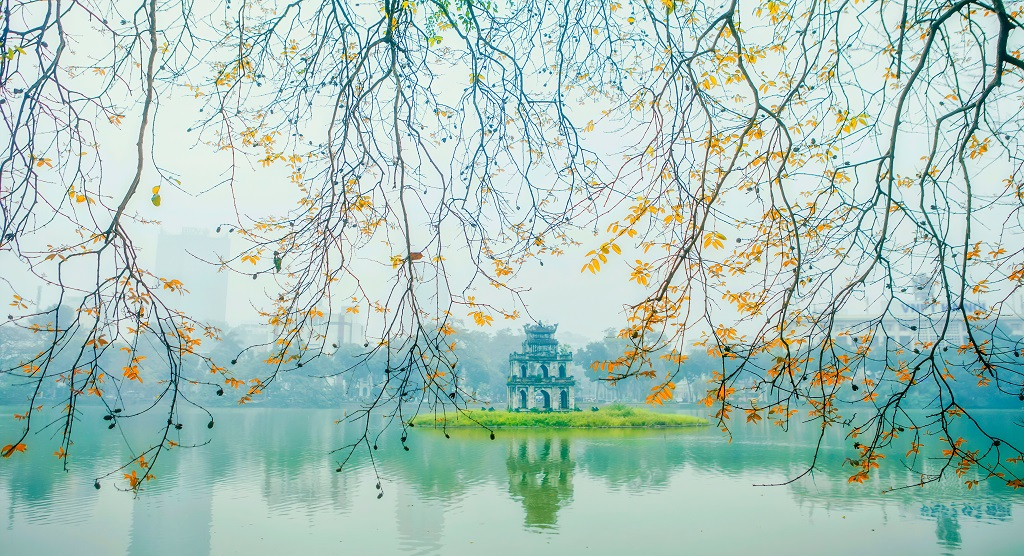 Turtle Tower in Hoan Kiem Lake (Photo: Internet)
"In the slow flow of Asia tourism post Covid-19, Vietnam stands out as the real bright spot", said Scott Keyes, the founder of flight deals and travel advice site Scott's Cheap Flights. Ha Noi is the capital city which is rich in the history of Vietnam and is well-known for its dry and cool autumn with typical monsoon season. Wandering these tree-lined lanes past crumbling colonial facades will transport visitors back in time. The ancient city nowadays, is being invigorated with modern cafes, world-class restaurants, and cool art galleries.
Foodie visitors will definitely fall head over heel with this capital since it has plenty of street food dishes to offer, affirmed Keyes. Cha ca, for example, is a fish dish cooked with turmeric and dill that will surely warm any hearts in the autumn. Another signature dish of Ha Noi should be mentioned is Ha Noi-style Banh Tom (Shrimp cakes).
CNN recommended visitors to take a tour around the streets of its rambling Old Quarter dating back to the 14th century, admire the shops trading in jewellery, fabrics and flowers, and take a short walk around Hoan Kiem Lake. A Soviet-era Ural Sidecar motorcycles tour to the suburbs of Ha Noi such as Dong Ngac Village – a village of scholars, where the ancient beauty has been preserved through the centuries, is a perfect idea while in Ha Noi.
Other awesome spots were also recommended by CNN for an autumn getaway, including: Mexico City (Mexico), Samoa, Madrid City (Spain), Greenville City (South Carolina – USA), Egypt, Cape Town City (South Africa), Cruise on Atlantic Ocean USA – Canada, Bavaria (Germany), Buenos Aires (Argentina), Hawaii (USA) and Azores Islands (Portugal).
Tourism Information Technology Center