The Da Nang government has issued many tourism support policies in a bid to improve service quality, and develop a series of new products and services to drive the recovery of the sector since the start of the year in line with the city's 2022 theme 'Safe adaptation, flexible and effective control of the pandemic, socio-economic recovery and development'. Thanks to the city's great efforts, its tourism industry has recorded impressive growth over the past time.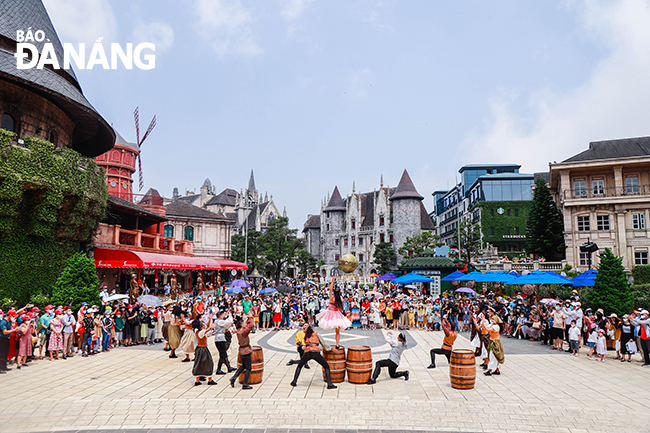 Tourist attractions are offering exciting activities and events to lure tourists. IN PHOTO: An art performance at the Sun World Ba Na Hills Resort. Photo: THU HA
Strong growth in tourism
Since the middle of the first quarter of 2022, Da Nang has seen a sharp rise in visitor arrivals. The launch of many high-end products and services has made the city more inviting to tourists at both home and abroad. After Da Nang successfully hosted the 16th Asian route development forum (Routes Asia 2022), flights to and from Da Nang have increased significantly, contributing to drive a strong recovery of the city's tourism industry. As of July 2022, Da Nang had received about 600-800 flights operating on 9 domestic routes per week while the services on 10 international routes have been resumed with 22 flight arrivals a day and 155 flight arrivals a week on average in August.
Data provided by the Da Nang Statistics Department showed that the number of visitor arrivals at tourist accommodation establishment was estimated at 514,800 in July, up 13.1% over the previous month and up 15.3 times over the same period last year. In which, international visitor arrivals in the city were estimated at 57,500, up 42.3% over the previous month, and up 12.2 times over the same period last year. Especially, the city continued to see a sharp rise in domestic visitor arrivals with visitor numbers in July estimated at 457,300, a rise of 10.2% over the previous month, and 15.7 times higher than in the same period last year.
Overall, arrivals at accommodation establishments in the city in the first seven months of 2022 were estimated at 1.88 million, 83% more than in the same period last year. In which, international visitor numbers reached 127,000, up 44.3% while domestic visits stood at 1.76 million, up 86.6%. During the 7-month period, the average number of overnight stays per guest was estimated at 2.5 days. In detail, the average length of stay per overnight international tourist were estimated at 2.4 days while the figure per domestic guest were 2.5 days.
According to the municipal Department of Tourism, positive signs for the Da Nang tourism industry in the second quarter and the first month of the third quarter of 2022 show that it's entirely possible to bring this sector back to pre-pandemic levels in the near future. In its efforts to achieve this target, the city continuously refreshes its tourism products, provides support for tourism businesses to develop such new tourism products as paragliding, water sports and amusement parks. In the coming time, the city will continue to implement support policies to promote the development of MICE (Meetings, Incentives, Conferences and Exhibitions) Tourism, as well as host Vietnam International Travel Mart (VITM) 2022 in December.
In his remarks at at a seminar on developing Da Nang into worth-visiting and worth-living city co-held by the Investment Newspaper and Sun Group JSC in late June, Dr. Luong Hoai Nam, an economist and aviation expert, highlighted the attractiveness of Da Nang's tourism ecosystem to domestic and foreign tourists. He also applauded the city for its right strategy to develop the tourism into a spearhead economic sector. Currently, Da Nang enjoys good growth in domestic tourism with domestic flight arrivals surpassed pre-pandemic levels in 2019.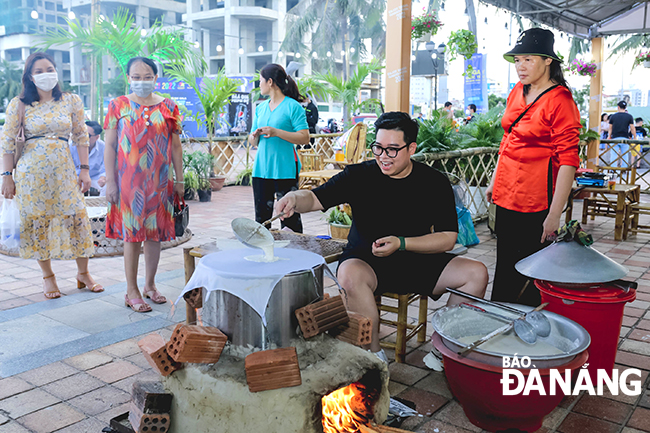 The city is offering an array of exciting events to lure visitors. IN PHOTO: Visitors experience making rice paper at the Food and Beer Festival in July 2022. Photo: THU HA
Digital transformation efforts
In its efforts to keep pace with the global technological acceleration, the Da Nang's tourism industry has been changing constantly to adapt to the new trends. Technology applications and digital transformation are among those trends.
Mr. Tran Duc Thong, the Manager of the Draco Hotel & Suite located in My An Ward, Ngu Hanh Son District said that tourists now are seeking and synthesizing information from a variety of channels and sources to make a comprehensive judgement of travel products while they are consulting different social media sites for various travel choices (e.g. destination choice, hotel choice). He, therefore, stressed the need for hotels to coordinate with online travel agencies (OTAs) to sell their rooms and services. The heed should be paid to use self-service options such as online booking system with payments to enable hotel guests to securely enter their payment method right in the same smooth booking flow. Applications for convenient bookings are among the most demanded digital transformation trends in hospitality.
Mr Cao Tri Dung, the Chairman of the Da Nang Tourism Association highlighted the inevitability of digital transformation in tourism to optimization of operations and organizations to keep pace with the fourth industrial revolution.
Mr Dung remarked that apart from newspaper advertising to reach local consumers, many countries and localities around the world are conducting virtual reality marketing to promote their tourism and destinations. VR is used to create a more significant impact and arouse the greatest interest among the visitors, Mr Dung added.
Mr Nguyen Xuan Binh, the Deputy Director of the Municipal Department of Tourism said that Da Nang's tourism sector is taking all comprehensive and flexible steps to boost digital transformation and enhance the use of technology applications to promote the city as an attractive destination for domestic and international tourists. Most notably, the city has deployed the VR360 virtual tourism system 'One touch to Da Nang'.
Special attention has been paid to opening intensive training courses on digital transformation designed for tourism service providers. These courses have contributed to standardizing customer service quality in tourist establishments, developing their skills and confidence in their journey to digital transformation in order to help them improve their competitiveness and optimise their operations.
In the coming time, efforts will be made to promote the application of information technology in the operation of the tourism stimulus website at http://www.enjoydanang.vn/, deploy the second phase of the VR360 virtual tourism system 'One touch to Da Nang' at https://vr360.danangfantasticity.com/, and cooperate with theViettel Military Industry and Telecoms Group to develop smart travel cards to serve tourists.
Mr Binh highlighted the importance of boosting digital transformation in tourism businesses and optimizing operations with the delivery of new tourism products in an attempt to make the city more inviting to domestic and foreign tourists.
He said that high priority should be given to building the city's tourism databases and building a strong foundation for state management agencies and tourism businesses in an attempt to enhance efficiency and effectiveness of their operations. In addition, importance should be attached to helping tourism businesses connect with experienced providers offering digital transformation services to ensure a successful digital transformation as well as optimize operations that help businesses save costs, make the most of resources and promote operational efficiency, thereby improve their competitiveness.
Reporting by THU HA – Translating by H.L
Source: Da Nang Today – baodanang.vn/english