The People's Committee of Da Lat City, Lam Dong Province, opened a flower space around Xuan Huong Lake and on the main streets of the central area, as well as the 2022 international flower and ornamental plant fair, on December 17.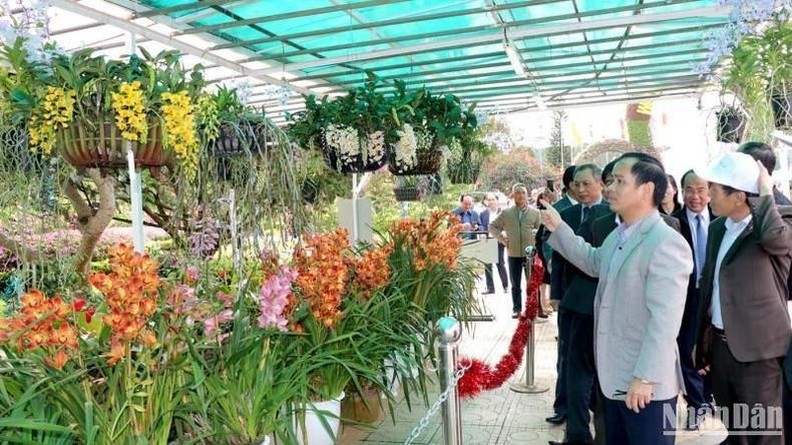 A space displays orchid
Vice Chairman of the Da Lat City People's Committee Nguyen Van Son said that this is one of the nine main programmes of the 9th Da Lat Flower Festival in 2022, displaying and introducing works of art, flowers, bonsai, and new miniatures by units and artisans from inside and outside the province.
The flower spaces on the main streets and around Xuan Huong Lake are decorated by businesses belonging to the Da Lat Flower Association and the Da Lat Urban Service Joint Stock Company, with more than 500,000 flowerpots and nearly 100 varieties of flowers.
The 2022 international exhibition and exhibition of flowers and flowering plants feature the participation of 196 units and individuals, with a total of more than 4,000 works on flowers, bonsai, ornamental plants and miniatures. More than 3,000 works on orchids and nearly 250,000 flowerpots and flower bags are arranged in a colourful flower scene at the Da Lat City Flower Garden.
This is the fourth year of the Vietnam Orchid Colour Competition, with more than 1,500 entries.
According to the vice chairman of the Da Lat City People's Committee, in order to create a playground for exhibitors and individuals, the organising board has implemented an auction programme for works of bonsai, ornamental plants, orchids and many other varieties.
The event will run until January 3, 2023, at Da Lat City Flower Garden. Some Da Lat flower spaces are being maintained to serve visitors to the city of thousands of flowers in Dalat.
Source: NDO – en.nhandan.vn