A cultural event entitled "Bac Ninh space in the heart of Hanoi" is organized at the pedestrian area around Hoan Kiem Lake, Hanoi from September 23 to 26.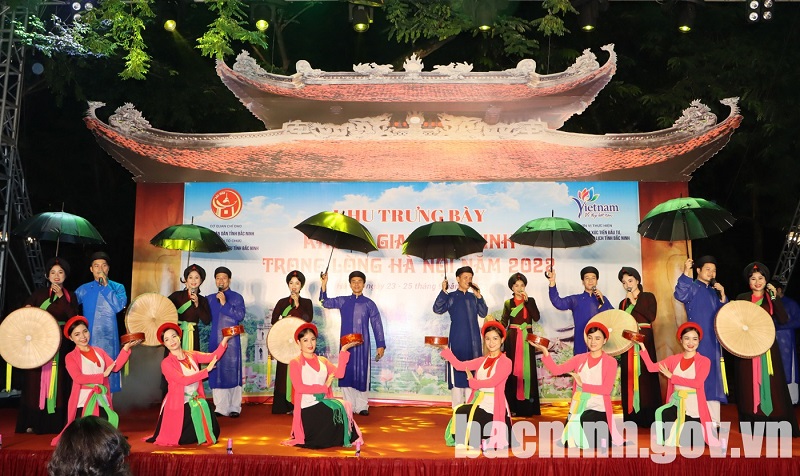 The cultural event of "Bac Ninh space in the heart of Hanoi" will last until September 26 in Hanoi.
This is the second annual event held by the Department of Planning and Investment of Bac Ninh Province in Hanoi to promote local culture and tourism to Hanoians and visitors to the capital city.
Head of the Event Organizing Committee Vu Thi Phuong Thao said that this cultural event is an opportunity to promote the Bac Ninh Quan ho folk song as well as the unique culture of the land to the capital's audience and international tourists.
"The Quan ho folk singing, or the ritual of betel offering, is among many activities to be performed at the event to promote the value of the intangible heritage of Bac Ninh Province," she said.
About 40 booths feature handicraft products from Bac Ninh and Hanoi at the event, including Phu Lang pottery, Dong Ho folk paintings, Xuan Lai bamboo, and rattan utensils, Phu The wood carving, Dong Ky carpentry, and bronze casting of Dai Bai village.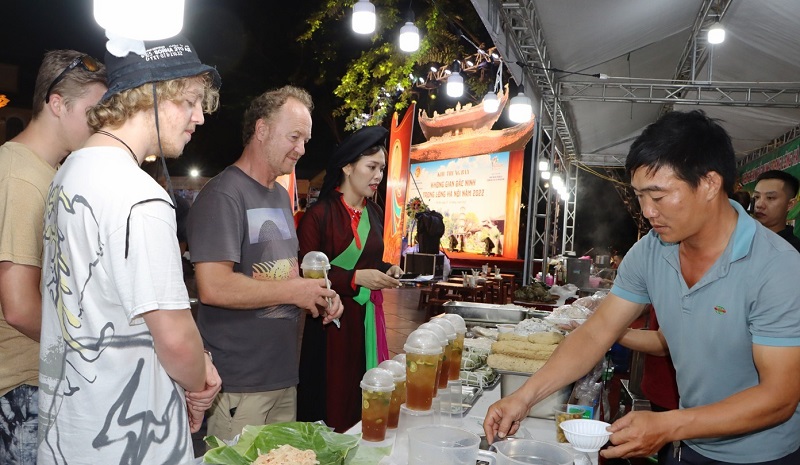 Foreign visitors to the cultural event. Photo: bacninh.gov.vn
Visitors to the cultural space also have an opportunity to enjoy Bac Ninh's specialties such as Cho Village's rice cake, Bui Xa spring rolls, Dinh To soy sauce, Phu The (husband and wife cake), Diem Village's cuddled sticky rice cake. Some typical OCOP (One Commune One Product) products of Bac Ninh Province, such as An Thinh and Ba Ly garlic, 99 Kinh Bac spring rolls, and Vietket medicinal herbs, are also available for sale.
In addition, the tourism booths also introduce various new tours as well as tourism promotions to lure travelers to the province.
Located in the Red River Delta, the province is the smallest in Vietnam but a critical economic hub in the Northern region. It is about 40km from Hanoi, owning a convenient and well-connected transportation system.
Quan ho folk singing was first recorded in the 13th century and officially recognized as an Intangible Cultural Heritage by UNESCO in 2009. The folk performance is characterized by its meaningful lyrics, beautiful melody, and elegant way it is performed.
Source: HanoiTimes – hanoitimes.vn