Ba Vi, a suburban district of Hanoi, is gradually realizing its tourism development goals by 2025. The beautiful and culturally rich land in the west of Hanoi is taking advantage of all available resources, both natural and human, to develop tourism, making Hanoi an exciting tourist destination.
Untapped potentials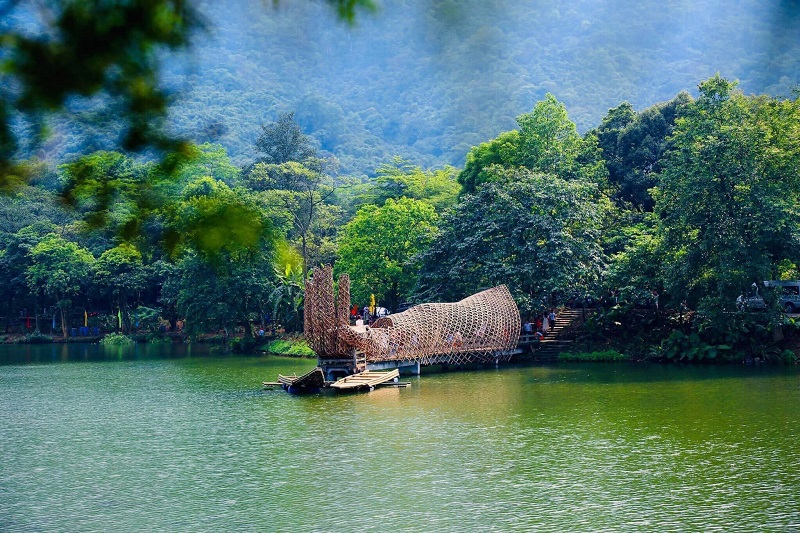 Ba Vi District is considered as a "green lung" of Hanoi. Photo: Medi Thien Son- Suoi Nga
Located some 60 kilometers from Hanoi downtown, Ba Vi District is one of the highlight destinations in Hanoi's suburbs, capable of stimulating travel demand to the capital.
The district has great potential for tourism development in the suburb of Hanoi with ecotourism, holidays, sports tourism like mountain climbing and trekking, medical tourism, and spiritual tourism; thanks to the advantages of diversified terrain with mountains, rivers, and forests, which are ideal for developing beautiful ecological zones.
The place is home to various renowned tourist attractions and accommodation establishments, including the Thien Son – Suoi Nga ecotourism complex, Ba Vi National Park, Ao Vua Tourism Area, Tan Da Spa Resort, Khoang Xanh – Suoi Tien Theme Park, Melia Ba Vi Retreat Resort, among others.
Besides, it boasts rich history and culture with over 300 historical and cultural relics and numerous unique architectural communal houses in Vietnam, such as Tay Dang, Thuy Phieu, Thanh Lung, and the cultural diversity of Kinh, Muong, and Yao ethnic groups.
However, Ba Vi's tourism potential has not yet been tapped. According to Nguyen Van Tai, Director of VietSense Tourism Company, which has just conducted a survey trip to the area, the poor infrastructure and traffic, the scarcity of services, and the lack of tourism qualification of the locals are the significant obstacles for the district's tourism sector to thrive.
According to local experts, tourism activities in Ba Vi still have some limitations, such as incomplete and non-detailed planning of tourism projects, so they have not yet attracted major investors.
The tourism activities are diverse but not fully exploited tourism resources, undiversified tourism products, and lack of high-class and quality products, insufficient and incompetent staff, lack of linkages between tourism enterprises to form a product ecosystem, and invested but ineffective tourism promotion.
For Ba Vi tourism to become a key economic sector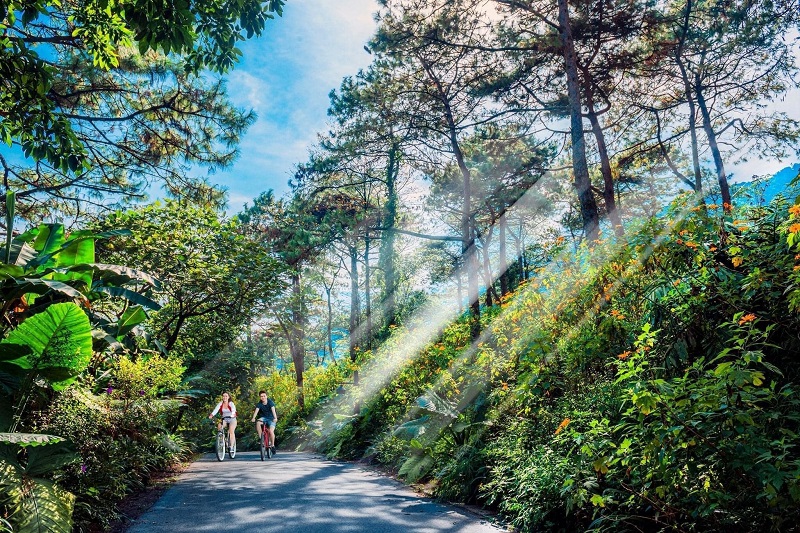 Visitors to Ba Vi National Park, Ba Vi District, Hanoi. Photo: Hang Bach Chi
Ba Vi is determined to make tourism a key economic sector, intending to welcome 4.5 million visitors and earn a revenue of around VND550 billion or US$22 million by 2025.
According to Do Manh Hung, Chairman of the Ba Vi District People's Committee, it is vital to raise awareness of tourism's role and benefits significantly to achieve this goal. "The local community, who play the most important role, must be considered the focus," he stated.
The locals need to be informed of tourism development policies, tourism codes of conduct, tourism business knowledge, skills and attitudes in serving tourists, and environmental protection towards sustainable tourism development.
Furthermore, training and retraining the tourism workforce to improve the quality of tourism services after the Covid-19 pandemic gradually is one of the critical tasks of the Ba Vi tourism sector.
Promoting tourism using technology
According to the Chairman of the Ba Vi District People's Committee, the locality will organize more tourism promotional activities and apply technology to tourism promotion in the coming time.
"Promotional programs will be organized in association with cultural events, festivals, fairs, conferences, and seminars in the district and localities throughout the country. The system of tourism products and Ba Vi travel guidebooks ought to be present more often on the mass media, the internet, and social platforms," he said.
"We will strengthen technology applications to promote the image of Ba Vi tourism through digitizing tourism potential, providing electronic guides and virtual interpreters, producing 3D films and virtual reality content for typical tourist attractions, and so on," he added.
Foster luxury and experiential travel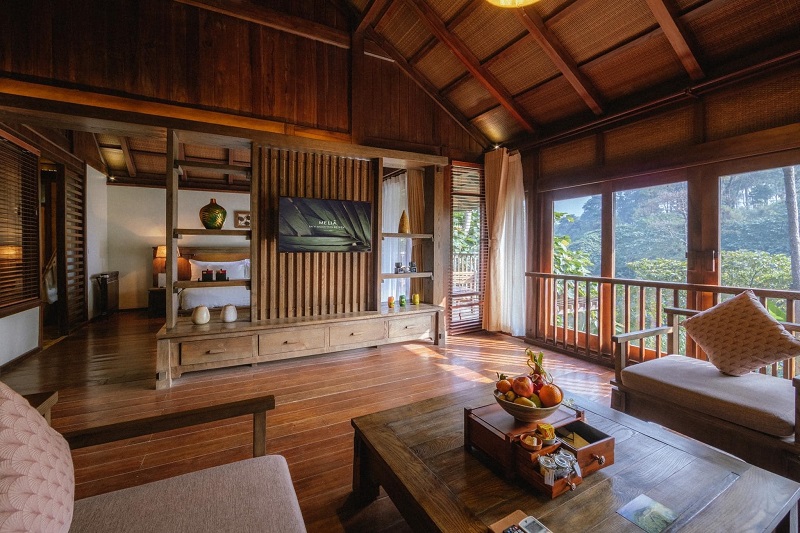 The space of Melia Bavi Moutain Retreat Resort, Ba Vi District, Hanoi. Photo courtesy of the resort
One of the tasks Ba Vi has been implementing is socio-economic development planning in general and tourism planning in particular. The district will prioritize areas with potential for tourism development, such as Suoi Hai Lake or the western and eastern flanks of Ba Vi Mountain.
Ba Vi will prioritize attracting investment and developing high-end leisure tourism to have spillover effects on other sectors. Remarkably, the organization Muong – Yao Fair Festival at Ban Cooc Ecotourism Area in Minh Quang Commune, or New Rice Festival, has been renewed with more appealing activities.
Ba Vi has the advantage of a "traditional Vietnamese medicinal garden" to promote health care products and services like saunas and Yao people's herbal baths. Adventure tours in the Ba Vi Mountain area, such as the "Journey to the memory of heritage" program, the hot air balloon festival combined with the marigolds show, or experiential tours at dairy farms, need to be more professional and their scale expanded.
Furthermore, Ba Vi tourism development in the coming time requires mechanisms to encourage the involvement of private investment in preserving and restoring relics and national cultural identity. Strategies to expand the tourism market will be formulated, with the target market being Hanoi and neighboring provinces. Besides, the sector will further develop tourist routes connecting to downtown Hanoi.
Source: HanoiTimes – hanoitimes.vn