This message was emphasized by Mr. Phan Thanh Hai, Director of the Provincial Department of Culture and Sports when sharing on the afternoon of August 18th at the forum "Digital transformation – Promoting the strength of culture and heritage – creating momentum for developing a digital economy" within the framework of Provincial Digital Transformation Week 2022.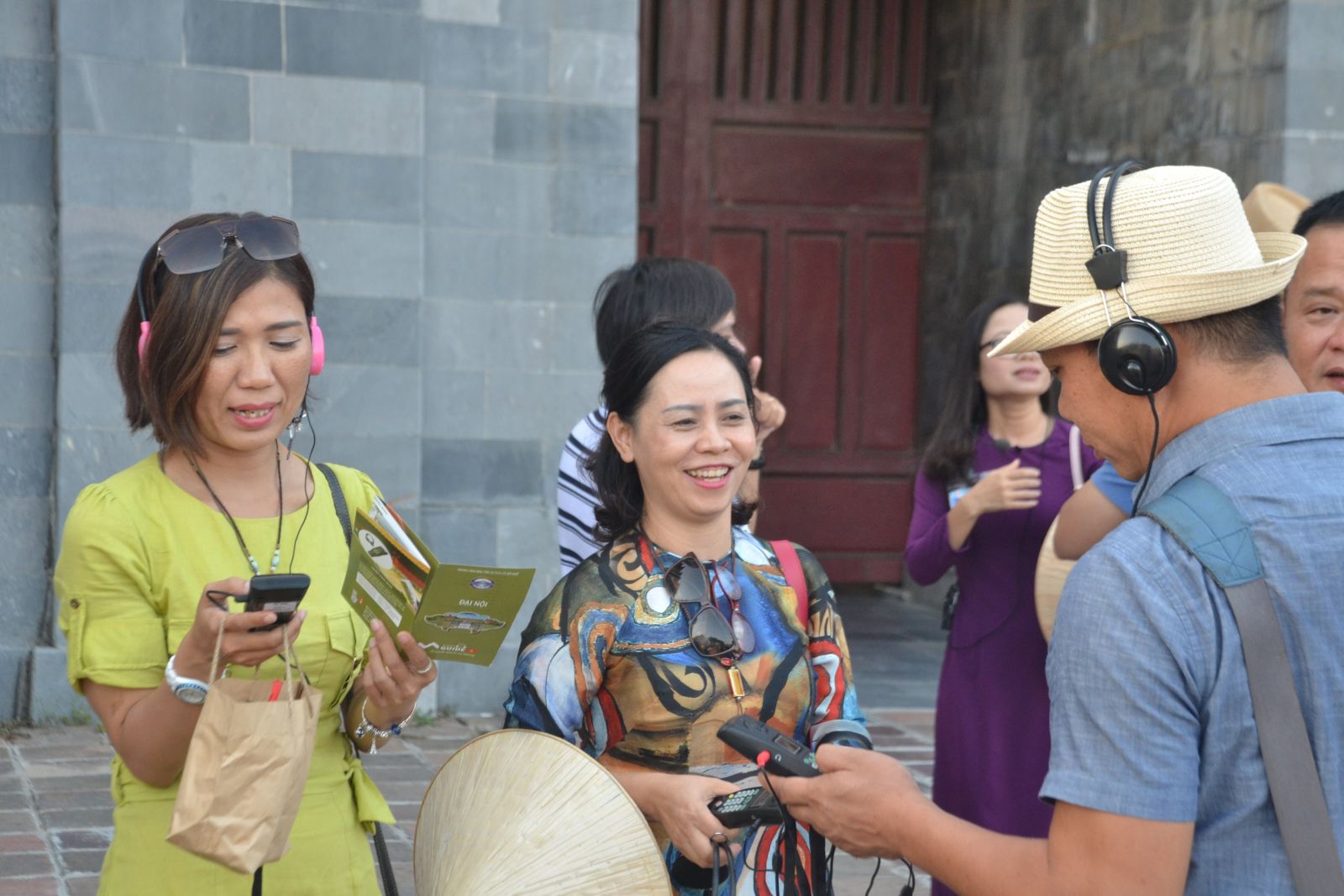 Visitors experiencing Hue heritage sites with devices applying digital technology
Attending the event were Mr. Nguyen Thanh Binh, Vice Chairman of the Provincial People's Committee and a large number of experts, speakers, leaders of departments, researchers, and people who love culture and heritage, etc.
According to Mr. Hai, the province is preserving a rich cultural heritage treasure, diverse in both tangible and intangible culture. Specifically, there are nearly 1,000 relics inventory, including 3 special national-level relics, 89 national-level relics, and 90 provincial-level relics.
Among which, there are 3 national intangible heritages, 10 groups of antiquities with 35 artifacts recognized as national treasures. In particular, the province has 7 heritages honored by UNESCO under 3 types of tangible heritage, intangible heritage and documentary heritage.
Therefore, the management, preservation and promotion of the value of that rich cultural heritage treasure requires the efforts of staff responsible for managing and directly advising on carrying out the conservation and museum practices.
Especially, it is necessary to have scientific and modern management tools and methods, and the application of information technology as well as digital transformation is the most effective way to maintain, preserve, promote and enhance traditional cultural and heritage values.
"Currently, the system of relics, artifacts, documents, typical and valuable festivals in the province has been inventoried, with their information and scientific background being standardized enclosed with photocopies of relics, artifacts, documents, and festivals. That is an extremely favorable premise to promote the implementation of digitalization and digital transformation of cultural heritages in the coming time," shared Mr. Hai.
Mr. Hai also mentioned a number of units that have implemented digital transformation solutions applying 3D digitization technology in the management, exploitation, and promotion of heritage values.
Specifically, Hue Monuments Conservation Center has launched a tour guide app named "Hue Monuments", which applies VR3D virtual reality experience technology, allowing scanning QR Code to view artifacts information and see artifacts through interactive – 3D model and 360 degree rotation; restoring the Imperial Citadel by digital technology, 3D digitizing the Tomb of Emperor Tu Duc published on the Google Arts & Cultural/Open Heritage platform, etc.
In addition, the Provincial Museum of Ho Chi Minh has organized 3D exhibitions, introducing the museum space and relics of President Ho Chi Minh with 360-degree images online on the website. The Provincial General Library has scanned and digitized collected documents written in Han-Nom (Sino-Demotic characters) with more than 400,000 pages of valuable documents, corresponding to about 4,980 documents of all kinds in 187 villages, 923 clans, 18 royal Residence and private houses in the province.
In particular, modern 3D Mapping projection technology has been applied to organize a unique and impressive opening ceremony in Hue Festival Week 2022.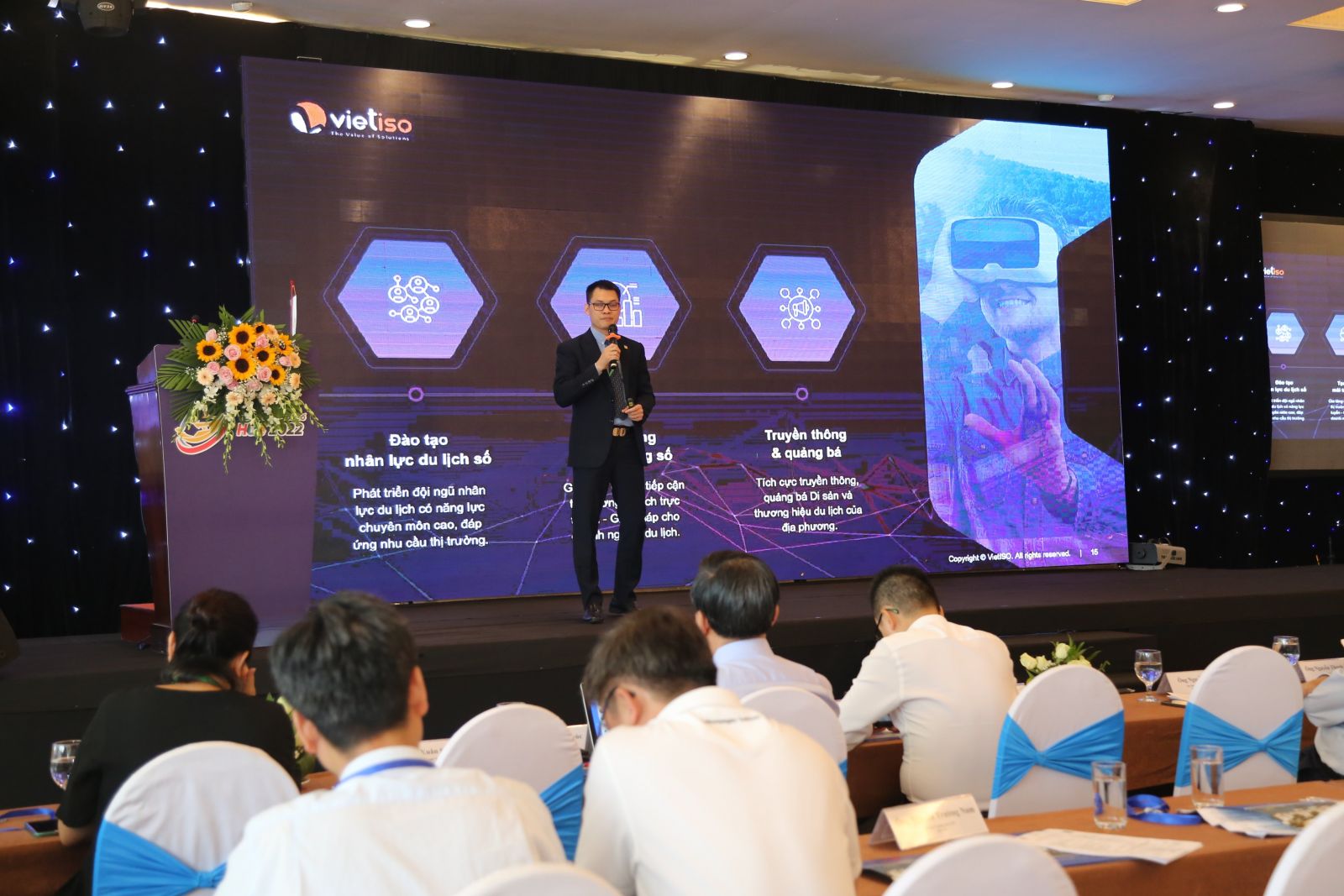 Experts exchanging for the problem of applying technology to heritage culture
Meanwhile, according to Dr. Pham Thi Khanh Ngan, Deputy Head of the Museum Management and Documentary Information Department under the Department of Cultural Heritage, the Ministry of Culture, Sports and Tourism is currently chairing and coordinating with other ministries to implement the Digitization Program of the Cultural Heritage of Vietnam in the period of 2021 – 2030.
This program aims to build a national database system on cultural heritage on a unified digital technology platform, which serves the work of storing, managing, researching, conserving, exploiting, promoting heritage, and developing a sustainable tourism; as well as ensuring integration into the framework of e-Government architecture and digitalized Vietnamese knowledge system.
In addition, it focuses on promoting digital transformation, implementing national digital data interoperability on cultural heritage, ensuring effective service for society and the community anytime and anywhere.
According to Ms. Ngan, the program sets the goal of making 100% of tangible, intangible and documentary cultural heritages registered by UNESCO, and 100% of special national monuments digitized and applied on digital platforms.
Specifically, 100% of national treasures and heritages in the National Intangible Cultural Heritage List will be digitized and applied on digital platforms. At the same time, the digitization of national monuments, artifacts and groups of artifacts at museums and monument management boards will be prioritized according to the society's use. In addition, 100% of professionals working in the cultural heritage industry will be trained, retrained and updated with digital transformation knowledge and skills.
Many challenges still remaining
Despite many advantages, the digital transformation in the cultural sector in the province still seems to face several challenges. That is to identify cultural and heritage contents prioritized for digital transformation; surveying, gathering and building a database in service of digitization; renovating and constructing synchronous and modern infrastructure to meet the requirements of storing, managing and integrating digital contents and digital transformation, etc.
Besides, technology enterprises with digital platforms to serve digital transformation in the field of culture and heritage in the province have not yet developed, and human resources proficient in information technology to meet the demands are still lacking. However, the biggest challenge is the issue of funding for digitalization and digital transformation in the field of culture and heritage.
Story & photos: Nhat Minh
Source: Hue News – baothuathienhue.vn