Building a brand of craft village products, linking manufacturers and building a production-consumption chain between artisans and enterprises is a must-do to promote handicraft village products.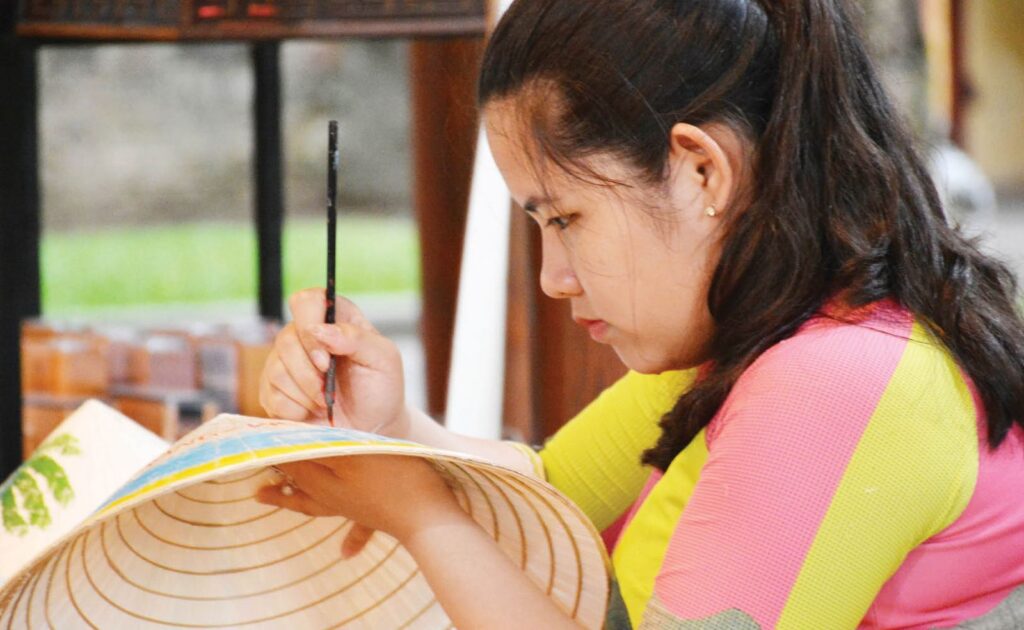 Efficiency from chain links
Pho Trach village, Phong Binh commune (Phong Dien) is famous for its hundreds of years of history. When there was no plastic, the products of this village, such as mats, bags, etc. made from bang grass, were the main items of the people in the area. However, the traditional craft is also gradually disappearing when products made from high-grade plastic, leather, and fabric… at home and abroad appear on the market.
Facing this situation, Hue Viet Organic One Member Limited Liability Company (Hue Viet Company) surveyed and cooperated with craft village households to invest in modern equipment and bring in a professional design team to the village to directly guide people to produce high-class products from the bang grass. This has met the increasing needs of customers as well as increased the value of the products.
Since then, hundreds of sophisticated designs created by the hands of the people of Pho Trach from bang grass such as straws, bags, conical hats, hats, and paintings… have been present everywhere for local people and domestic and foreign tourists.
According to the Director of Hue Viet Company, Ms. Nguyen Thi Hue, with its moisture-proof properties in winter and coolness in summer, it can replace plastic products to contribute to environmental protection. Thus, products made from bang grass are being welcomed by the market.
In order to improve product value and increase income for the artisans, enterprises have enhanced the designing stage, including conveying landscapes of the country on the products, and adding some accessories such as leather, pearls, and beads… to create more designs to attract customers.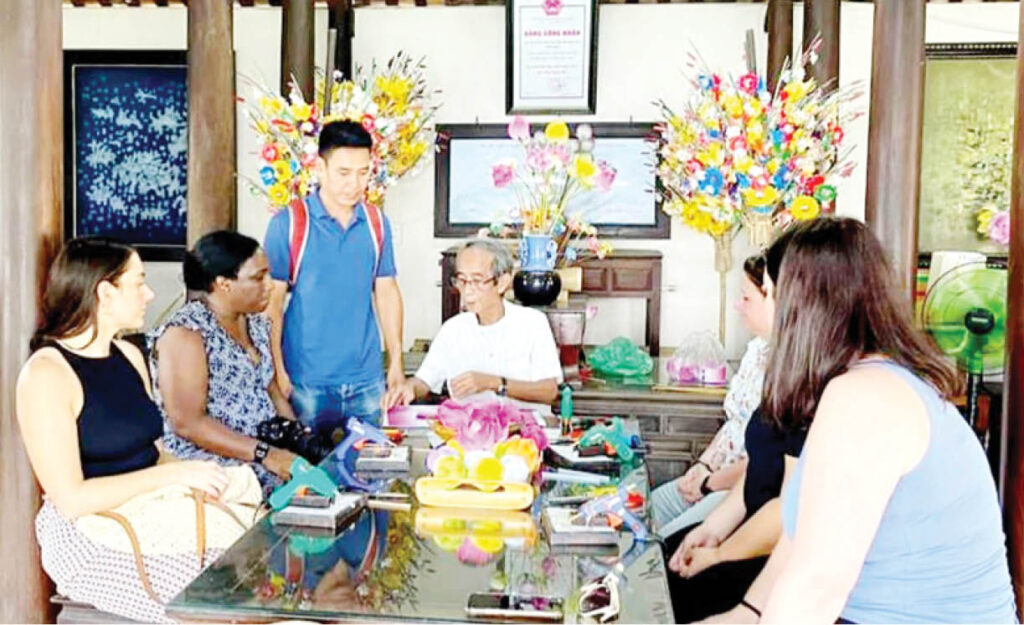 Chung and tet cakes making in Duong No village, Phu Duong commune, Hue City, is a profession that dates back hundreds of years and was recognized as a traditional craft by the Provincial People's Committee in August 2022.
With more than 100 households participating, making chung and tet cakes is passed down from generation to generation. So, the product has a delicious taste, attracting customers in the province. However, because the output is not stable, the cakes are only made for Tet holiday. Therefore, the people have not been keen on improving the design and branding of their craft village products.
In early 2022, the locality worked and cooperated with Hue Viet Company to coordinate the processing of chung cakes according to new and compact designs and using vacuum sealing technology for long-term preservation. Afterward, on every 14th, 15th, 30th, and 1st day of the lunar month, the company places orders of several hundred pairs of vegetarian and non-vegetarian chung cakes. At the same time, they are aiming to build a brand of Nọ Market chung cake to supply regularly to supermarkets and markets within and outside the province.
Improving production capacity
The province now has nearly 100 craft villages, of which there are more than 30 longstanding traditional craft villages such as Phuong Duc bronze casting village, Phu Cam conical hat village, Bao La bamboo and rattan village, My Xuyen sculpture village… This is a treasure of vocational knowledge and rich cultural heritages to develop craft village tourism.
However, in order to build a brand of craft village associated with tourism development, the problem is to improve production capacity. It is necessary to develop policies to encourage and support funding for establishments creating new models.
At the same time, it is necessary to boldly invest in modern technology and equipment to produce traditional products in the direction of mass production with low cost to meet the needs of tourists along with expanding the product consumption market. On the other hand, it is necessary to invest in craft village infrastructure, planning concentrated production zones, planning raw material areas and supporting vocational training for apprentices…
According to the leader of the Department of Industry and Trade, from 2010 to 2022, the total funding for industrial promotion to support the development of craft products, craft villages, and traditional craft villages is more than 9 billion VND. The funding was through vocational training and investment in advanced machinery and equipment and product design…
Determining the source of industrial promotion capital plays an important role, as it is the "enticing capital" to encourage enterprises and production facilities to invest in expanding their production and business scale. In the near future, the department will continue to support the development of agricultural industry villages in association with supporting typical and key industries and products in the direction of bringing into full play their comparative advantages and available resources in terms of natural resources, raw materials, and the local labor market. Hopefully, this will improve production capacity and develop consumer markets for craft village products.
Developing craft village tourism
Along with solutions to develop and promote the consumption of craft village products, craft village tourism development is a promising direction for a locality with a long history of culture, history and diverse crafts like Thua Thien Hue.
Quang Dien district, which has the advantage of Tam Giang lagoon area, is associated with many famous crafts and traditional craft villages, such as Bao La, Thuy Lap bamboo and rattan, O Sa vermicelli, Tan Thanh fish sauce… Along with strategies to develop crafts and traditional craft villages, the District People's Committee is also promoting the development of craft village tourism through funding from industrial promotion projects.
Vice Chairman of Quang Dien District People's Committee, Mr. Nguyen Ngoc Tien, said that along with the conservation and promotion of the values of crafts and traditional craft villages, the district is focusing resources on transport infrastructure and building product display areas to develop craft village tourism.
With the advantage of having the Memorial House of General Nguyen Chi Thanh, the Tam Giang lagoon area with over 3,500 hectares of water surface and many famous craft villages, the district continues to perfect its infrastructure, expand and develop more craft villages such as Quang Tho Centella Asiatica village and Quang Thanh clean vegetable village to create more attractive destinations to attract tourists and boost product consumption through tour routes.
After being awarded "The most attractive destination in Vietnam" by the Vietnam Tourism Association in 2015, Thanh Tien paper flower village, Phu Mau commune, Hue City, is better known, attracting domestic and foreign tourists to visit and do shopping.
According to artisan Than Van Huy, Thanh Tien paper flower village has up to 30 flower-making households, visitors come here to admire the talent, ingenuity and art of making paper lotus. After developing the paper flower village tour, the artisans improved the design and developed a number of small and compact flower models; The flower samples are contained in glass boxes for portability. However, because the road infrastructure leading to the craft village has not been synchronously invested, tour agencies are not keen on bringing tourists here, so it is very difficult for on-site consumption.
In order for crafts and craft villages to develop, first of all, it is necessary to strengthen branding and investment promotion to find a stable and long-term product consumption market.
Because most craft villages are small-scale, sustainable development requires coordination and linkage of craft villages in expanding production scale. Businesses, local authorities and functional agencies need to have synchronous solutions from the construction and exploitation of raw materials, building warehouses and linking product consumption. With this, new craft village products have a foothold in the market and stabilize output.
Story and photos: Thanh Huong
Source: Hue News – baothuathienhue.vn – October 20, 2022